Pan Am's Two Sikorsky S-42 "Brazilian Clippers"
Some very interesting stories abound about the S-42s — called "an airliner before its time" by historian R.E.G. Davies. Pan Am's S-42s could travel "at least as fast and twice as far" as a DC-3, and carried almost double the passengers.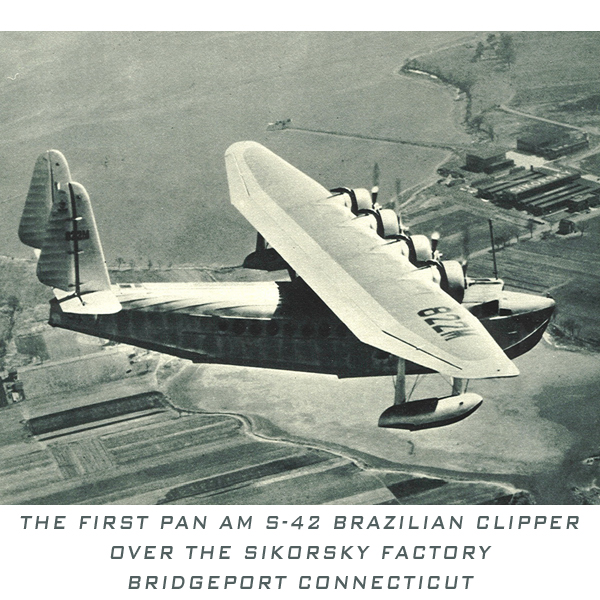 Photo: NC822M Brazilian Clipper over the Sikorsky Factory in Bridgeport Connecticut, (L'Illustration, November 1934-Wikimedia).
Did you know Pan Am had two "Brazilian Clipper" S-42 flying boats?
One was the very first Sikorsky S-42, NC822M, delivered to Pan Am in June of 1934 and christened by Mrs. Getúlio Vargas, wife of the President of Brazil. The first Brazilian Clipper flew in Latin America and was renamed "Colombia Clipper" in 1937. When the original Brazilian Clipper was retired, it became the home of a family in Florida in 1946.
Two years later in February 1936 (84 years ago), a second "Brazilian Clipper" NC15375 Sikorsky S-42A, was delivered to Pan Am.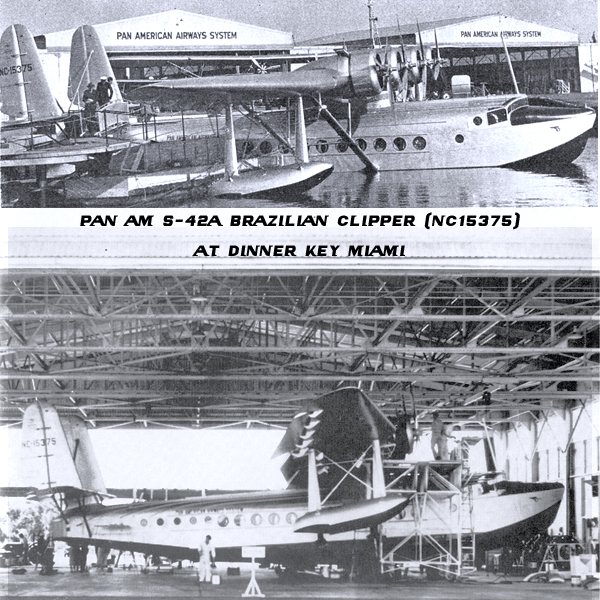 Photos: NC15375 at Miami Dinner Key (Pan Am Historical Foundation collection).
Like its sister before it, the second Brazilian Clipper had some great tales to tell. One took place just after Pan Am received the new S-42A:
"On her initial visit to the United Sates, the first lady of Brazil, Senhora d-Arcy de Vargas [Darci Lima Sarmanho Vargas], wife of the president, arrived at the Pan American International Airport in March on a sister ship of the Brazilian Clipper… The big silver-colored Clipper spent a half hour circling over Miami and the tip of south Florida for Senjora Vargas' benefit…Senhora Vargas expressed herself as delighted with the flight from Brazil to the North American continent, and in the comfort, speed and ease with which the giant four-engined Clipper Ships linked the South American republics and the United States of North America — giving tangible life to the sentiments expressed by herself in christening the first of the great trans-ocean type of Clipper Ships, the Brazilian Clipper, in Rio de Janeiro two years ago [1934}." (March-April 1936 Pan American Air Ways)

Read More about Pan Am's S-42s:

At Home in a Clipper, the afterlife of NC822M in 1946. https://www.panam.org/golden-age/690-at-home-in-a-clipper
The Magnificent S-42 at https://www.panam.org/pan-am-stories/620-s-42-orders
War Claims a Clipper, the Hong Kong Clipper II by Eric Hobson https://www.panam.org/war-years/742-war-claims-a-clipper