WAR CLAIMS A CLIPPER
by Eric Hobson, PhD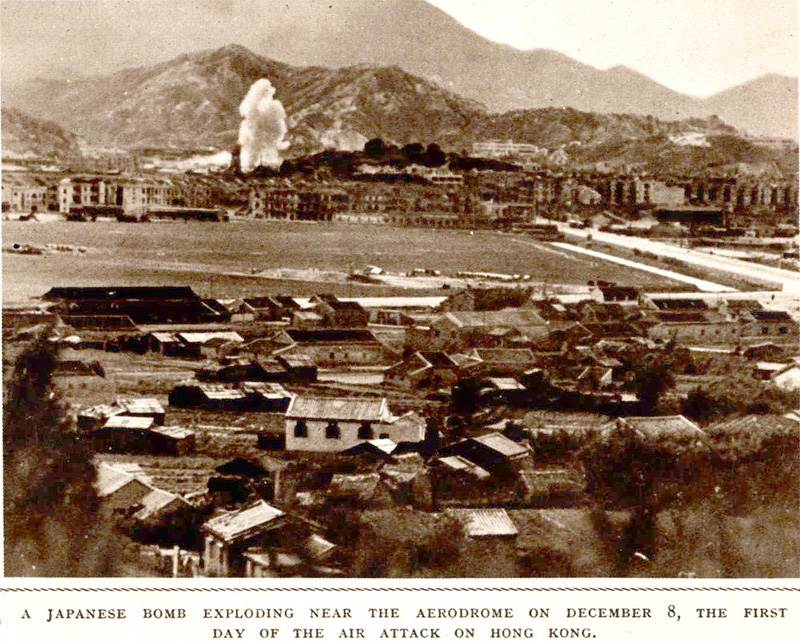 Pan Am Historical Foundation photo of Kai Tak bombing from The Illustrated London News, Feb. 28, 1942
Six hours after the Pearl Harbor attack, at Kai Tak Airport, Hong Kong, December 8, 1941: 6:50 a.m., local time (Dec. 7, 1941, 12:20 p.m. Honolulu local time).
Captain Fred S. Ralph and his Hong Kong Clipper II (Sikorsky S-42A, NC16735) crew had the mail loaded, the aircraft fueled for the flight to Manila, and awaited their passengers when the airport manager delivered an unexpected order: abort the flight and remove the mail immediately.
Soon, coded news of Japan's attack on Pearl Harbor was telegraphed across PAA's communications network; war had come to the United States. Each PAA Captain carried sealed orders labeled "top secret" that outlined emergency plans. For the Hong Kong Clipper II crew, however, Captain Ralph could offer no escape from the day's terror.
At 8:00 a.m. (1:30 p.m. Honolulu local time) a flight of Japanese bombers began to destroy Kai Tak Airport. Fighter aircraft followed to finish the job. Recognizing a helpless target tied to the pier, some pilots shifted their low-level passes toward the shoreline. The Sikorsky was doomed: with fuel tanks full, a single bullet had to hit its mark. One did.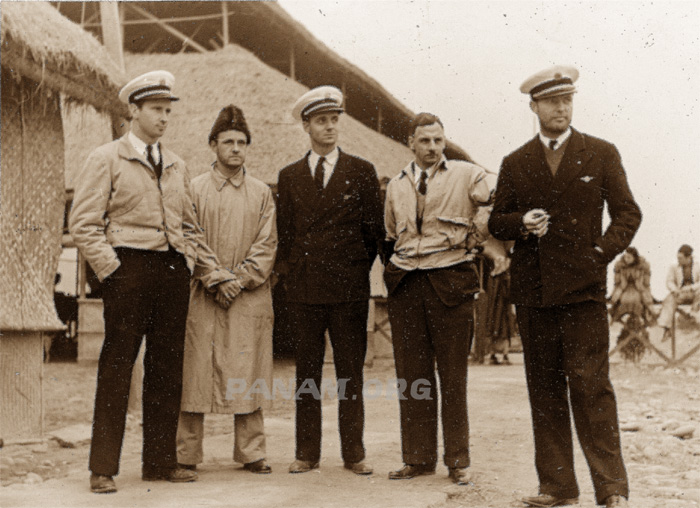 Five of the nine Hong Kong Clipper II crew in Chungking after the attack with Captain Fred Ralph in center (by Harrison Forman) Photo: Pan Am Historical Foundation Collection
While no PAA personnel or passengers were injured, and the mail was saved, the Hong Kong Clipper II was lost. Across four-plus years of global war, other PAA crews and aircraft carried this day's memory as they worked to bring the United States out of the barbarity that began that day.
To read PAA's internal reporting in New Horizons of this day's events, see https://www.panam.org/pan-am-stories/630-hong-kong-clipper-lost

Passengers disembark from Hong Kong Clipper II earlier in 1941 (courtesy Jon Krupnick)