"90 Years Ago"
A Series by Eric Hobson
Unique stories of Pan American Airways operations, month-by-month, 1933.
Its people, aircraft and far-flung destinations.
---
"Happy New Year - Pan Am Service Slogans"
(1) "211 of the 302 employees stationed at this port" ("Pan American Air Ways," April 15, 1931). (2) Dinner Key staff posing atop & around Pan Am's Sikorsky S-40 Caribbean Clipper that was delivered Nov. 1931 (PAHF/Jahncke Collection).
"Pan American Air Ways," March, July and October 1932 issues, had carried page footers related to service, safety, and airmail. The July issue encouraged readers to send in "better ones" for consideration, promising that "Acceptable slogans will appear in subsequent issues." October issue's slogans contained 30% repeats, suggesting a tepid response from Pan Am's front lines. Perhaps Pan Am employees just shared their ideas on the shop floor.
By 1933, corporate sloganeering was gone without comment in the year's first issue of "Pan American Air Ways."
PAA SERVICE SLOGANS FROM 1932:
• "Every New Prospect You Turn Into A Passenger Is Good For 5 More"
• "The Public Judges Your Worth By The Courtesy You Practice"
• " 'Via Pan Amercan' Means Fastest, Most Comfortable, Most Dependable Way To Travel"
• "Alertness And Enthusiasm Always Produce Big Results"
• "Politeness Pleases Passengers"
• "Pan American's High Reputation Is Built On Attention To Details"
• "How Many Passengers Recall Pleasantly Your Thoughtful Courtesy?"
• "One Thing Done Right Is Worth A Dozen Good Intentions"
• "Passengers Pay For Comfort – Nobody Likes To Feel Cheated"
• "Only Your Cooperation Can Make Pan American A Complete Success"
• "`On Time As Usual,' Means That No Detail Has Been Neglected"
• "Tomorrow's Good Record Depends On Today's Perfect Performance"
• "There's No Such Thing As Being `Nearly' Efficient"
• "Acceptable Service Speaks For Itself"
• "Teach More People To Say, `As Reliable As Pan American`"
• "Air Travel Makes Short Trips Of Long Ones"
• "Every Passenger Is A Life Entrusted Your Care"
• "A Man's Value To Aviation Is Not Greater Than His Dependability"
• "The Greatest Action Is Composed Of Small Details"
• "Aviation Needs More `Career Men' And Fewer Jobholders"
• "Excellent To Meet All Emergencies Well – Better To Prevent Them"
• "Courtesy, Comfort, And Dependability Build Passenger Traffic"
• "Your Opportunities Grow With Pan American – Build Traffic"
• "There Is No Substitute For Attention To Details"
Sources: "Pan American Air Ways," (March 15, July 15, & October 15, 1932).

JANUARY 3, 1933
"Cash in Hand, Ready to Fly"
(PAHF Collection): Top to Bottom. Pan Am Sikorsky S-38 (l). Pan Am Sikorsky S-40 (r). Pan American Airways Ad, "A Trip Abroad in 2 Hours," c. 1930s (bottom photo).

Fare discounts to Havana, Cuba and Nassau, Bahamas pushed demand 40% over 1932's holiday season.
Knowing this, Don Singer expected heavy traffic Tuesday morning January 3, 1933 as he opened Pan Am's Dinner Key base. Don scanned flight manifests to see midmorning arrivals from Havana and Nassau 100% booked, and 13 tickets sold for the day's Havana flights – still, walk-up passengers were a given. By midmorning, 39 people queued to fly to Havana, while across the Florida Straits, ticket agents faced a similar surge.
As "Pan American Air Ways" (p.19) reported, "all were accommodated," but doing so required rapid adjustments because the day's passenger load overwhelmed its equipment schedule.
Carl Dewey, flying the 38-seat Caribbean Clipper (Sikorsky S-40 NC81V) left Kingston, Jamaica at dawn for Miami via a Cienfuegos, Cuba refueling stop, then diverted to Havana and took on 33 passengers. Pan Am's other S-40, American Clipper (NC80V), left Miami on its Miami-Havana-Miami route full as did the 20-seat Consolidated Commodore on the day's Havana-Miami-Havana run.
A Commodore kept in reserve was pressed into service to Havana and a spare Sikorsky S-38 flew to Nassau and back. The Caribbean Clipper's extra seats along with the spare Commodore allowed 125 passengers to return from New Year's revels in Cuba's capital.
Miami-Havana traffic demand remained high and Dewey's one-off Havana diversion became permanent, adding seats between Miami and Havana. January 1933 volume was 50% higher than in 1932, as Pan Am moved 2537 passengers through Miami.
Source:
"Pan American Air Ways" (Vol. 4, No. 1, p.19), & "The Daily Gleaner" (Kingston, Jamaica) 1/4/1933, p.23.

JANUARY 16, 1933
"A Hard Day/Night Flight"

Photos: (1) "Consult this Map for Fastest Way to All Points in Latin America." Time tables, tariffs: Havana, Nassau, Mexico, Panama, West Indies, Central and South America, June 15, 1933. p. 4. (2) "Oldest and Newest Transport in Peru. Group of Llamas Visit Their Rival in Tranportation -- A Pan American Grace Tri-Motored Ford, Santa Rosa." From "Pan American Air Ways,' Vol. 4, No. 1, March 1933. p. 26.
Pilot W. Smith and crew arrived in Lima, Peru late Monday, January 16 exhausted at the end of 16 hours and 10 minutes of flying that started 1,906 miles southeast in Mendoza Argentina. This flight was supposed to have left Mendoza Saturday afternoon, but storms, wind, fog and ice had closed the area's only trans Andean route for 40 hours. Once Smith took off Monday morning, he pushed the PANAGRA Ford AT-5-C hard.
The scheduled northbound route had 8 stops (Mendoza – 112 miles – Santiago – 250 miles – Ovalle – 593 miles – Antofagasta – 446 miles – Arica – 40 miles – Tacna – 140 miles – Araquipa – 475 miles – Lima), including an overnight in Antofagasta, Chile, halfway between Santiago and Lima. This Monday each stop was just long enough to swap out mailbags and passengers while fuel was loaded and the cockpit windows cleaned, and Antofagasta was 1,000 miles behind at bedtime.
The report of Smith's flight in "Pan American Air Ways" (4.1, p. 26) indicate neither his departure nor arrival times. Because the first leg (Mendoza to Santiago) threaded the 15,000 foot Uspallata Pass, Pan Am/PANAGRA policy limited these flights to daylight hours. First light in mid-January comes at 6:20 a.m. on January 16 in Mendoza, Argentina; full light follows in 28 minutes. Assuming Smith left Mendoza at 6:30 a.m., his Lima arrival was no earlier than 10:40 p.m., the last four hours and 10 minutes flown in the dark.
Smith's efforts returned the route to on-time service and Tuesday's northbound flight from Lima to Salinas, Ecuador left on time. Luckily for Smith and his copilot/mechanic/radio operator, the next southbound flight wasn't until Thursday, January 19, so they could sleep in.
Sources & Photos:
"Pan American Air Ways," Vol. 4, No. 1, March 1933. p. 26.
https://digitalcollections.library.miami.edu/digital/collection/asm0341/id/40869/rec/1
"Consult this Map for Fastest Way to All Points in Latin America." Time tables, tariffs: Havana, Nassau, Mexico, Panama, West Indies, Central and South America, June 15, 1933. p. 4.
https://digitalcollections.library.miami.edu/digital/collection/asm0341/id/20443/rec/39

JANUARY 17, 1933
"PAA Moves Northeast"
Photos by George Sioris, PAHF/Johnson collection. (1) Hangars at Port Washington, New York, c. 1937. (2) Sikorsky S-42 Bermuda Clipper at Port Washington hangar in 1937 after Pan Am began scheduled flights to Bermuda & transatlantic survey flights.
Having established the Caribbean and South America markets, Juan Trippe looked to Europe for Pan Am's next expansion. The transatlantic market was well established and he had calculated profits available through subsidized U.S. Air Mail and passenger service. A few months earlier he had signed contracts for three Sikorsky S-42 and three Martin flying boats, both capable of crossing the Atlantic —at least on paper — using a series of refueling stops.
To support that plan, Pan Am had sponsored the 1932 Jelling Expedition to study Greenland's weather; a 1933 continuation of that effort was planned, along with a transatlantic survey flight by Charles and Anne Lindbergh.
On January 17, 1933,to provide a base for Atlantic operations, Pan Am purchased a 12-acre lot on Manhasset Bay off of Long Island Sound. The purchase included piers and ramps, two hangers and other buildings constructed in 1929 by American Aeronautical Corporation as a test site for the Savoia Marchetti S-55 & S-56 amphibious aircraft that they were building under license.
The property would idle for four years because of British refusal to grant landing rights without reciprocal service (even though no British aircraft could serve the route). Thus, Pan Am focused on transpacific service before returning to activity at Port Washington in 1936. The Atlantic Division's 1st transatlantic survey flight to Europe left Port Washington on July 6, 1937.
Source: Denise Duffy Meehan, "How Port Washington Gave Birth to Pan Am" Goodliving Magazine (1987), pp. 22-25.

JANUARY 23, 1933
"Flying Blind"
Left: Pan American Airways instrument flight training at Brownsville from Banning, Gene, "The Airlines of Pan American Since 1927," Paladwr Press, 2001, p. 100. Right: Pan Am Ford Trimotor in flight, c. 1930s (PAHF Collection).
Pan Am's Chief Engineer, Andre Priester, and Chief Pilots George Kreiger (Western Division) and Edwin Musick (Caribbean Division) entered January 1933 at ease because every Pan Am pilot was cleared for "blind flying" and had been so since July 1932. Pan Am was 100% compliant with U.S. Department of Commerce rules requiring that all commercial-rated pilots carry instrument certification before January 1, 1933.
Pan Am faced the need to "fly blind" as soon as it bought out Compania Mexicana de Aviacion (C.M.A.) four years earlier on January 23, 1929. As "Pan American Air Ways" (4.1, p. 9) writers noted, CMA's routes were the most challenging among all of Pan Am's: … the "Tampico-Mexico City route … demand(s) from 5 to 90 minutes of blind flying daily."
Aviation historian, Erik M. Conway, credits Pan Am as setting an unofficial industry baseline by establishing its own training program in Brownsville, Texas. Pilots rode the Jones-Barany chair-Ocker's box combo to break their fly-by-feel confidence, then flew a blacked-out Fairchild FC-2 before training in multiengine aircraft. Conway notes, "Pan Am required a minimum of ten hours of instruction. It also required … recurrent training … and an hour of practice monthly … to keep pilots who did not routinely encounter blind conditions from backsliding after the training course and returning to dependence on their sense of balance." (p.28) (Note: Pan Am's major bases -- Miami, Brownsville, Alameda, CA, and, Port Washington, N.Y -- had a retrofitted Fairchild trainer.)
Sources:
-Conway, Erik. M., "Blind Landings", Johns Hopkins University Press, 2006, p. 28.
-"Instrument Flying," From "Pan American Air Ways," Vol. 4, No. 1, March 1933, p.9.
---

"Shattering US Customs Records"
Photos of Sikorsky S-40s: "From the old floating barge which was anchored off Dinner Key in Biscayne Bay, originated many historic PAA flights throughout the Caribbean. From here the Sikorsky S-40s (first of the four engine seaplanes) operated during the days before the permanent Dinner Key land terminal building was built." Photo IDs #RC15276 and #RC15294 at State Archives of Florida, Florida Memory, https://www.floridamemory.com
Photo of Capt. Ed Musick photo from "Pan American Air Ways," April 1931 (PAHF collection).
Pan Am's Chief Pilot, Edwin Musick, left Kingston, Jamaica, at 8:00 a.m., Tuesday, February 7, 1933 for Miami in American Clipper (S-40 NC80V) ending his 800th round-trip since Pan American Airways started five-and-a-half years earlier. Ed had logged 4,200 flight hours spanning 421,000 miles transporting 9,000 passengers during which, as Kingston's Daily Gleaner, reported, "There has been no trouble on any of the flights made by the Chief Pilot."

500 of Musick's flights ended in Miami.* According to "Pan American Air Ways" newsletter
"customs officials …think there ought to be a law: 500 times they have inspected Pilot Musick's papers, peeked into the same battered traveling bag at the same safety razor and toothbrush. They think that winning his entry into the United States half a thousand times ought to give him permanent possession, or …a badge or gold medal."

At this point, Musick's Pan Am service averaged 764 flight hours and 76,500 air miles (three circumnavigations of Earth) per year, carrying 11.25 passengers per flight, an impressive passenger load because Pan Am owned no 10+ seat aircraft before September 1930 and most flights carried more airmail, express packages, and employees than ticketed passengers in 1933.

* Musick's actual Miami arrivals were higher: a mid-1920s "rum runner," his trips to The Bahamas' "rum fleet" avoided U.S. Customs; along Florida's southern Atlantic coast police wished to inspect his cargo.

Sources:
-"Great Record of Pan American Flier," The Daily Gleaner, 2/7/`33, p. 3.
-"Champion Comer-In" Pan American Air Ways, Vol. 4. No. 1, p. 3 https://digitalcollections.library.miami.edu/digital/collection/asm0341/id/40846/rec/1https://digitalcollections.library.miami.edu/digital/collection/asm0341/id/40846/rec/1

FEBRUARY 8, 1933
"Wine `Em, Dine `Em, Ticket `Em"
Photomontage:
"'Rodney the Smiling Steward,' whose Mission in Life is to Give Away the 'New Idea [in Winter Travel] Booklet'" was a standing figure of a Pan Am steward displayed in travel agencies and ticket offices as a welcoming promotion. ("Pan American Air Ways," Vol. 4, No. 1).
Postcard: "Beautiful palms and flowers of the Hollywood Beach Hotel, Hollywood, Florida." Date:[ca. 1930–1945].
Postcards, Boston Public Library. The Tichnor Brothers Collection
https://ark.digitalcommonwealth.org/ark:/50959/t722hb640
Staff at the seven-year-old, seven-story, 500-room, Mediterranean-style Hollywood Beach Hotel, 101 North Ocean Dr., Hollywood, FL, parked, welcomed, and ushered five-hundred guests Tuesday evening, February 2, 1932 to a lavish party. Guests mingled waiting for the grand ballroom doors to open and the party to start.

At the appointed time, several Pan American Airways Stewards appeared, pushed back the ballroom doors singing, "Dinner is ready in the hangar." The guests entered a ballroom reflecting a set-designer's vision of an airplane hanger replete with "Clipper Ships and travel posters" patrolled by waiters dressed as Pan Am Stewards.
The soirée kicked off a year-long marketing push featuring "ten travel parties … each …set supposedly in some country along the airways."

The guest list was not disclosed; undoubtedly, many were Miami-Fort Lauderdale winter residents. Wealthy "snow birds" arrived in the late Fall and remained until the Northeast's Spring-Summer social season, filling the Hollywood Beach Hotel and waterfront mansions. Pan Am hoped to wean this clientele from steamship lines onto airplanes as the fast and fashionable way to travel throughout the Caribbean, South America, and, hopefully, the Orient and Europe.
Source:
"Pan American Air Ways," Vol. 4., No 1., March 1933, p. 4.

FEBRUARY 14, 1933
"'Fly With Me: Love, Pan American Style"
Photomontage: Top: Eldredge/Joiner Elopement. "Pan American Air Ways," Vol. 4, No. 5, (Oct. 1933) p. 19. Middle: Mock-up of Memorandum from J.C. Nash to Leo Terletsky. Bottom left: Rives-Lopez/McDonald Marriage Bottom right: Tarafa/Mendoza Elopement. "Pan American Air Ways," Vol. 4, No. 3, (June 1933) pp. 17 & 18.

Passengers were seated when Port au Prince, Haiti's, Relief Airport Manager, J.C. Nash, tapped the Consolidated Commodore cockpit window waving a Pan Am memo. Pilot Leo Terletsky opened the window, took the page and read:
"Leaving Port au Prince, the following passengers of note are on your plane: William G. Eldredge, alias Bill; Miss Eulalie Joiner, particularly important (to be pitied).

"Remarks: Eldredge to be arrested immediately on arrival in Miami for abduction — by order of Grand Commander Nash. Nail him boys, the bum's a brute."

"Pan American Air Ways" reported Port au Prince Airport Manager William G. Eldredge "Snatch(ed) his fiancée, Miss Eulalie Joiner, from friends and family who had gathered … to wish him a happy vacation." Eulalie was a willing abductee as shown during U.S. Customs inspection in Miami where "Eldredge's baggage revealed a plentiful supply of feminine apparel."

"Airborne elopements via Pan Am were becoming commonplace," "Pan American Air Ways" added, because "Cuban couples with an eye on romance and matrimony find Miami an excellent goal." One "a la Pan American" marriage involved "Jose Rives … Spain's Consul at Cienfuegos, Cuba, and Ruth https://digitalcollections.library.miami.edu/digital/collection/asm0341/id/41160/rec/5Longmade McDonald of Akron, Ohio." The couple "arrived by Clipper from Havana at five-fifteen, p.m., and … were married fifteen minutes later."

Likewise, "Antonio Tarafa…and Miss Alice Mendoza … arrived from Havana on the American Clipper recently intent on marriage" had a civil ceremony, a religious service over a multi-day Miami Beach stay before boarding the overnight-train to New York, then on to Europe.

Sources:
PAA elopement stories: "Pan American Air Ways," Vol. 4, No. 2, p.14; "Pan American Air Ways," Vol. 4, No. 5, p. 18. https://digitalcollections.library.miami.edu/digital/collection/asm0341/id/41160/rec/5

FEBRUARY 22, 1933
"Oh, SOOO Cold, Copy!"
Photomontage (top to bottom): Pacific Alaska Airways facility with radio towers, PAHF/Clyde Smith Coll. Hugo Leuteritz, PAHF Collection. Radio Testing in Miami Cartoon, from PAAW, Vol 4. No. 1, p. 4. Pacific Alaska Airways retrieval of damaged aircraft, PAHF/Clyde Smith Coll.

Hugo Leuteritz, Pan American's Chief Communications Engineer, had created, refined, and adapted technology to increase flight safety and efficiency as the company entered new markets and new environments. Hugo's specialty was radios, the reason Chief Engineer, Andre Priester had insisted that Juan Trippe poach Leuteritz from Radio Corporation of America (RCA).

Since 1927, Leuteritz had patented systems to track aircraft in flight, refined radio-beacon navigation, constructed 61 radio stations throughout Central and South America, minimized equatorial-zone radio interference, and engineered the world's lightest airborne radio sets. With 1932's acquisition of three Alaska airlines, Hugo faced a new question: would Pan Am's radios work in extended sub-zero temperatures?

According to "Pan American Air Ways reports," working 4,000 miles from the new Anchorage base, Leuteritz's Miami team responded practically. They placed "(radios) into a refrigerator at the Maintenance Base," where "the sets were urged to do their act amid wintry blasts while engineers stood outside and peered in anxiously from time to time to see how they behaved. Reception was cold but perfect."

While his department supplied Alaska with reliable cold-hardened radio systems, Leuteritz knew this research applied throughout the PAA system. One radio system would serve atop Argentina's Mount La Cumbre at 12,500 feet altitude in weather challenging anything Alaska dished up.

Source: "Pan American Air Ways," Vol. 4, No. 1, p. 4, University of Miami Special Collections, Pan American World Airways, Inc. records. htthttps://digitalcollections.library.miami.edu/digital/collection/asm0341/id/40847/rec/1

FEBRUARY 22, 1933
"Weather Talk"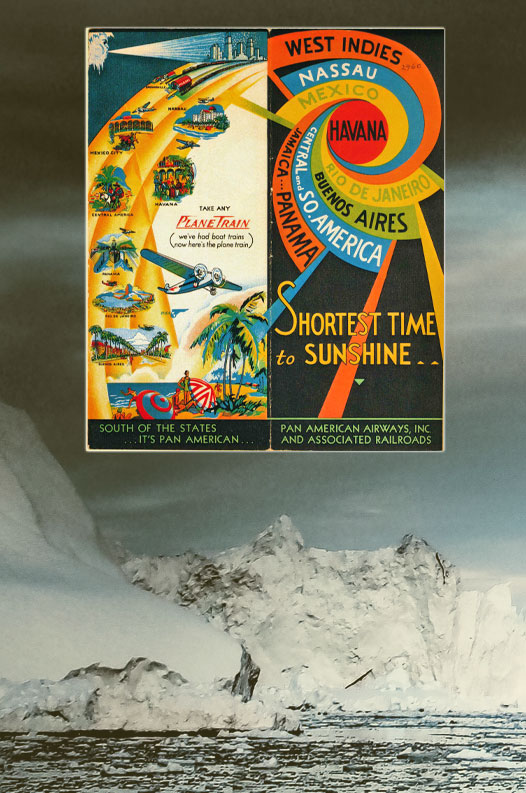 Photomontage: (1) Shortest Time to Sunshine, Pan Am Plane-Train brochure c. 1930, PAHF/Don Thomas collection.
(2) Ilulissat, Greenland by Jennifer Latuperisa-Andresen on Unsplash.
Published on October 27, 2017 https://unsplash.com/photos/U1y2ye6nPks

"'Next door to Winter are lands of Sunshine. Brief hours will take you there,' Pan American tells its prospective winter travelers. And this statement is greeted with varied emotions by those connected with the great international air transport line. Down on the equator, the sun of midday is a subject for feeling content if not always for unqualified approbation.If February 23 found you gazing at a thermometer which threatened to boil over, give a thought to the members of the Pan-American-University of Michigan West Greenland expedition. On that date the members of this group of hardy explorers crawled from their shack, faced due south, and waited. After an appropriate interval, over the southern horizon appeared the sun — only for a brief moment, and then it was gone. They looked at one another in congratulation. It was their first glimpse of sunlight in two months!"

Quotation from "Pan American Air Ways," Vol. 4, No. 1, p. 4.https://digitalcollections.library.miami.edu/digital/collection/asm0341/id/40847/rec/1
---

"Flying PAA's Western Division "

DC-2 still (PAHF/Fulton Film Collection).

Paschal official full-length portrait (Paschal Family Collection).

Paschal PAA photo, March 1931, "Pan American Air Ways," p. 93 (PAHF Collection).

Flight Log page (Paschal Family Collection).
Master Technical Sargent, Archie L. Paschal, an early U.S. Marine Corps enlisted aviator, retired in December 1929 after twenty years during which he amassed 2,300 flight hours in Europe the Caribbean and Central America and a chest full of medals including the Navy Cross. Archie then joined Pan American Airways.

By March 1933 Paschal was a senior pilot based in Brownsville, Texas, flying the company's Central America routes. Shifting weather patterns, rugged mountainous terrain, high-altitude airports, and rudimentary navigation tools made Western Division routes among the system's most treacherous.

Captain Paschal's 81:07 flight hours in March 1933 included 2:10 hours of instrument practice and 25 minutes of night-landing practice, 71 landings in 6 aircraft from three manufacturers (Ford, Fairchild, Stearman). Paschal's March 1933 workload was typical: 17 days on/14 days off/13 nights away from Beulah, his wife, and their sons, George (7 years), Archie, Jr. (5 years), and James (5 months). Archie's month ended in Salvador, San Salvador on his way to Cristobal, Panama, having clocked 5,050:57 career flight hours.

His 1931-36 Pan Am flight logs confirm the importance of Pan Am's monthly instrument training mandate. 75% of Archie's Pan Am flights required "blind flying" -- 20 minutes to hours at a time. That experience and training came to naught, however; during an October 10, 1936 repositioning flight. When flying a DC-2 by instruments — NC14273, transferred from Mexicana to Panagra only a month earlier— Paschal hit a mountain northeast of Guatemala City, Guatemala, an area he knew thoroughly, killing the three-person cockpit crew. Pilot Archie Paschal was given a military burial at Arlington National Cemetery.

Sources:
A. Paschal Flight Log, Paschal Family Collection.

MARCH 9, 1933
"Engine Mechanics: Pan Am's Unsung Heroes"

Photo: Clipper ship (S-40) in hangar for maintenance by Gleason Waite Romer, 07-11-1931.
Pan Am owned 107 aircraft in March 1933, and its Miami, FL, Brownsville, TX and Rio de Janeiro, Brazil maintenance shops ran nonstop, keeping engines in flying-shape. Based on PAA's aircraft, the company owned approximately 500 Pratt & Whitney 9-cylinder engines: 420 Wasp; 80 Hornet.

"Aviation" magazine shared Pan Am's 1933 engine maintenance schedule:
"On the long Canal Zone run... about fifteen hours flying time from Brownsville... 'long' servicing is given at Cristobal... (1) fill gasoline tanks; (2) check oil levels; (3) remove and inspect front spark plugs; (4) lubricate and inspect boxes for valve clearances, etc.; (5) remove and clean gasoline strainers; (6) check rear spark plugs for tightness; (7) check motor mounts; ( remove and lubricate push-rods and (9) clean engine thoroughly. On the return... to Brownsville... the following work is done. (1) change engine oil; (2) change spark plugs; (3) check magneto breakers for wear and clearance; (4) remove and clean carburetor jet plugs, and flush out carburetor; (5) remove and clean all gasoline and oil strainers. Any particular difficulties noted in flight by pilots are also taken care of."

PAA required engine overhaul every 100 flight hours. Available data indicate that most aircraft flew 100 hours every 30-35 days, producing a continuous stream of engines headed to the machine shop. In his autobiography, "Flying the Oceans," Captain Horace Brock (PAA 1933-1954) writes that engine overhaul took two weeks: one devoted to disassembly, cleaning, inspection, parts refinishing or replacement; and one devoted to reassembly, inspection, testing and fine-tuning.

Sources:
-Brock, Horace. "Flying the Oceans" (Steinhour Press, 1978), p. 46.

MARCH 17, 1933
"Miami Shamrocks"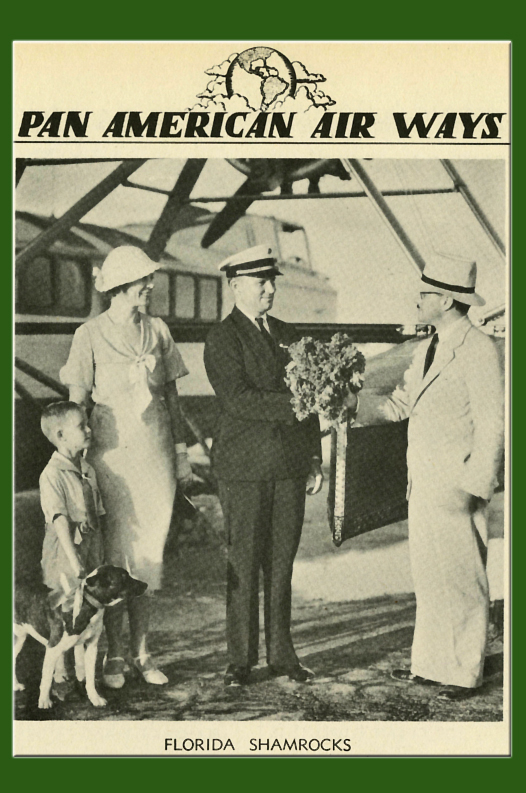 After flying the Consolidated Commodore to Miami from Kingston, Jamaica, Capt. R.O.D. Sullivan receives a bouquet of "Florida Shamrocks" in honor of St. Patrick's Day.
Transcribing northbound Consolidated Commodore NC670M's message Friday, March 17, 1933, a Miami radio operator wrote:
"Out from Kingston, Miami-bound on St. Patrick's day in the morning. Am flying seven green streamers, have seven green passengers, and a pair of green love birds in the express compartment. Plying over the emerald Caribbean and the Irish fields of Cuba."
Had Robert Oliver Daniel "Rod" Sullivan, painted the 22-seat Commodore seaplane green and flown a one-entrant palmtop St. Patrick's Day parade down Miami's Biscayne Boulevard few colleagues would have blinked. Everyone responded to Sullivan's antics with, "That's Rod." Yet, that March day, a Miami brain trust called Sullivan's bluff.
As Captain Sullivan sidled the plane alongside Pan Am's Dinner Key barge at 5:45 p.m., three passengers had flown with him before: Ms. Sybil M. Costa boarded in Cristobal, Panama, Thursday morning; Daniel de Brigand joined at Barranquilla, Columbia, Thursday noon; and, William "Bill" Ehmer, returning from a Pan Am posting. Looking out their passenger-cabin window they saw a woman and a boy and a dog wearing green flanked by an official-looking group and photographers.
While his wife Gladys watched, Sullivan exited the aircraft onto the Pan Am Dinner Key pier as five-year-old ROD, Jr., green pants legs flashing with green-bow dog in tow, rushed into his arms. Then, well-dressed Pan Am officials kept Sullivan standing before reporters and photographers while they spoke at length about St. Patrick, all things Irish -- and anything that crossed their minds. Then amidst popping flashbulbs, they presented Sullivan with a teeming bouquet of "Miami Shamrocks" (Spinacia oleracea).
Asked about the proffered greenery, Sullivan replied, "It's spinach."
Sources:
"Miami Shamrocks Greet Returning Celtic Pilot," Pan American Air Ways, Vol 4, No. 2, April 1933, p. 10.
University of Miami Special Collections, Pan American World Airways Inc., records.
"Daily Gleaner," Kingston, Jamaica, 18 March 1933.
Lodessen, Marius. "Captain Lodi Speaking," Paladwr Press, 2004, p. 72.
Photo: "Florida Shamrocks," Pan American Air Ways, Vol 4, No. 2, April 1933, p. 10.

MARCH 22, 1933
"I Danced All Night"

Ouida Calnek, "Miss Jamaica," and her whirlwind ambassadorial tour of Miami in 1933.
DATELINE: 4/2/1933, Kingston, Jamaica
Ouida Calnek stepped off Pan American Airway's Southern Clipper (Sikorsky S-40 NC752V) at 6:00 p.m. onto the Bournmouth Bath landing barge where a gaggle of friends, reporters, and photographers welcomed her return from Miss Jamaica's first ambassadorial trip. Responding to a Daily Gleaner reporter's question about her weekend in Miami, Ouida stated that she had "Not one hour's sleep since taking off Friday morning."
Ms. Calnek had left Kingston Friday at 8:00 a.m. on Pam Am's dime and aboard its Consolidated Commodore NC670M. Met by flower-toting fans at Cienfuegos and Havana, Cuba, Ouida arrived in Miami at 5:45 p.m. where Miami City Manager, L.L. Lee greeted her as the city's official guest and Pan Am announced her presence as its honored guest at that night's Aviation Ball, the "brilliant event of the spring social season."
Following a photo session, Ouida was hustled up Biscayne Bay Boulevard to the Robert Clay Hotel to unpack, change into evening wear, then travel across Biscayne Bay to the palatial Roney Plaza Hotel for the evening's soirée. She entered the Roney Hotel's twelve-acre Palm Garden at 9:30 p.m. and greeted military, industry, and society notables. Aviation dignitaries included an Admiral, Brigadier General, assorted Navy and Army aviators, Pan Am's favorite aircraft designer, Igor Sikorsky, Pan Am executives and Chief Pilot Edwin "Ed" Musick. The night's festivities -- fireworks, Navy and Army formation flyovers, music, dancing -- kept Miss Calnek from her room until 5:00 a.m. Saturday morning.
Miss Jamaica's Saturday started at 8:00 a.m. with a city tour, a luncheon, a movie, a formal dinner, and ended when Miami's nightclubs closed at 3:00 a.m. Ms. Calnek's wake-up call for her 8:45 a.m. flight home came much too early Sunday and less-chipper than on Friday afternoon, she posed for photos on the Dinner Key barge before boarding the "Southern Clipper" for Kingston… and, a long sleep.
Sources:
"The Daily Gleaner," Kingston, Jamaica, Mon. 4/3/33, p.3.
"Pan American Air Ways," Vol 4, No.2, p. 4.University of Miami Special Collections
https://digitalcollections.library.miami.edu/digital/collection/asm0341/id/41085/rec/2
Photomontage:
•Pan American S-40 "Southern Clipper" (PAHF Collection).
•Pan American Airways: Miss Ouida Calnek, Miss Jamaica of Kingston. Jamaica. 3-31-33.
(Miami-Dade Public Library System. Gleason Waite Romer Photos).
•Miami Beach from the Air: Roney Plaza Hotel, as seen from over Collins Park 4-1937.(Miami-Dade Public Library System.Gleason Waite Romer Photos).