The Day Wendell Willkie Chose To Fly
Pan Am

by Tom Culbert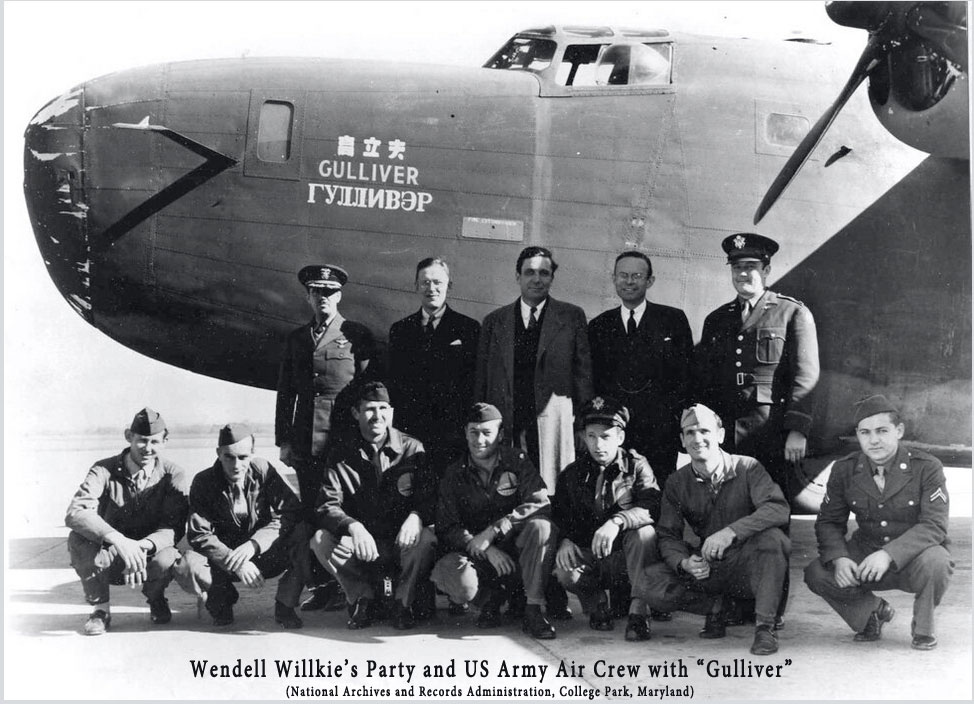 A look into Wendell Willkie's tour around the world for FDR and a story about an unusual mission during World War Two.

Wendell L. Willkie, the Indiana Republican candidate for the 1940 Presidential election, lost his bid for the White House to Franklin D. Roosevelt (FDR). Yet, in 1942 FDR selected Mr. Willkie to be the, "Personal Representative of the President of the U.S.A." on an around-the-world Good-Will and Fact-Finding mission.
FDR provided Mr. Willkie and his party with a U.S. Army Air Corps Consolidated LB-30 aircraft (an early version of the B-24/C-87 Liberator bomber) and crew for the journey. The aircraft, christened "Gulliver", departed from Mitchell Field, New York on 26 August 1942 with Mr. Willkie's party to begin the mission to fly around the world. Mr. Willkie was to visit with American and allied Soviet, British, and Chinese political and military leaders and with common citizens at each of the stops along the route.
On 29 August 1942, Mr. Willkie stopped in Accra, Gold Coast (today Ghana) where he spoke to the Pan American Airways-Africa, Ltd. (PAA-Africa) staff that was based in West Africa. These American civilians were supporting the movement of war supplies across Africa since August 1941. To the men, Willkie provided an impromptu "pep talk" to those PAA-Africa employees working in austere conditions in Africa. Willkie spoke to the men, extolling them to join the US Army and stay in Africa when the contract with PAA-Africa would be transferred to the US Army later in 1942. According to Willkie, America was now at war and the men should stay and continue with their work in Africa.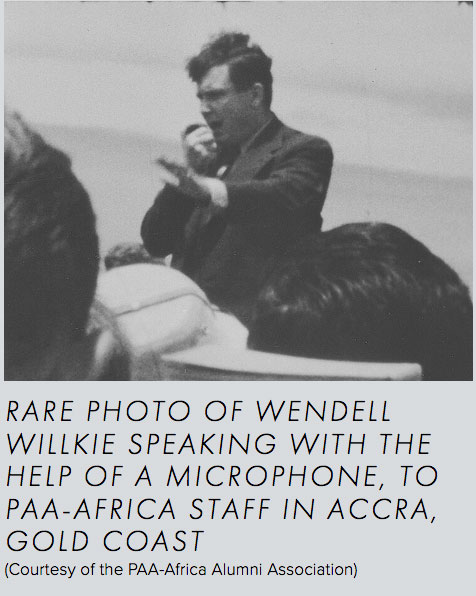 After making additional stops in Africa at Kano, Nigeria and Khartoum, Sudan, "Gulliver" arrived in Cairo, Egypt at 0930 on 2 September 1942 where Mr. Willkie and his party deplaned. Since there were reports of fighting just 80 miles west of Cairo, the pilot of "Gulliver", Major Richard (Dick) T. Knight elected to move the aircraft to a safer beddown in Lydda, Palestine. From Lydda, he could easily move his aircraft back to Cairo to pick up his passengers.
While in Cairo, Mr. Willkie was invited to visit the Western Desert military front lines. He traveled overland to El Alamein, Egypt where he held discussions with both British and American commanders in the region.
One of the specific tasks assigned to Mr. Willkie by FDR was that from Cairo, he was to proceed to Ankara, Turkey and attempt to win the release of three (3) American B-24 Liberator bombers, and their crews. The aircraft had made emergency landings in Turkey after bombing the oil facilities in Ploesti, Romania. They were trying to make it to their planned landing in Iraq. Upon landing at an airfield near Ankara, they were interned by the Turkish government. Turkey was a neutral country at that time and was not willing to allow the American bombers to depart.
The first problem facing Mr. Willkie was, how to get to Turkey? The neutral Turkish government would not allow Willkie and his party to arrive in an American Army combat bomber. The US Army LB-30 was basically identical in appearance to the American B-24/C-87 Liberator bombers. Thus, the "Gulliver" looked similar to the same type of bomber aircraft that had landed in Turkey, and which had been interned.
On 4 September the military and diplomatic staffs at the American Legation in Cairo called in Mr. H. Watson Starcher, PAA-Africa's Acting Special Representative in Cairo. It was a Friday afternoon and they asked if PAA-Africa could provide an aircraft and crew to fly Mr. Willkie and his party to Turkey on Monday morning? Starcher answered that PAA-Africa could do the mission.

The next questions was, how do you make an olive drab, wartime marked C-47 look like an American commercial airliner?
With assistance from the Royal Air Force in Cairo, modification work began on a PAA-Africa C-47 on Sunday morning. According to Mr. Starcher's after action report to his bosses:

"All army insignia were removed from the plane and a white panel above the windows on either side of the fuselage, approximately 15" in height, was painted and Pan American Airways System, in blue letters approximately 12" in height, was painted on the white background. On the under-side of the port wing on a white background, the letters "U.S." in blue, about 18" in height, were painted and on the under-side of the starboard wing on a white background the letters "PAA" in blue, approximately 18" in height, were painted. The PAA insignia (South America looking more like Australia) was painted on either side of the nose. The identification number was changed to an NC Number."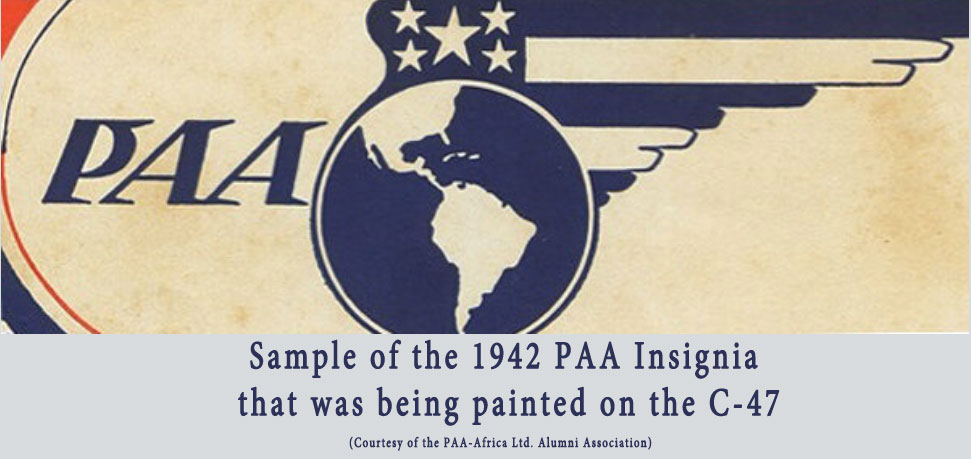 The PAA-Africa staff also secured several wicker chairs and fastened them to the floor of the aircraft. Thus, the flight to Turkey was accomplished providing some comfort for the passengers.
The mission departed from Heliopolis airport in Cairo at 0730 Monday morning with PAA-Africa Captain Tom Collins in command of a crew of four. The flight plan called for stops in Lydda, Palestine and Aleppo, Syria before arriving in Ankara, Turkey.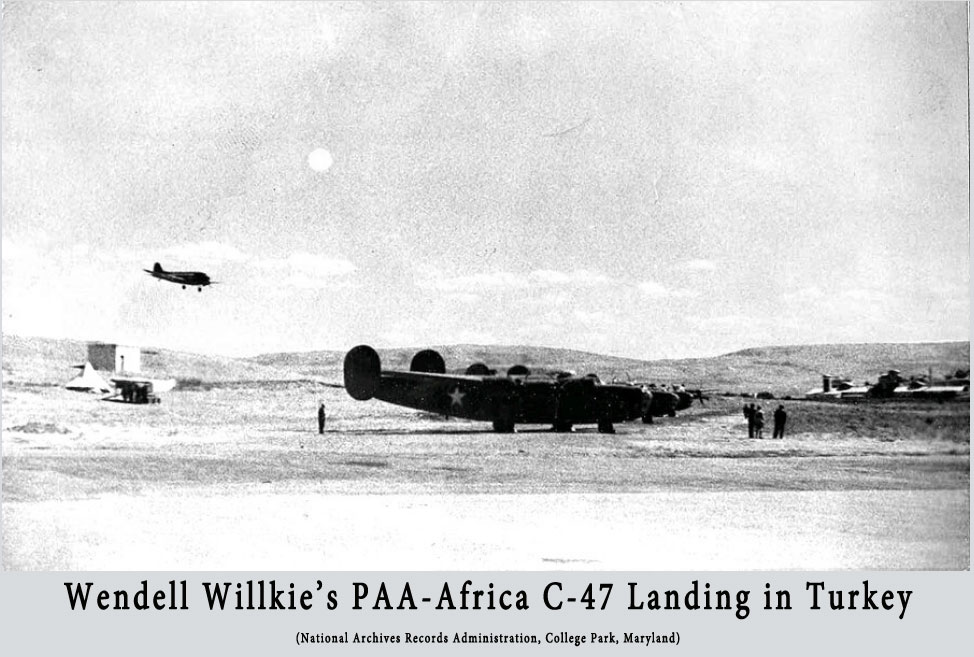 From available reports, and after several days in Turkey, Mr. Willkie was not able to obtain the release of the American crews nor the B-24 bombers.
On the return flight, the PAA-Africa aircraft landed again in Lydda, Palestine where Mr. Willkie and his party deplaned and reconnected with their LB-30, "Gulliver". On 12 September, Mr. Willkie continued his journey departing from Lydda on the "Gulliver" making additional stops in Soviet Union, Iraq, Iran, and China. Mr. Willkie's journey ended in Washington, DC on October 14, 1942.
In 1943, with the help of his publisher friend Gardner (Mike) Cowles and foreign correspondent Joseph Barnes, Wendell Willkie wrote a book about this 31,000 mile trip around-the-world and the people he met along the way. His book, is titled One World in which he does mention that,
"… I had to change at Cairo into a Pan-American Airways plane to fly up the eastern coast of the Mediterranean and over the bleak and bumpy Taurus Mountains to Ankara."
The PAA-Africa C-47 was expected to complete the run to Turkey and return to Cairo within four days. Mr. Starcher estimated that it would take one additional day to return the aircraft to its "normal appearance" and then returned it to routine service on the Africa route. Thus ended yet another chapter in how Pan Am assisted the U.S. Government's unusual missions during the war years of WWII.

About the Author:
Tom Culbert is an Alexandria, Virginia based aviation historical researcher, lecturer, and author of the book titled, Pan Africa: Across the Sahara in 1941 with Pan Am. The book details the work of the men of PAA-Africa Ltd. as they supported the British and our other allies from Africa to China in 1941- 1942. An author signed copy of the book is available for purchase by contacting Tom at This email address is being protected from spambots. You need JavaScript enabled to view it.

Bibliography:
"Letter to James H. Smith, Jr., from H. Watson Starcher, PAA-Africa Ltd. Acting Special Representative", September 7, 1942.
One World, by Wendell L. Willkie, Simon and Schuster, New York, 1943.
Log of the Liberators: An Illustrated History of the B-24 by Steve Birdsall, Doubleday & Company, Inc., Garden City, New York, 1973.
Willkie Flight: After Action Report, by Richard T. Knight, Major, Air Corps Pilot, Undated, Circa 1942.
Pan Africa: Across the Sahara in 1941 with Pan Am, by Tom Culbert & Andy Dawson, Paladwr Press, McClean, Virginia, 1998, (Fourth Printing 2007).