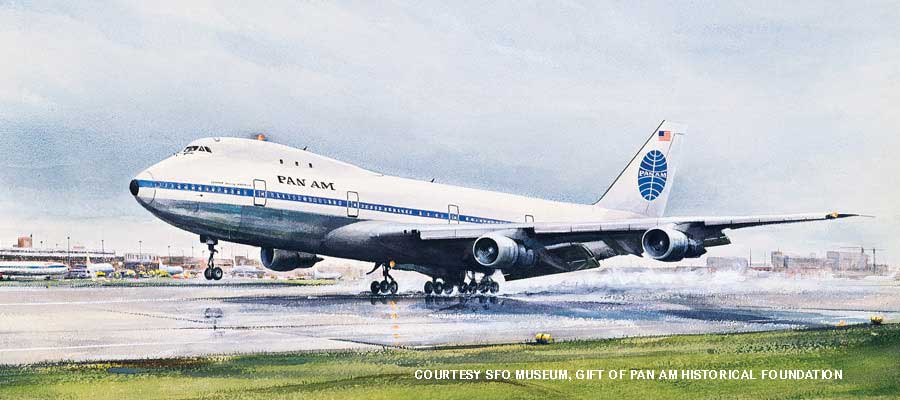 Pan Am's new Boeing 747 Jumbo Jet had only been carrying passengers since January 1970, introduced by a flight to London. The following month, the huge new aircraft were put into service on a route between New York and San Juan, Puerto Rico.
It was only a few months later on August 2, 1970, when Pan Am's Boeing 747-121 N736PA, "Clipper Victor," lifted off from JFK in New York as Flight 299 bound for San Juan, carrying 359 passengers,19 crew – and one hijacker. He was the young bearded man sitting in First Class, later identified as R. Campos.
The plane lifted off from JFK at 1:07 a.m. One hour and forty minutes later, Campos got out of his seat, approached Stewardess Esther de la Fuente, and said: "Take me to the pilot because I want to go to Cuba." She later reported that her first reaction was that it was a joke, so she said, "No, let's go to Rio – it's a lot more fun there at this time of the year!"
Campos then produced a gun and a bottle out of a bag he carried, which he said contained explosives. "I'm not kidding!" he added. De la Fuente did as he demanded, and escorted him up to the cockpit to see Captain Augustus Watkins, who later described the beret-wearing hijacker as looking like a "pint-sized Che Guevara." Watkins calm appraisal of the situation led him to the conclusion that it was best to comply – safety coming first – so he altered course for Havana. Not that it would have made any difference to Capt. Watkins' decision, but Mrs. Watkins was along for the trip as a passenger on the flight. They were planning to spend some time together in Puerto Rico.
So at 5:31 a.m. the big plane touched down at Jose Marti Airport in Havana. The Cuban "welcoming" party included none other than Cuban Premier Fidel Castro. This hijacking was enough to get him out of bed. No 747 had ever touched down in Cuba before. In fact no Boeing 747 had ever been hijacked before, and you can be certain that Fidel Castro had never seen one "in the flesh" until that moment. It was a day of firsts.
When the plane came to a stop on the ramp, and the available movable stairs were rolled into place, they proved to be somewhat inadequate to the job, as the 747 was much taller than any plane serviced there in the past. Captain Watkins, accompanied by hijacker Campos (the only two people who got off the plane) had to jump down the three-foot gap to the top of the stairway. The Cuban leader was intensely interested in the giant new aircraft, peppering Watkins with questions about its capabilities. He was particularly concerned as to whether or not the huge aircraft could get off safely, given the Havana airport's limited runway length. Watkins, giving Castro a walk-around tour of the Boeing, assured him that it would not be a problem. Castro declined the offer to board the plane, saying he didn't want to scare the passengers.
With one engine kept idling to insure that the rest of the 747's turbines could be started again, "Clipper Victor" was ready to roll 52 minutes after landing, taking off for Miami for refueling and a de-briefing of passengers and crew by a waiting team of FBI agents. Then it was off again for San Juan, the intended destination, where the flight landed at 10:45 a.m., not quite 7 hours behind schedule.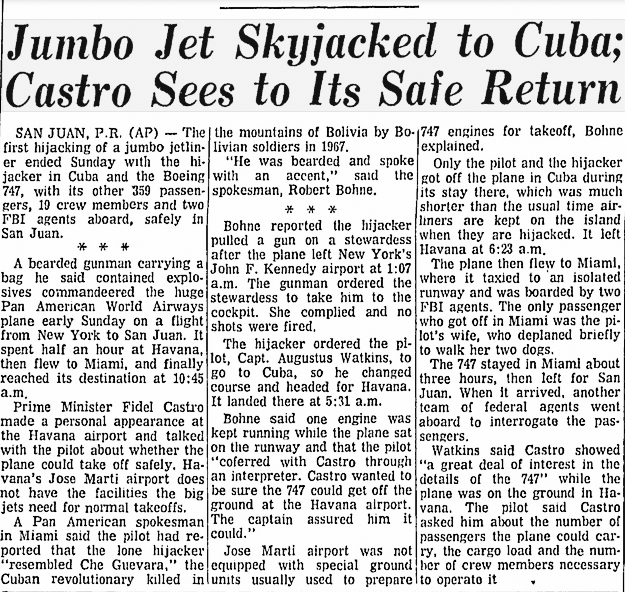 August 3, 1970 Associated Press article