"Next Stop: Paramaribo"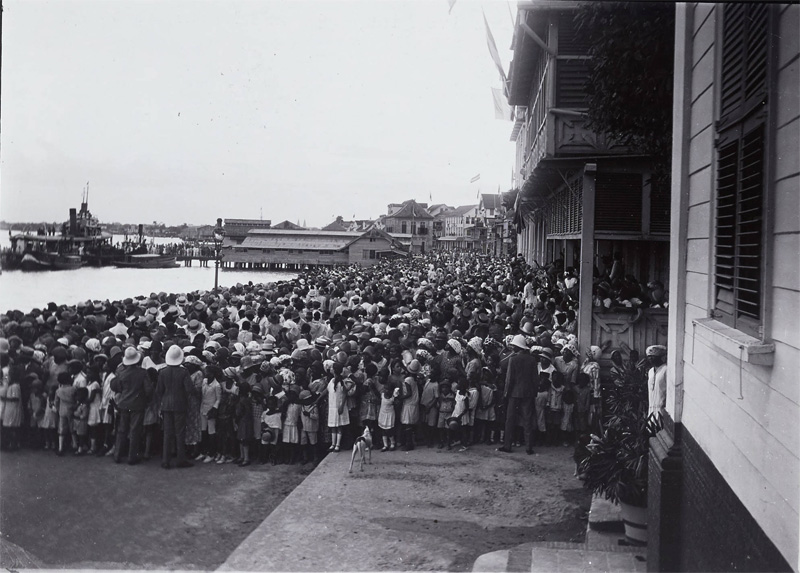 Paramaribo Crowd Awaiting Lindbergh, September 1929 (University of Miami Special Collections, Pan American World Airways Inc. records)
Charles Lindbergh was still only nine months into his new role as Head of Pan American Airways' Technical Committee, when on September 18th, 1929 he and his wife Anne departed from Long Island for Miami to start on their next adventure.

Juan and Betty Trippe were waiting to join them there on a trip that was going to be big news. So at 7 a.m., September 20th, along with Glenn Curtiss (who was going as a paying passenger as far as Havana) and members of the press, they departed in a Fokker F-10A Tri-motor headed for Cuba. The mission: deliver the first airmail bound for Paramaribo, in what was then Dutch Guiana (now Suriname).
Pan Am had received the US Post Office's contract for Foreign Airmail Route (FAM) 6 in July 1928, but flights on the route had only proceeded as far as San Juan since it was inaugurated in January. But now, with a burst of international publicity, guaranteed with Charles Lindbergh doing the flying, the mail would now be going to a point on the South American continent.
And as Betty Trippe reported it in her book, "Pan Am's First Lady: The Diary of Betty Stettinius Trippe" (Paladwr Press, 1996) it was something of an eye-opening experience for her.

" To Paramaribo and Around the Caribbean" by R.E.G. Davies (Map used by permission, courtesy Ron Davies)
As she described it, everywhere they touched down it was a chaotic and fatiguing whirlwind, with repeated scenes of cheering throngs, hasty visits to official receptions, mounds of proferred bouquets, and exposure to exotic and foreign ways of life (albeit mostly from a distance).
The Fokker was exchanged for a pair of Sikorsky S-38's at San Juan because much of the ensuing trip was going to be to places with no suitable land airports. The Trippe's flew in the second S-38 piloted by John Tilton, due to a heavy southbound mail load. The culmination of the flight down through the Antilles was in Trinidad, where as Betty recounted, "the crowd literally went wild."
From there, it was a short hop to the coast of Venezuela, and southward towards the Guianas. Betty was a bit nervous, due to a rough-running left engine given the seemingly impenetrible jungle over which they were now flying, but they made British Guiana without incident, other than hunger.Their stay at Georgetown, the capital, was brief, as time was fleeting and pilot Lindbergh didn't want to risk an after-sunset arrival at Paramaribo, the next and final stop.
And so at sunset, September 23, 1929, Pan American's first official flight to the South American continent was completed.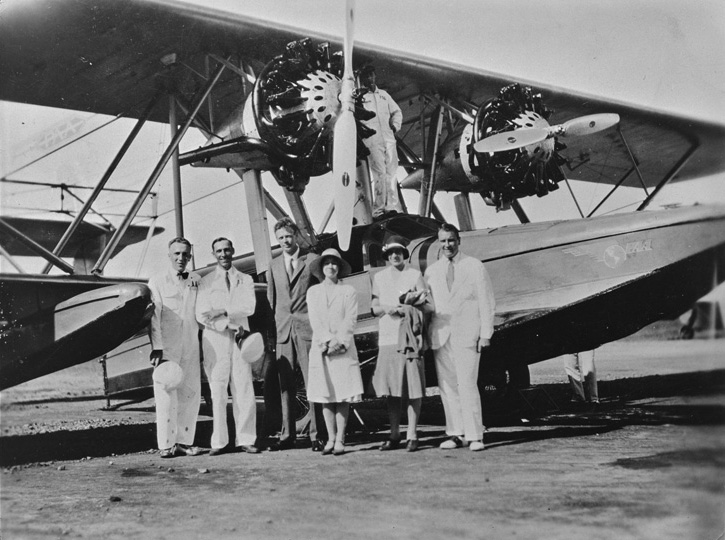 The Lindberghs (center) stand with the Trippes (right) by the Sikorsky S-38 flown from Paramaribo, with Bill Ehmer, Radio Operator (far left) and Charles Lorber, Co-Pilot (2nd from left). (University of Miami Special Collections, Pan American World Airways Inc. records)
The route taken by the Trippes and Lindberghs on the return went back through Trinidad on a single S-38, but then turned westward, through Venezuela, Colombia, and up through Central America.
When the flight reached British Honduras, the Lindberghs went off on their own, with Charles flying missions over the jungle to look for Mayan ruins on behalf of the Carnegie Institution, while Juan and Betty Trippe headed back to Miami. (You can read more about Lindbergh's Mayan adventure in "Eyes in the Sky" by Eric Hobson at https://www.panam.org/take-off/733-eyes-in-the-sky)
The experience was perhaps an opening for Betty - and Juan - onto vistas of foreign shores which would be the first of many for them. It was also a harbinger for generations to come come , who would also share a similar realization, that life is often lived differently in different places.