The Azores: Strategic Stepping-Stones
Santa Maria Tower today. Photo by Peter Leslie
A group of islands sits conveniently in the middle of the Atlantic. Long a province of Portugal, the Azores has played a vital role in the development of intercontinental aviation. When the US Navy set out to link the New and Old Worlds by air in 1919, the islands were a critical stopping point. And from the days of his earliest plans for transatlantic air service, Juan Trippe was counting on using the Azores. So when Pan Am Clippers began "crossing the pond" in 1939, they landed in the harbor at Horta, on the island of Faial.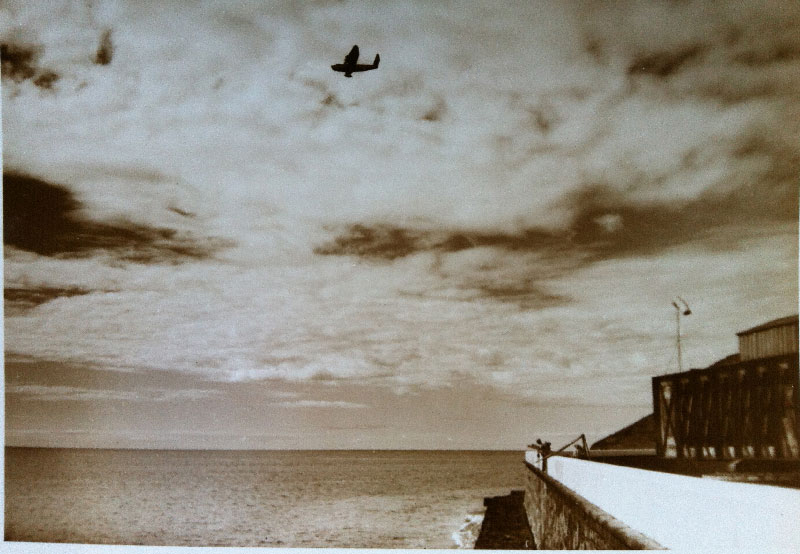 Flying boat over Faial: Photo credit, George Hitchcock, courtesy John Hitchcock
When war broke out in Europe that same year, the island chain's strategic value became critical. They were to become a waypoint for flights to both Europe and the route to Africa. And with German U-boats sinking ship after Allied ship, a base from which to patrol the sea lanes by air would be of immeasurable value.
Portugal, although neutral during the war, had a long-standing and friendly relationship with Britain, which facilitated an arrangement for a British base. By late 1943, the base that would become known as Lajes Field was opened by British forces on the island of Terceira.
With the pace of Allied operations increasing, and eventual Allied victory becoming increasingly likely, the pressure was on for more air transport capacity in the Azores. Portugal agreed to let the US build another airfield on Santa Maria, the most southeastern Azore. But to mask any violations of Portuguese neutrality, it was necessary for the US government to call on an old strategic partner, as had been done so often before – Pan American Airways. And as before, the relationship had to remain a secret.
Dr. Daniel Haulman, who heads the US Air Force Historical Research Agency has written a fascinating article about this unknown history. We present his article with kind thanks to Revista LPAZ, where it was originally published.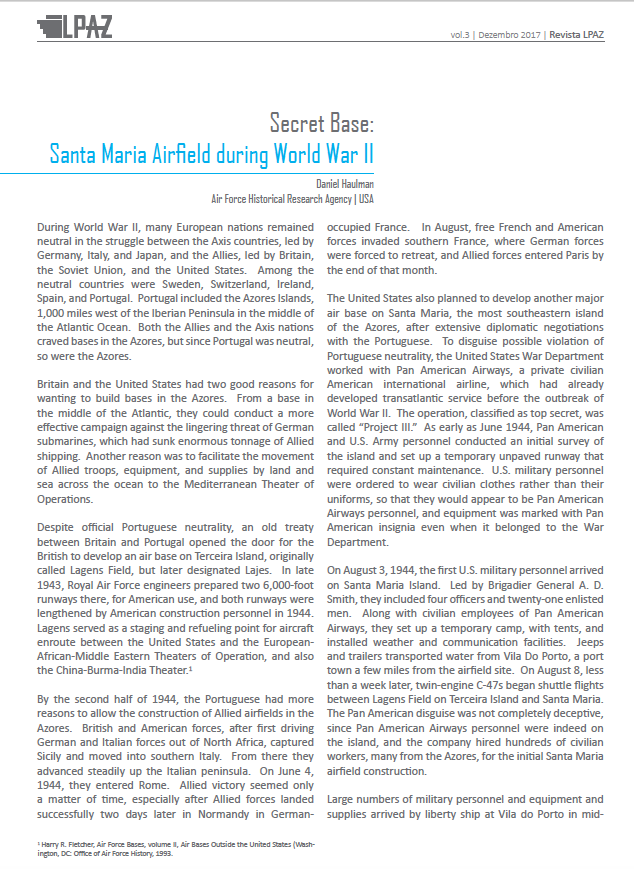 Read the PDF
Two informative videos documenting aviation history in the Azores:
Historical presentation of Lajes Field Air Base in Terceira island, Azores, Portugal


Wartime British review of Lajes Field via British Pathé