An Inspired Renewal:
The Lanpro Group's 1967 Piper Cherokee
By Derek Barnett *
Derek's Inspiration
INTRODUCTION
Derek Barnett and multi-generational members of his family in England have been taking to the air in their own aircraft for decades. They formed their own flying club, the Lanpro Group, to facilitate their abiding desire to fly. Now their current airplane (which is not their first) carries on their family passion for aviation with a new look, but one that harkens back to a magnificent legacy. Here's how Derek explains it.
A PIPER CHEROKEE GETS A NEW LOOK
It came to the point where the algae on the wings was complimenting the grass of the airfield. Our '67 Cherokee wasn't looking her best and was in desperate need of protection from the elements.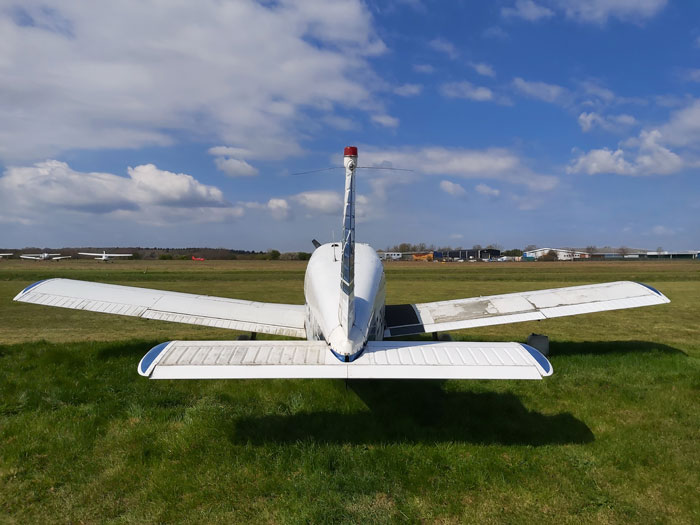 The venerable Cherokee was about to change
A respray was long overdue and in anticipation of this much thought into a paint scheme with no decision was becoming a little frustrating.
The all-metal aircraft designs of the '60s including the Piper Cherokee are sometimes referred to as the 'spam can era.' This doesn't give justice to such a revolutionary, practical and loved aircraft.
Sixty years on from the first flight of a Cherokee and still very much in use, it would be a nice idea to celebrate with a paint scheme a little different. A one -colour metallic dark blue or crimson red though dramatic, just didn't tick the box. Only on a chance visit to Southend Airport and parked by ATC on the main apron, amusingly surrounded by airliners did the thought of a commercial livery become an idea.
Condensing a design from a 140 ft-airliner to a 15 ft light aircraft was never going to be easy, retaining detail was always going to be a compromise.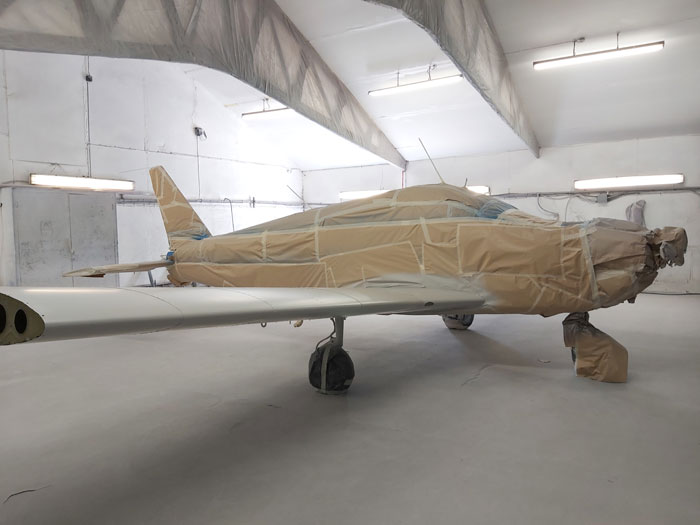 Under wraps in the paint shop
THE CONCEPT TAKES SHAPE
Heading to the Internet for inspiration and following logically, PA 28 (Piper Aircraft model number for the Cherokee) 'Click' nothing exciting other than in production for 60 years, which is amazing enough but no clue to a paint scheme. Then searching for aircraft of 1967 the search conjured up memories of my youth and cycling to Heathrow Airport in the days when you were allowed to watch by a perimeter fence, fascinated by the aircraft of the day such as the three-fin Lockheed Constellation, the sleek lines of the De Havilland Comet with integrated wing engines, and transatlantic airliners such as Boeing and Douglas bringing in the new jet era.
BOAC, BEA and many European airlines had appealing liveries, but had no connection with Piper. It needed to be linked.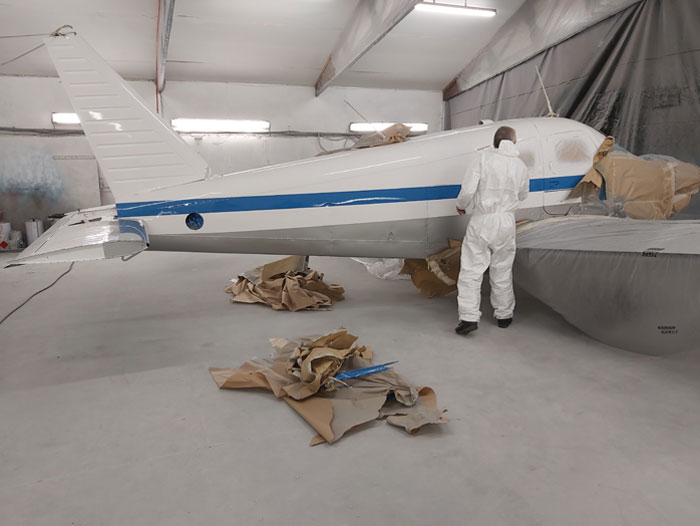 At work in the paint shop

When the Cherokee was on the production line Pan American was arguably the biggest influence on passenger travel, advertised as 'the world's most experienced airline,' Pan Am introduced stylish aircrew uniforms, aircraft names prefixed 'Clipper' reminiscent of the oceanic liners. The mapping of many of the first passenger flying routes with the assistance of the legendary Mr. Lindbergh and the inspirational airport terminal at Idlewild which enabled aircraft to dock under cover. The list of achievements is endless and provided the inspiration needed for the project.
Fingers crossed it would be possible to combine the little Piper Cherokee and encapsulate the iconic Pan American livery.
BRINGING IT ALL TOGETHER
Nothing worth doing happens easily, as the saying goes and I have been around long enough to make enough mistakes and understand you can't just boldly steam ahead on a whim. Returning to the Internet checks were required as to trademark and brand ownership. This is where I came upon the Pan Am Historical Foundation website and Doug, a true Pan Am enthusiast and thoroughly nice guy who put me in touch with Stacy at Pan Am Brands.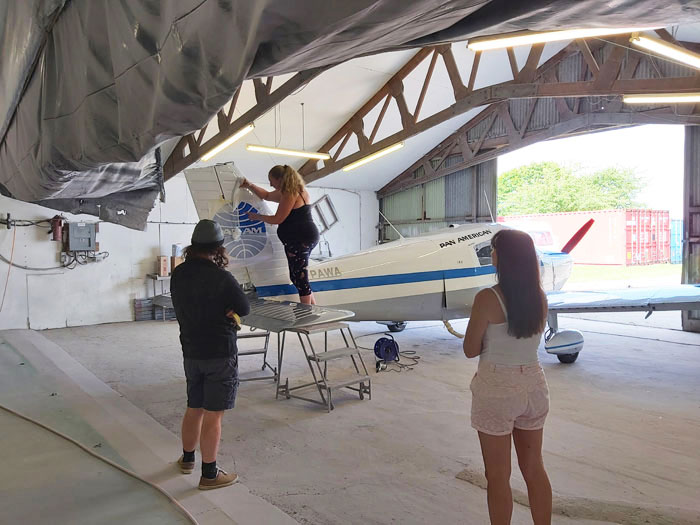 A truly distinctive emblem is revealed
Clearly permission to use the cherished and instantly-recognisable Pan Am globe Logo is not something given lightly. Stacy however was brilliant and after some discussion approval was given and agreements signed.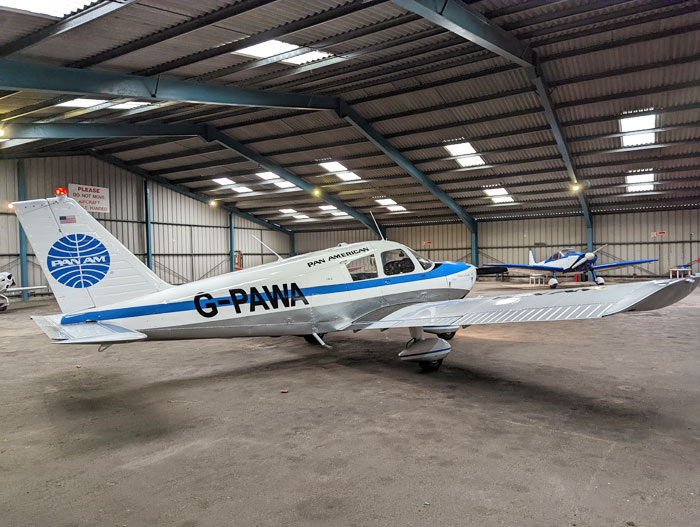 All Together Now!
We were reccomended a paint shop, Eastern Air Executive at Sturgate Airfield and the external restoration progressed well with no nasty surprises, a little overrun on time in any project is not unusual, however the pending annual maintenance now had to be carried out before the aircraft could fly from Sturgate.
MISSION ACCOMPLISHED
Low compresion in one of the cylinders led to further investigation and showed slight internal corrosion. Lycoming engines don't like not flying and with Covid restraints limiting flight put the proverbial spanner in the works. This is not a major mechanical problem, however these cylinders are presently like hens teeth with a global shortage so for now the aircraft remains firmly grounded. Despite that, the Piper should be in air again before too much longer.
A future Cherokee pilot!
Postscript:
At last report, the Lanpro Group's Piper, registration G-PAWA, has had all her airworthiness issues addressed and has retaken to the skies in her brand new, historically-inspired Pan Am livery. The aircraft's next flight was on the 10th of December from Sturgate to Old Warden in Bedfordshire. So in one corner of the world's skies, the Pan Am globe is proudly flying again!
We thank Derek Barnett and the Lanpro Group for their enthusiastic participation in bringing this story to you.
*All photos courtesy /Derek Barnett
PAN AM PIPER