Craig Claiborne, food critic for the New York Times attributed the beginnings of America's fascination with gourmet food to Pan Am's 'Round the World Flight in an L-049 Constellation on June 17, 1947. Here's an article by Robert Fleming from December of that year, describing Pan Am's food service challenges and delights at that time.
Pan Am Stewardess Alice Lemieux serves passengers aboard the flight around the world, June 1947 (Photo courtesy of her daughter, Kathy Jacobsen)
Dining in the Sky Presents Its Special Problems
Milwaukee Journal December 14, 1947 by Robert Fleming, Journal New York Bureau.
New York, N.Y. — Dining in the sky is like nothing on earth. All sorts of problems plague the men and women who are responsible for maintaining the air lines' reputation for good foods. The passenger, enjoying the meal brought to him by a smiling stewardess, seldom knows of those problems, but there are those who ponder them constantly.
It appears, however, that high altitude prevents solutions of some difficulties. Beets, for example, turn black. Cooked fish loses its flavor. Fried chicken or French fried potatoes get "very tired" unless they are served immediately after being prepared.
Pork is generally too "heavy" a food — not in actual weight, but in how the diner feels after eating it. Beans and watermelon cause gas. Cabbage, cauliflower and onions also don't know their own strength when served 15,000 or 20,000 feet up on an air liner cruising at nearly 300 miles per hour.
Artistry is Considered
There are a few other peculiar problems, too stemming from those efficient trays on which air liner meals are served. The entree usually is either in a casserole or a section of a plate, either of which is sized to fit an opening in the tray. Breast of chicken or a portion of steak could be fitted into a space which, if occupied by a chicken leg or a chop, would lack the artistry of a perfect dinner.
But the air lines display great ingenuity and skill in meeting their problems. Their success is attested by the frequent comment of air line passengers, who say "eating on planes in like nothing on earth."
Those who have ridden big planes or inspected them know that the stewardesses base their operations in compact little galleys that are models of efficiency. That same efficiency is practiced in the kitchens where the foot in prepared. Take, for example, the Pan American World Airways kitchen at LaGuardia field, where 800 meals a day are prepared, to be served as far away as Calcutta and Karachi, India. That kitchen isn't much larger than an apartment bedroom, yet meats, vegetables, salads, desserts and abundant between meal snacks are constantly being prepared for planes leaving 24 hours a day for distant parts of the world. The housewife who has trouble regimenting her household meal schedule might be prostrated by the problems of providing food for a Pan American flight to Calcutta. Here is the meal schedule for such a trip:
Eastbound. Departing at 11:30 p.m. New York to Gander (Newfoundland) hop, snack of sandwiches and fruit juices; Gander to Shannon, Ireland, continental breakfast and lunch; Shannon, dinner ashore; London to Istanbul, Turkey, snack and continental breakfast; Istanbul to Karachi, lunch and dinner; Karachi, breakfast ashore; Karachi to Calcutta, lunch.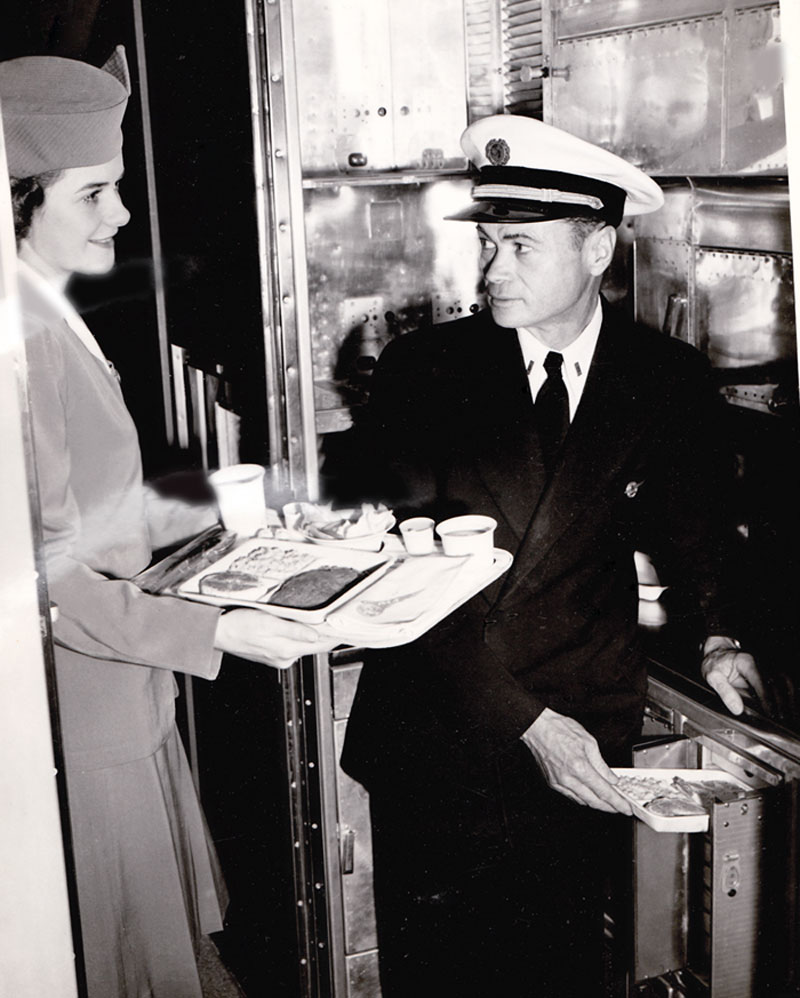 Pan Am Stewardess Alice Lemieux and Purser Rymond Tunstall preparing meals on the Flight Around the World, June 1947 (Photo generously provided by Alice Lemieux's daugher, Kathy Jacobsen)
Vegetable Plates
Not all the food for the trip goes abroad at LaGuardia field, but most of it does. Since Hindu passengers do not eat meat, vegetable plates are prepared in New York and shipped in dry ice to Karachi and Calcutta. At Istanbul, bottled water is taken aboard for use in India,.. For each New York to Calcutta flight, the loading lists include 257 pounds of food and 310 pounds of serving equipment.
The following menus were those of a recent flight on a Pan American plane bound for the middle east:
Breakfast — Grapefruit juice, French toast with maple syrup, Canadian bacon, glazed apples and beverage.
Lunch — Pineapple juice, turkey with cranberry sauce and dressing, gravy, sweet potatoes, garden peas, lettuce and tomato salad with French dressing, rolls and butter, ice cream tart and beverage.
Dinner — Tomato juice, tenderloin steak with mushroom sauce, potato patties, string beans, fresh green salad, French pastry, beverage and mints.
The air lines, like housewives, have found frozen foods a great help to them, but they don't buy those foods in family size packages. Instead, they get them in meals — individually wrapped portions of meat, potatoes and vegetables, each portion sized to fit the sections of a special plastic and disposable platter. These platters fit into specially built electric stoves, about as large as a household bread box, that change the food from icy chunks to tasty portions in a few minutes.
Insulated containers, designed to fit the limited space of the planes, keep food piping hot or carefully chilled until time for serving. But the preparation of food before it goes into those containers, of course, is of equal importance. That's why expert chefs and caterers direct the work. Pan American, for instance, has in Joseph Raviol a 20 year veteran of catering on the ground, on the sea and in the air. He was a steward on Italian liners before he began to work for swank American hotels. In 1938 he joined the air line and has flown over a million miles studying food problems aloft. He can also discuss them in almost any country, for he speaks English, French, Spanish, Portuguese and Italian.
Maurice La Barre, the air line's chief chef in New York, is a French Canadian who was employed at restaurants in New England and Florida before he began preparing food for flight eight years ago.
Typical Clipper Menu



Hearts of celery




Olives Radishes rose




Crabmeat cocktail




Consomme royal




Filet mignon with Madeira sauce and mushrooms




String beans au beurre




Potatoes Noisette




Hearts of lettuce, Russian dressing




Mocha cake




Tea Coffee




After dinner mints