Ron Davies. A Great Friend of Pan Am's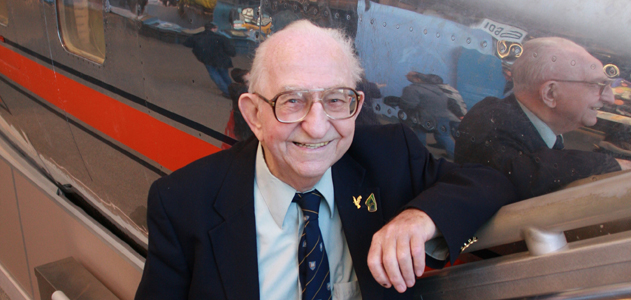 by Dr. Robert Van der Linden, Ron Davies' colleague at the National Air and Space Museum
R.E.G. Davies (Ronald Edward George Davies), former curator of Air Transport, and the world's foremost airline historian, passed away from a stroke on Saturday July 30, 2011. He was 90 years old. Ron had retired this past February after spending 30 years at the Museum and had returned home to England to be close to his wife, Marjorie, his two daughters, Annette and Jackie, and his two grandsons.
Born to working class parents in Shaftesbury, Dorset, England, on July 3, 1921, Ron attended the local grammar school until he was called to military service in the British Army in 1939 as a member of the territorial volunteers. During the war he was stationed in Britain and trained extensively in Iceland for the invasion of Norway, which never happened. Instead, Ron and his unit landed on the Normandy beaches six days after D-Day, June 6, 1944. As a driver of a small Bren gun carrier, Ron fought his way across Europe, surviving German counterattacks and an accidental strafing from Royal Air Force Typhoons fighter-bombers.
After leaving the army in 1946, Ron went to work first for the Ministry of Civil Aviation and British European Airways, and later the Bristol Aeroplane Company and de Havilland before moving to the United States in 1968 where he became the head of the marketing research department for Douglas Aircraft.
During his distinguished career in airline marketing, Ron traveled to every continent, visiting hundreds of airlines. He gathered his research into a collection of dossiers organized by region which he used to produce most of his subsequent airline histories.
In 1964, Ron published his first book, entitled A History of the World's Airlines. It was followed over the next five decades by no less than 25 airline-related books and numerous articles. His pioneering work laid the foundation for all airline histories that have followed. His last book, Airlines of the Jet Age: A History, which is a companion to his first work, was published just days before his death.
In 1981, he retired from Douglas and joined NASM as the Charles A. Lindbergh Fellow. He was persuaded to stay on as curator of air transport, a position he held until his retirement from the Smithsonian last February (2011). When he retired, he was the oldest employee of the Smithsonian.
Ron was a warm-hearted and generous person, who loved a good argument, and was always willing to help in any way. He loved jazz, geography, and baseball, although he was often puzzled by its odd rules. Ron also never tired in his efforts to persuade his American friends of the superiority of his English brand of football. His presence greatly enhanced the reputation of the Museum and his service reflected the highest standards of the Smithsonian. He will be missed.
Related Article:
There Will ever Be Another Pan Am: Written on the occasion of Pan Am's 75th Birthday, 2002, in the Pan Am Historical Foundation "Clipper Newsletter," by the late R.E.G. Davies, foremost aviation historian and author, who found Pan Am an endless source of inspiration and interest.