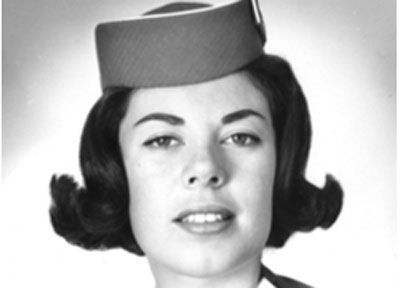 Mary Lou Bigelow's Pan Am career – and her priceless personal film collection – made for valuable contributions to the Smithsonian Channel producers when they started work on a 2014 documentary, "I Was a Jet Set Stewardess"
Here she provides some of the backstory...

The moving image always intrigued me! Early interest began while using my parent's 8mm movie camera. Later, while flying the European runs for TWA (1959-1962) and continuing on with the New York to Hong Kong routes with Pan Am (1962-1964), I filmed my layovers and vacations with an upgraded Super 8mm camera, thrilled to capture footage of London, Paris, Lisbon, Majorca, Madrid, Rome, Athens, Berlin, Liberia, Accra, Cairo, Papeete, Suva, Pago Pago, Oahu, Beirut, Istanbul, Karachi, New Delhi, Teheran, Hong Kong, and topping the list was the early morning boat rides along the klongs of Bangkok.
In October 1964, I married John Bigelow, who shortly thereafter joined Pan Am as a training captain on the B727s in Miami. I worked in Pan Am reservations and then in sales in the downtown Miami office until 1968, when we moved to Kabul, Afghanistan on a Pan Am Technical Assistance Program (TAP) with Ariana Afghan Airlines. Throughout our four year assignment, I filmed my trips around the country. We left Kabul in October 1972. After a two year stint back at the Miami base, we moved to Kinshasa, Republic of Zaire on another Pan Am TAP program with Air Zaire. There I filmed my seven-day journey down the Zaire (Congo) River. We left Zaire in 1975 and returned to the U.S. in 1976, divorcing in 1977. Meanwhile, I just kept adding to my Super 8mm film footage collection, never thinking I might have use for any of it the future.
From 1990 to 1995, I worked as the creator/editor/photographer of an economic development supplement for Banker & Tradesman, a New England banking and real estate publication. In 1995, I launched an interview show, called The Global Connection (now a series of The Mary Lou Bigelow Show), using my connections and experience gained at Banker & Tradesman. My interest in moving images continued, but with videotape instead of film.
Shortly after 911, in March 2002, I began the Afghanistan Series that has won a number of national awards. In September of 2002 and again in 2004, I returned to Kabul to attend conferences and to continue filming, but now I was using the much higher quality digital cameras. (You can see a daily log of my 2004 trip on my website:maryloubigelow.com)
With community studio productions changing to digital, I gradually transformed my old TV shows into workable digital files, loading them onto external hard drives and then uploading them onto my website via Vimeo.com. At the same time, I digitized my old 8mm and Super 8mm films and photos.
September 2011 brought the first of ABC's TV series "Pan Am." Seeing the actresses dressed in perfect replicas of my very own 1962 uniform, spurred me on to use some of my film and photos to create the 11-minute "A Pan Am Memoir 1962-1964" that can be seen on Vimeo: https://vimeo.com/33414477
It was this memoir that caught the eye of the Smithsonian Channel producer when she was searching for Pan Am stewardesses and vintage film from that era for the documentary. Thrilled that I could supply her with already digitized film footage and photos from that era, way beyond what she had seen in the memoir, she sent me some hard drives upon which I loaded the material. Later, during the winter, I flew to Washington DC for my interview for the documentary.
Who knew so many years ago that my old film (now so inferior to today's digital standard) would help document "The World's Most Experienced Airline" in the 1960s for many years to come.
Check out "I Was a Jet Set Stewardess"

Mary Lou Bigelow