Kathleen Clair 1919-2019
Remembrances by Ed Trippe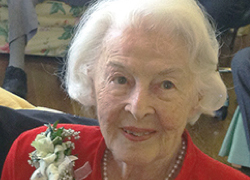 Kathleen M. Clair died peacefully on January 26, 2019. A month earlier, surrounded by family, friends and many Pan Am colleagues, Kathleen celebrated her 100th birthday. Kathleen lived her life to the fullest, and along the journey she touched so many people, who all became her friends.
Several years ago Kathleen wrote a journal for the Pan Am Historical Foundation about the day she joined Pan Am and went to work for Juan Trippe. The memo provided a glimpse into the Pan Am Executive Office with all its intrigue and occasional office scandal. She also wrote about her friendship with Pan Am's senior executives and the confidential relationship she shared with many of them. It was a close group of committed, loyal men: Harold Gray, Charles Lindbergh, John Leslie, Howard Dean, Henry Friendly, Sam Pryor, John Gates, Willis Lipscomb, Wilbur Morrison, John Pirie, John Shannon, Jim Montgomery, Frank Gledhill, Tom Flanagan, Willis Player, and many others. And there was Al Ueltschi, who flew Trippe's B-23 and went on to found Flight Safety International. Even today that group of men stand out as pioneers in aviation history, and they all counted themselves as close friends to Kathleen. Her other close friend for many years was my mother, Betty Trippe. In later years before her death, Kathleen helped my mother organize her letters and memoirs. Kathleen subsequently edited the letters and memoirs, and with R.E.G. Davies, Aviation Curator at the Smithsonian, published my mother's book Pan Am's First Lady, The Diary of Betty Stettinius Trippe.
Kathleen joined Pan Am in December 1948 – 70 years ago. She remembers her interview was short and it was with the "Boss". Trippe asked her three questions. One was could she keep a secret, a critical discipline in Trippe's office where national security affairs, global diplomacy, and strategic business decisions like acquiring the next generation of aircraft or the first jets, opening new routes, or planning mergers were daily subjects. Fifteen minutes later Trippe stood up to go back to his desk and Kathleen assumed she was being dismissed. But then Trippe said "Can you stay now?" And Kathleen replied briskly "No, I have a job and would have to give two weeks notice." Trippe responded, "How about one week?" Kathleen replied, "OK!" and started a week later.
Kathleen recalled that first Christmas Eve, a week later, and having to work until 10:00 PM. She was too new and intimidated to say anything, or to know there would be many other late nights. But she remembers thinking, "What kind of a bunch of heathens did I get in with here?" She was going to quit. But before telling anyone she was quitting, two secretaries in the office came back from a trip to Mexico and were all sun-tanned. So she thought, well, maybe she should reconsider, and so she stayed for 32 years, and wrote she never had one dull moment.
Many of Kathleen's friends remember her so well and have great stories. Pam Hanlon wrote when she was very "green" and had just joined Pan Am as Investor Relations Director with offices on the 46th floor of the Pan Am Building, Kathleen took her to lunch in the Copter Club to give her some tips on how to deal with the "big guys". By then Bill Seawell occupied the corner office, but she knew the 46th floor habits all too well. And one of her tips for this young female executive was to "never be caught in the coffee room making coffee!" She then explained that Jim Leet made the coffee on the 46th floor. ...And, she was right, Jim Leet made the coffee every day of the week, even the refills at mid-day. Pam recalls Kathleen as always so kind, and so gracious, and that she was admired and loved by so many.
I, of course, have known Kathleen virtually my whole life. I was seven when she joined the Company and some of my earliest recollections were being drafted as the family emissary to go up to the Executive Offices in the Chrysler Building on Friday nights to tell Dad that we were all waiting for him (and had been for hours) and to come down so we could all drive out to the country. At seven I could get away with almost anything, and Kathleen would usher me into Dad's office interrupting whatever meeting was in progress so I could plead my case that we wanted to go home.
Kathleen was always an extended member of the Trippe family. She was devoted to Dad and fiercely loyal to his legacy. In may ways we became closer after Dad died and Pan Am went under, and the work of the Pan Am Historical Foundation became an urgent undertaking. The bankruptcy court was charged with disposing the company's assets and that meant selling off the archives and memorabilia. To raise the necessary funds, we went to Dad's address book of friends and business associates. Kathleen worked tirelessly raising the necessary capital, and in the end, together with the University of Miami's Richter Library as our partner, the Pan Am Historical Foundation successfully acquired Pan Am's archives and memorabilia. With the archives secured, the Foundation undertook the task of sorting through 3,000 file boxes to salvage the historically critical documents, photographs and archival materials.
Kathleen had a unique gift, which had made her an invaluable assistant to Juan Trippe -- It was her photographic mind. She remembered everything and everybody. And for the Foundation her memory of people, events and documents spanning the history of the company were invaluable to the Herculean task at hand. Her guidance and oversight sorting through the thousands of archival documents was only exceeded by her passion for Pan Am's history and preserving its legacy for future generations.
Kathleen was loved by many. She will be missed by many, and her passion for all things Pan Am will be remembered by many.
Edward S. Trippe
Chairman
Pan Am Historical Foundation