Pan Am: Pioneering Aviation in Alaska

Map from Chicago Tribune, August 24, 1932
A little background from the 1932 Pan American Airways Annual Report:
"In July, your Company acquired the ground facilities, aircraft and mail contracts of Alaskan Airways, Inc., and Pacific International Airways of Alaska, Inc. These assets were consolidated and transferred to a new wholly owned operating subsidiary—Pacific Alaska Airways, Inc. A central operating base was established at Fairbanks. Radio equipment was installed on aircraft. An efficient meteorological and ground radio control system was developed to conform to the difficult climatic and static conditions encountered. Scheduled service, now so essential to the Territory, is maintained over 2,600 miles of route, linking all important centers otherwise served only by dog team in the winter and river boat in the summer."
Excerpt from Pan Am: Once Ketchikan's Link to the Outside World, by Dave Kiffer (2006)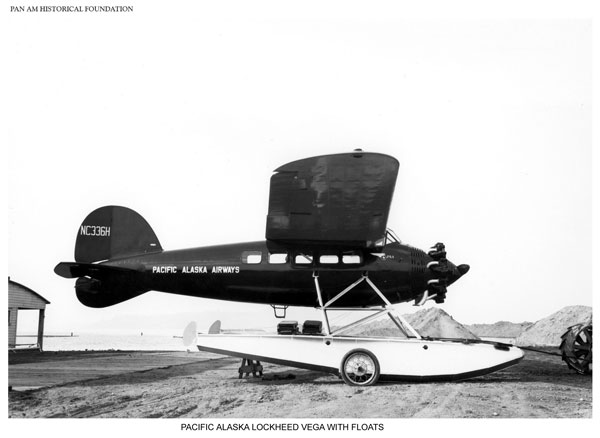 Pan Am was founded in 1927, a scant five years after Ketchikan saw its first commercial airplane flight, Roy Jones' "Northbird" in 1922.
Originally Pan Am was a merger of three smaller air companies and served the Miami to Havana mail run. It was founded by the legendary Juan Trippe who had plans to create a world-wide airline empire. He succeeded.
While other fledgling American airlines were concentrating on domestic routes, Trippe rightly saw a lucrative future in international flights. Initially, Trippe concentrated on routes in the Caribbean and South America, primarily using the first of the Pan Am Clippers or flying boat
But he also had an eye toward Pacific routes and he was encouraged in that direction by Charles Lindbergh. Almost immediately after returning from his famous solo Atlantic crossing in 1927, Lindbergh turned his attention toward the Pacific and Asia. He believed in a mostly overland route that would take advantage of northwest Alaska's proximity to Russia.
In the summer of 1931, Lindbergh and his new wife, Anne Morrow Lindbergh, pioneered what later was called "The Great Circle Route," which remains the fastest route from New York to Tokyo.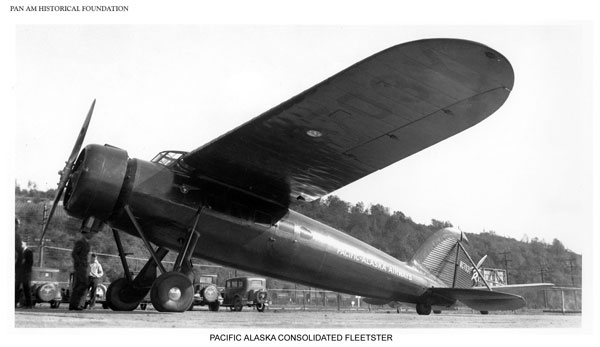 The journey was chronicled in Morrow-Lindbergh's best selling book "North To the Orient." The couple flew - Morrow-Lindbergh was also a pilot - from Long Island north into Canada's Northwest Territories to Nome. They crossed over the Bering Sea into the Russian Far East and then down to Japan and China.
"The Arctic, my husband remarked as we studied the globe, heretofore had been explored chiefly for its own interest," Morrow-Lindbergh wrote in "North to the Orient." "But why the Orient?.The indisputable importance of future air routes between America and Japan, China and Siberia."
The journey was made with the help of Juan Trippe who was interested into establishing air service to Asia over the "circle" route. Lindbergh's flight showed that the route would be successful. But pre "Cold War" politics intervened.
The cooperation of the Soviet Union was necessary because the limited range of airplanes in the early 1930s meant that flights from Alaska would have to stop in Siberia.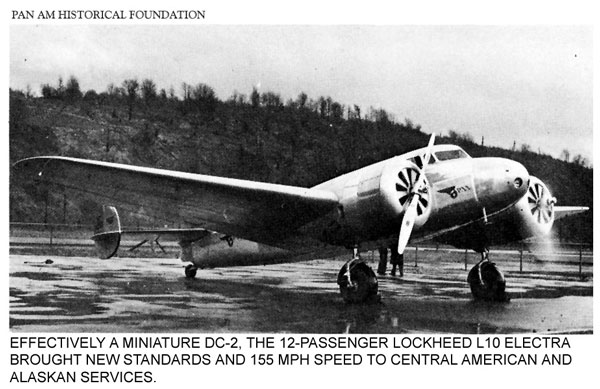 Unfortunately the Soviets said "nyet" to the new route, primarily because the United States government still had not officially recognized the Soviet government that had come to power in Russia more than a decade before.
So Trippe and other Pan Am officials decided to work on the establishment of seaplane or flying boat routes that could access Asia via the Hawaiian Islands and other locations further south. Many of the military bases in places such as Hawaii, Midway and Guam were established by Trippe and his flying boats.
That was Pan Am's official public position, but behind the scenes Pan Am continued to negotiate with the Soviets via intermediaries and covert contacts, according a report on its Alaska operations that Pan American made to the Civil Aeronautics Board (the forerunner of the Federal Aviation Administration) more than a decade later.
In 1932, Pan Am decided to officially enter the Alaska aviation market. It purchased two existing carriers, Alaska Airways and Pacific International Airways. The new airline was called Pacific Alaska Airways and initially it began operating between Anchorage, Fairbanks and Whitehorse, with occasional flights to Juneau.
In 1933, the US government finally recognized the Soviet Union and that led to Pan Am expanding its service in Alaska in anticipation of eventually beginning its great circle route through the territory.
In 1934, PAA purchased Alaska Southern Airways, a small company that had been operating sporadically between Juneau, Ketchikan and Seattle. In 1935, Pan Am built the first land airport in Juneau. Previously land planes had been using tide flats.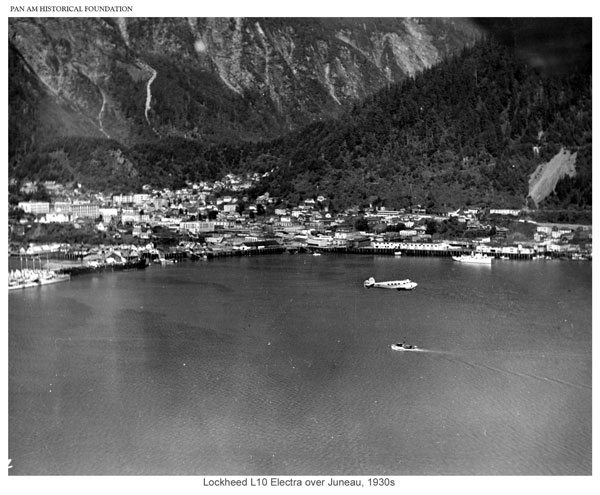 By April 1935, PAA was offering the first scheduled service between Fairbanks and Juneau with a stop in Anchorage. But often on nearly empty planes.
"Apart from operating problems, the idea of scheduled operations (in Alaska) was met initially by indifference and even antagonism on the part of the traveling public, which being used to dealing for transportation on an individual basis, as often as not on credit and at ad hoc rates, was not entirely enthusiastic about air carrier methods," Pan Am wrote in its later report to the CAB. "The idea of reservations was novel and it was often necessary to send messengers to assure that passengers would appear at the airport at the departure time."
But as service to Juneau increased from the north, Pan Am began planning service as well from the south.
As far back as 1933, Pan Am told the CAB, the success of its Alaska operations were completely dependent upon a link with Seattle.
Initially Pan Am considered helping the major aircraft companies develop long range four-engined land planes that could reach Southeast (the new field in Juneau) from Seattle. They looked to Boeing and its new S-307. The delivery date for the new planes was 1938 , but Pan Am was concerned about production delays and wanted to pioneer as much of the route as early as possible.
It gained federal permission to use twin-engined Sikorsky S-43 amphibian aircraft to make several freight and mail runs between Seattle and Juneau with a stop in Ketchikan.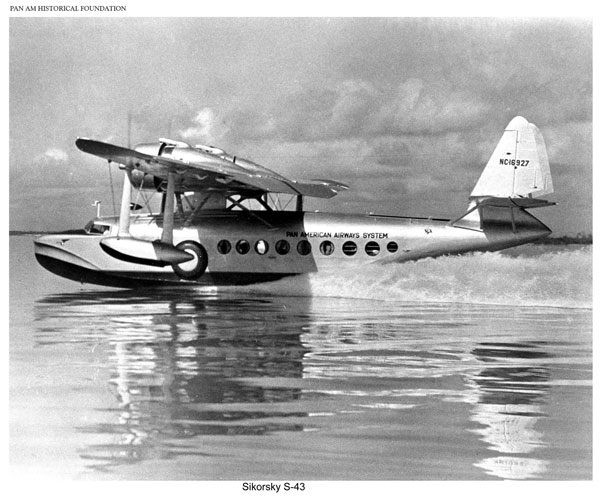 On August 7, 1938 Ketchikan was abuzz in anticipation of the arrival of the first Pan Am "baby clipper."
For some time, local float plane operators such as Bob Ellis had been making occasional runs to Seattle, but the arrival of Pan Am signaled to many local residents that Ketchikan was truly entering the age of flight.
The flying boat was scheduled to arrive shortly after noon. But it was delayed by what the Ketchikan Chronicle called one of the worst hailstorms that had ever been seen in town.
In addition to the hail, there was thunder and lightning.
As the weather cleared around 4 pm, the Clipper flew into view around Pennock and landed near the City Float docks.
"Dozens of photographers were on hand to take still and motion pictures of the Clipper's arrival," wrote local historian June Allen in the Ketchikan Daily News in 1991. "But many were disappointed when they were unable to get on City Float. Police stopped people as a precaution against the float sinking."
The plane stayed only briefly to take on fuel and then left for Juneau. On the return flight the next day, the plane landed again at City Float but then spent the night moored near Wacker City on the west side of Wards Cove because Pan Am officials felt that moorage was safer for what was the largest plane to have landed in Ketchikan up to that time.
During the visit Pan Am and government officials also took time out to look at Bostwick Inlet on Gravina as the possible site for a land airfield, according to local aviation historian Don Dawson.
Pan Am had already expressed its preference to use land planes and Ketchikan officials were worried about getting bypassed.
Which is exactly what would have transpired, if World War II hadn't intervened. -- Dave Kiffer

Video: A Pacific Alaska Lockheed L-10 Takes off in Alaska (PAHF Film Archive)

We gratefully acknowledge the assistance of Mr. Dave Kiffer, from whose article Pan Am: Once Ketchikan's Link to the Outside World
this was adapted. You can read the original article here: