Two Important Books - Reviewed by Eric Hobson
Pan Am at War, by Mark Cotta Vaz and John. H. Hill (Skyhorse, 2019), 393 pages.
The Spirit Behind the Spirit of St. Louis Harold M. Bixby, by Benjamin C. Barrett (The Troy Book Makers, 2019), 466 pages.
The years leading up to and during World War II are among Pan American Airway's most intriguing; however, as PAA worked with the U.S. Government on projects across the globe, much activity mentioned obliquely in PAA Annual Reports and newsletters was classified and many participants sworn to secrecy in 1938-45 remained mum after.
Two new books illuminate this part of PAA's story. Pan Am at War: how the airline secretly helped America fight World War II, by Mark Cotta Vaz and John. H. Hill (Skyhorse, 2019), approaches PAA's war participation from the macro perspective, recounting the corporation's global projects, while The Spirit Behind the Spirit of St. Louis Harold M. Bixby – A lifetime in aviation: from balloons through the Pan American Airways years, by Benjamin C. Barrett (The Troy Book Makers, 2019), takes a micro approach and deals with one man's contribution to the larger PAA narrative.
Pan Am at War
Pan Am at War's engaging, detailed narrative reflects Vaz and Hill's complementary partnership: aviation history curator, John Hill, provides access to seldom-seen PAA records held at the San Francisco Museum and to other museum archives, giving Mark Cotta Vaz narrative building blocks that other writers only dream of accessing (the book's bibliography warrants the purchase price). Working from rich primary material, they recount PAA's first two decades (1927-1946) as the fledgling company is incorporated, gains initial airmail contracts, and expands across the Caribbean and throughout South American with the goal of transoceanic routes.
By the late 1930s, PAA routes almost circled the globe, and as war spread across Europe and Asia, PAA provided the US Government deniable means to establish aviation infrastructure (defensive and offensive) and long-haul military supply lines throughout the Caribbean, along the Atlantic coasts of South America and Africa, and across the Pacific and along the Pacific Rim. Funded through secret Airport Development Program contracts, PAA personnel constructed airports in far-flung, often inhospitable places officially to prepare for long-range commercial aircraft. PAA's state-of-the-art Caribbean, northeast Brazil and Africa facilities were militarized upon the USA's declaration of war on Axis powers, as were PAA's Pacific and Alaska installations. Yet, as Vaz and Hill recount, PAA staff managed most of the sites for the military throughout the war keeping in place the company's unrivaled expertise in logistics, meteorology, navigation and maintenance.

Pan Am B-314 at LaGuardia Marine Air Terminal (PAHF Collection)
The war subsumed PAA's fleet as the military requisitioned all commercial aircraft. The authors recount how PAA's Clipper fleet (Sikorsky S-40s, Martin 130s, Boeing 314s) owned by the US Government, but staffed by PAA flight crews, maintained transoceanic mail and passenger service, while undertaking dozens of special missions directed by the War Department. Using PAA and military records, Vaz and Hill account for PAA's role in, among many missions, rushing vital artillery shell fuses to British forces facing off against German forces in Egypt, bringing raw uranium ore from the Belgian Congo for use by the Manhattan Project, taking President Roosevelt to Casablanca, Morocco to consult with Prime Minister Winston Churchill. PAA's ground-based aircraft (DC2s, DC3s, DC4s) ferried priceless material and personnel to Europe, Africa and Asia. The authors provide a much-needed accounting of PAA's development and management of two government-initiated subsidiary airlines, Pan Am Ferries, Inc. and Pan American-Africa Ltd, whose PAA employees accomplished herculean feats throughout 1942 until both groups were subsumed into the Air Transport Command. Through its China operations, PAA personnel were key to keeping open Allied supply efforts across the Himalayas ("the Hump") from India to China.
Pan Am at War is at its best when it sticks to its title's promise to explain PAA's covert war-efforts. The overall book is engaging and carefully researched, yet, the book's first two hundred pages cover history recounted elsewhere -- PAA's founding and early years. A mere one hundred pages is devoted to the fascinating events that the authors' research unearthed about PAA and World War II. A single focus on events chronicled in Part 3, "Wartime Missions," would have taken readers deep into the myriad events introduced and, more important, the lives of the persons who made PAA's war contribution vital to the overall war effort. Much of this story remains untold.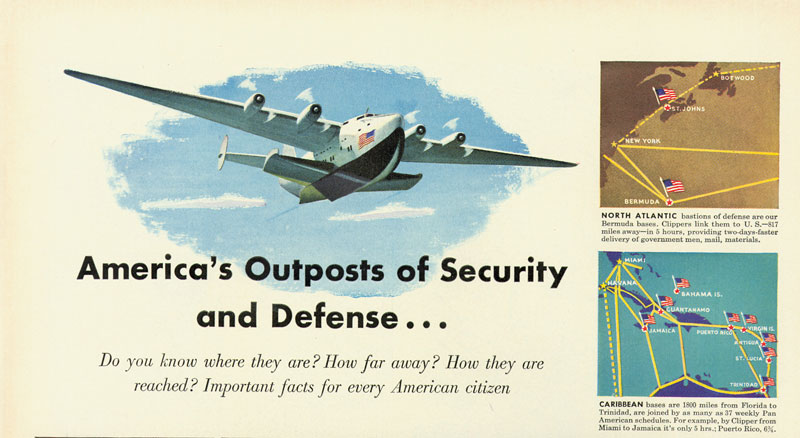 Pan Am Ad detail from 1941 (PAHF Collection)
The Spirit Behind the Spirit of St. Louis Harold M. Bixby
Benjamin C. Barrett's The Spirit Behind the Spirit of St. Louis Harold M. Bixby, recounts Harold M. Bixby's (1890-1965) contribution to commercial aviation, starting with financing Charles Lindbergh's 1927 transatlantic solo flight and continuing as a PAA executive (1933-1955).
Bixby joined PAA in 1933 as a Special Representative for East Asia operations based in Shanghai, China to stabilize PAA's new subsidiary, China National Air Company, and to secure permissions, rights, and routes needed to open transpacific commercial and mail service. Recalled to the US in 1938, he was named Vice President and oversaw PAA's Pacific and Alaska Divisions, and in 1939 shifted to directing PAA's Atlantic Division. In 1941 Bixby opened two new subsidiaries (Pan American Ferries, Inc., and Pan American-Africa, Ltd.), both of which masked contracts to build/expand military airlift capacity needed to support impending global war efforts and the airport facilities required to support such large-scale, long-haul aviation (see Pan Am at War). Bixby retired as a PAA Director, having served as Administrative Vice-President.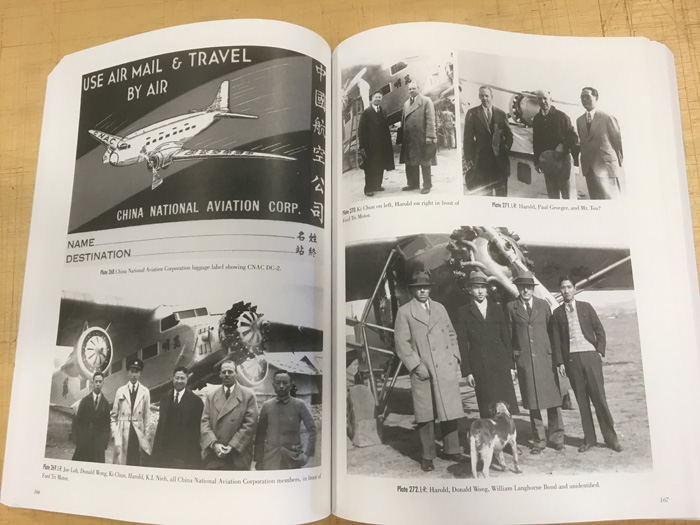 Interior photos from The Spirit Behind the Spirit of St. Louis Harold M. Bixby
Barrett chronicles Bixby's life through an impressive collection of family sourced photographs, letters, telegrams, and other artifacts. Organized by decades, each section provides chronological summaries of key activities and events, most of which are explained by the photos and documents that follow. The 1930s section provides a trove of rare, primary information about obstacles overcome to make transpacific service an operational reality, to operate in China in the face of Japanese mainland incursions, and to evacuate PAA personnel and equipment. The 1940s section is less detailed and less rich, with more attention paid to Bixby-Lindbergh family correspondence, and less to Harold's PAA work assignments, which, given his involvement in classified war projects may explain the less-comprehensive paper trail.
What differentiates The Spirit Behind the Spirit of St. Louis Harold M. Bixby from other memorabilia-based aviation histories is the care with which the materials are arranged and contextualized: every photo is captioned, every letter is reproduced in easy-to-read size (no thumbnail size reproductions here) and, many of "Slim" Lindbergh's letters to Bixby spanning their 40-year friendship are transcribed to ensure reading accuracy. Barrett has worked for years on this project to ensure each timeline is accurate and that persons involved are identified. The addition of a biographical index provides useful context for recreational readers and researchers, as does the thorough index of the book's text and images. For PAA and Lindbergh fans, The Spirit Behind the Spirit of St. Louis Harold M. Bixby, can be enjoyed through multiple straight-through readings and random five-minute dips; for aviation historians and libraries, however, the book warrants consideration as a unique reference tool: the number of otherwise hard-to-locate primary materials it contains, and the high-quality of its production (thick, semi-gloss paper, tight binding, crisp image reproduction, etc.) justify its purchase.