When Pan Am ceased operations, a team of dedicated people in the Pan Am Historical Foundation went to work to save the documented history of the airline. Since then, more historical material is coming to light all the time and continues to be donated to these wonderful collections.
Over the years since its closure, Pan Am's historical legacy has been preserved in these outstanding repositories: John W. Hartman Center for Sales, Advertising & Marketing History at Duke University; HistoryMiami Museum; SFOMuseum (San Francisco Airport Commission Aviation Library & Museum); Smithsonian Institution; and University of Miami Special Collections, Pan American World Airways. Inc records.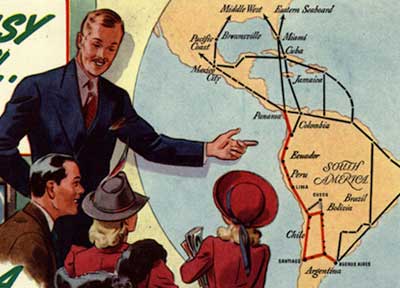 John W. Hartman Center for Sales, Advertising & Marketing History at Duke University has an extensive Guide to Pan Am Collections. Their beautifully designed LibGuide on Pan Am will aid researchers and anyone else interested in the J. Walter Thompson Company's creative output on behalf of Pan Am -- images and ads that helped spread the Pan American brand around the world.
Their latest 3-year long endeaver has been to create online access to the "Pan American World Airways Advertisements Digital Collection", from their J. Walter Thompson Domestic Advertisements, J. Walter Thompson Frankfurt Office Advertisements, and Wells Rich Greene Inc., as part of a CLIR grant with University of Miami Special Collections and History Miami Museum. To view the amazing collection of Pan Am advertisements go to: https://repository.duke.edu/dc/panam
HistoryMiami is home to an impressive collection from Pan American World Airways' historic legacy, in the form of unique physical artifacts and photographs.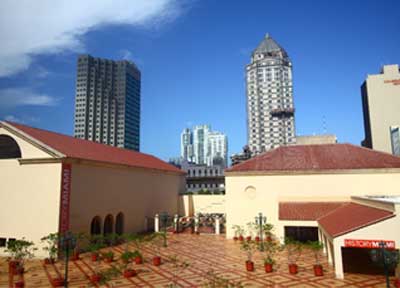 Formerly the Historical Museum of Southern Florida, their Pan American Collection includes "objects relating to the technological and corporate development of Pan American World Airways as well as the passenger experience including navigational tools, employee uniforms, in-flight safety tools and passenger items, logo merchandise, and corporate commemorative awards." The extent of the Pan Am collection includes over 500 artifacts, and takes up about 400 square feet of space.
HistoryMiami, a member of the Smithsonian Institution Affiliations Program, is one Miami's most prominent cultural institutions. Along with the Miami Art Museum and the Main Public Library, HistoryMiami is located at the downtown Miami Cultural Plaza, designed by Philip Johnson.
Dynamic public programming and a world-class archive division, offers researchers access to a carefully maintained and professionally directed library of original documents, photographs, and other materials relevant to a wide range of historical interests. Their latest project includes digitized materials supported by a grant from the Council on Libraries and Information Research in conjunction with University of Miami Special Collections and John W. Hartman Center for Sales, Advertising & Marketing History at Duke University To see the digitized images from HistoryMiami go to: HistoryMiami Museum Digital Collection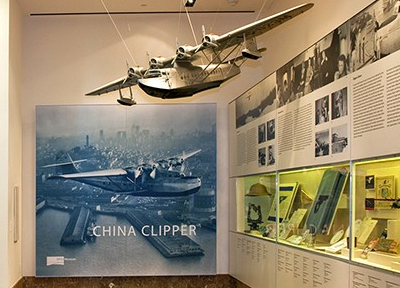 The Louis A. Turpen Aviation Library & Museum at San Francisco International Airport is located in an architectural adaptation of the airport's original 1930's passenger lobby. Now in the new International Terminal Building, this outstanding collection focuses on air transport with an emphasis on the West Coast and the Pacific region. Exhibitions, research services, and educational programs are offered to the public free of charge. Exhibits change frequently, and Pan American Airways history plays an integral part in the museum's focus. Link to SFO Museum's China Clipper exhibit and others pertaining to Pan Am: https://www.sfomuseum.org/exhibitions/china-clipper
Link to information about The Louis A. Turpen Aviation Library & Museum https://www.sfomuseum.org/aviation-museum-library
The nation's most impressive collection of aviation artifacts and related historical archives has numerous materials relating to Pan Am, collected from private sources, as well as from the Pan Am Historical Foundation (such as Juan Trippe's famous globe), and from the airline company itself. Absolutely worth a visit to the campus on the National Mall in Washington DC. Their campus at the huge Udvar-Hazy center in nearby Chantilly in Northern Virginia houses the famous Pan Am Boeing 307 "Clipper Flying Cloud".
You can view some amazing Pan Am artifacts online as well: https://airandspace.si.edu/gsearch/pan%2Bamerican%2Bworld%2Bairways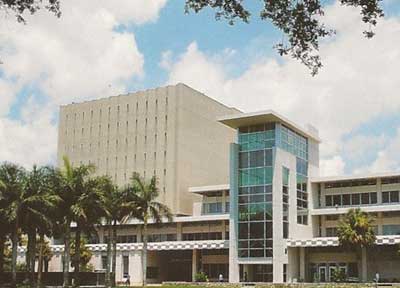 Located in Coral Gables Florida, University of Miami Libraries Special Collections is can be visited in person and online. For your search, go to the Special Collections Library finding aids and links to other unique Pan Am materials.
A three-year digitizaton effort supported by a grant from Council on Library and Information Resources (CLIR) has enabled University of Miami Special Collections - in conjuction with Duke University Hartman Center and HistoryMiami - to offer Pan Am materials through the Digital Public Library of America's Aviation Portal:
DPLA: Cleared for Takeoff: Explore Commercial Aviation at https://aviation.dp.la/