A Brief History of Pan Am by Gene Banning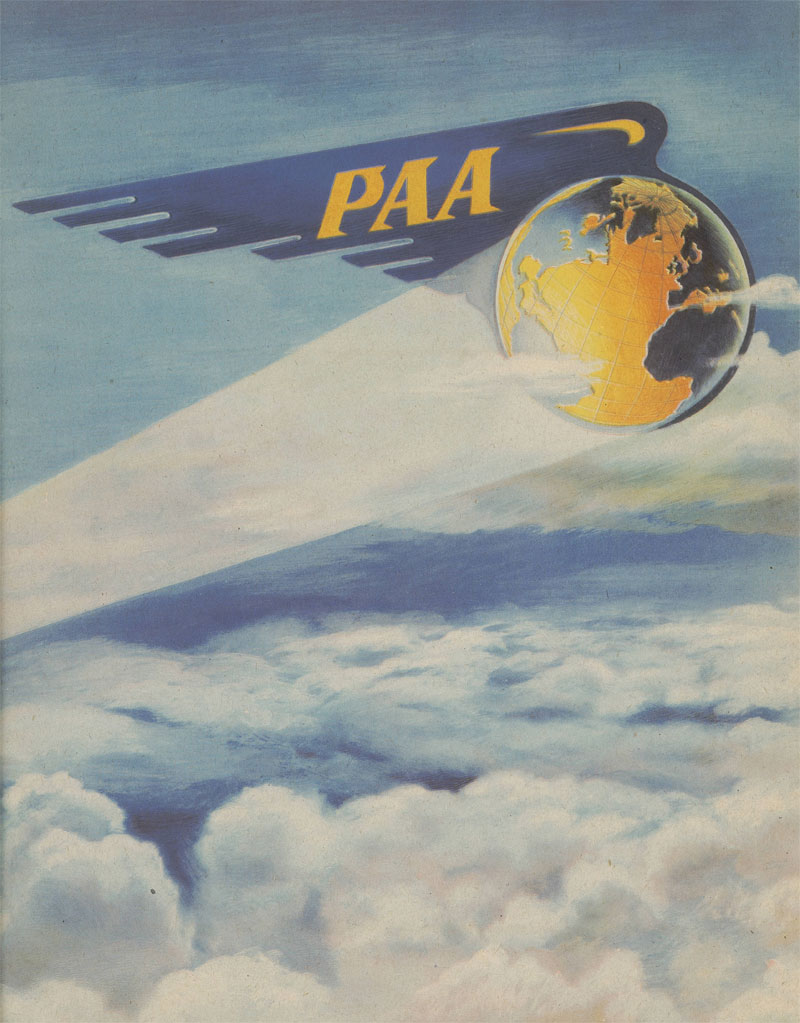 Photo: Pan American Airways Annual Report, 1944, from the Pan American World Airways Inc. records digital collection, University of Miami Special Collections
The Pan Am most of us knew was born on 28 October 1927, when it began scheduled mail service between Key West and Havana...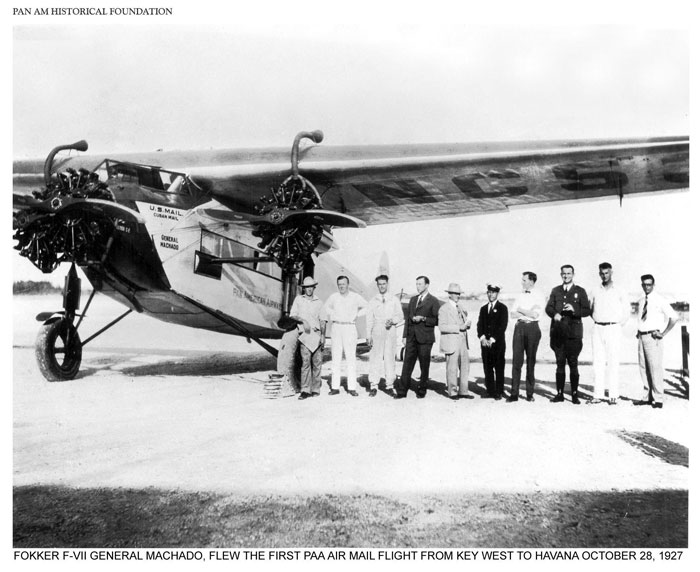 Passenger service started on 16 January 1928. There were few aviation facilities in Latin America, only three weather stations and no aeronautical radio. A radio genius, Hugo Leuteritz joined the company in 1928, and Charles Lindbergh became the company's Technical Director in 1929. An expansion of miraculous proportions then began, and within two years Pan American routes extended from Miami to Brazil and Buenos Aires, and from both Miami and Brownsville,Texas, via Central America to Panama, connecting with Pan American Grace Airways (Panagra), flying the west coast of South America as far as Chile and Argentina. Subsidiary (Compania Mexicana de Aviaclon, (CMA) was providing air services throughout Mexico. During 1930, the Colombian airline SCADTA (now AVIANCA), and NYRBA (New York, Rio, & Buenos Aires Airline) were acquired (bringing many qualified personnel, nearly 30 almost new multi-engined planes, and the Panair Do Brasil subsidiary).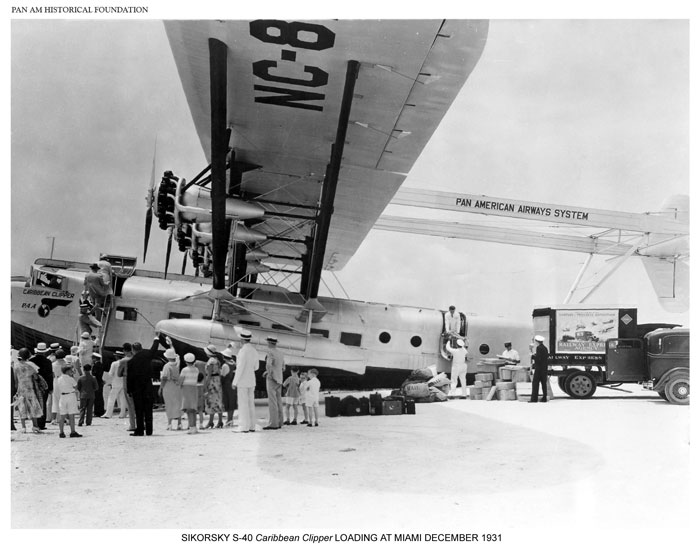 In 1931, Sikorsky S-40, four-engined flying boats (the first Clippers) opened a new route to Colombia, via Jamaica, and to Panama. Many of these routes were opened by Charles Lindbergh himself, and by then Hugo Leuteritz had completed a system-wide radio network, and equipped all aircraft with two-way radio. In 1932, new subsidiaries were opened in Alaska and Cuba (Pacific Alaska Airways and Cubana). In 1933, CNAC, the China subsidiary was acquired, and began new coastal services. The next year a new subsidiary in Peru was formed, and the Mexico subsidiary opened service between Los Angeles and Mexico City. New Douglas DC-2's, Lockheed Electras, and the famous Sikorsky S-42 four-engined flying boats all entered Latin American service that year. In 1935, the China Clipper opened trans-Pacific schedules to Manila, Electras opened new schedules in Alaska and Cuba, and DC-2s came to CNAC.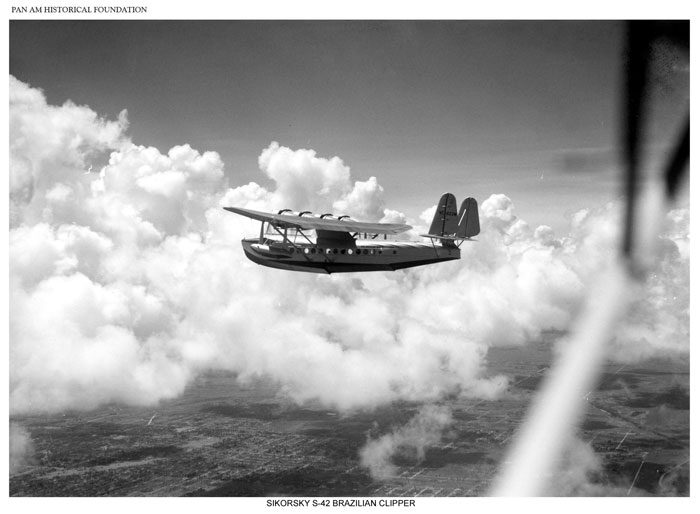 In 1937 Sikorsky S-42Bs surveyed the Atlantic routes, and opened Bermuda service from New York and Baltimore. Douglas DC-3's entered Latin American service. In 1939, Boeing 314 Clippers entered Pacific service and opened Atlantic schedules to Europe. In 1940 the world's first pressurized airliner, Boeing 307 Stratoliner brought new, fast service to Latin America, augmented by new Douglas DC-3As throughout Latin America, Alaska, and China. Early in 1941, new Africa and Air Ferry Divisions were opened to provide assistance to British forces in the Middle East. The flight training school in Miami began training navigators for U.S. and British air forces (training more than 5000 by 1944).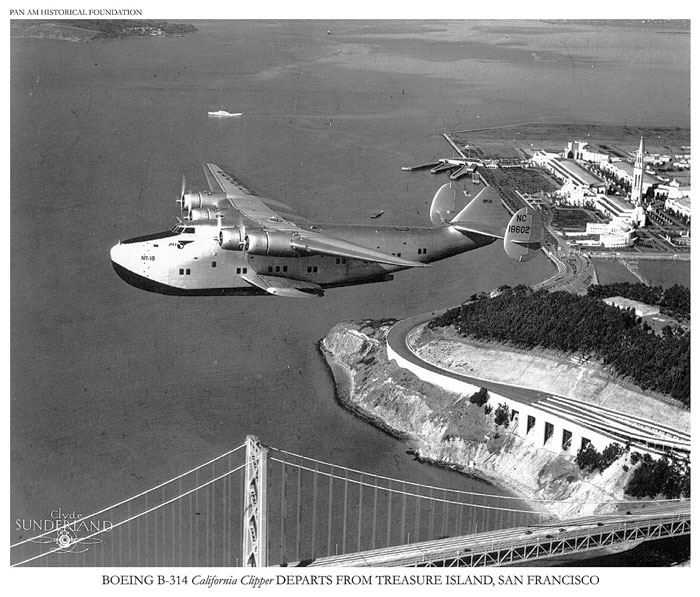 At the time of Pearl Harbor, Pan American operated on 88,478 total route miles serving 52 countries, and had 8,750 employees (including new Africa and Air Ferry divisions), with 162 aircraft, 192 radio/weather stations and 300 airports. During the Second World War, Pan American operated many services for the military and other branches of the government, performing many heroic missions. CNAC (who had pioneered the "Hump" route in 1940/41) flew more than 20,000 Hump flights during the war.
In the postwar era, PAA re-opened its Pacific and Atlantic routes, using new long-range land planes for services to Africa, Europe, and Asia. On 17 June 1947, Juan Trippe realized perhaps his greatest dream, by opening new Round-the-World schedules. New aircraft included the Constellations, Boeing 377 Stratocruiser, DC-6B, DC-7C (Seven Seas), then opened the new ""Jet Era" in October 1958. The B-747 opened a new "wide-body" era in 1970, with more comfort and efficiency. Internal German Services helped lead to an economic boom in Western Europe. Technical assistance projects were undertaken to many countries, such as Afghanistan, Turkey, and Pakistan, bringing modem airlines into being in many countries. Like the Latin American subsidiaries and affiliates, these gave their hosts technical skills, and corporate structures providing travel capabilities, to the benefit of local citizens. Pan Am's return from these was a more technically advanced world, and additional traffic feeds for our main routes. A fair exchange, thought Mr. Trippe, and most of us would agree.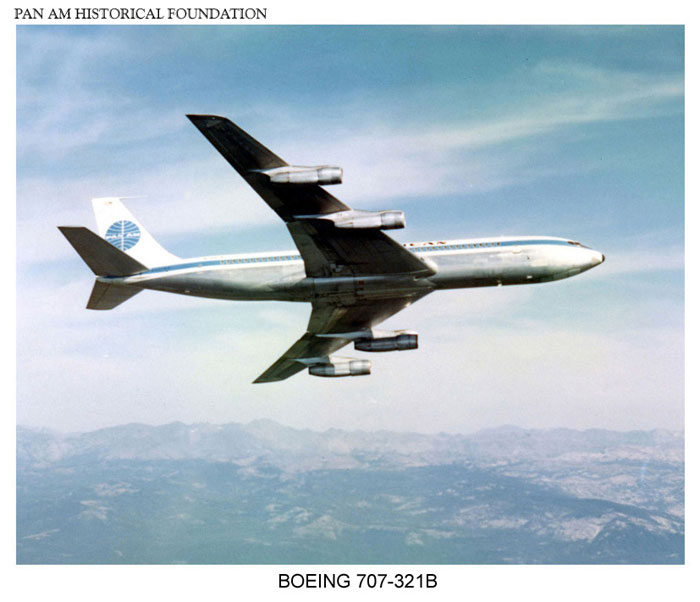 By the mid-1950s, major expansions were over, and efforts were concentrated on superior service and economy fares, while cargo services were improved and expanded. The 1970s soon brought major increases in worldwide fuel prices, and declining travel. followed by deregulation and huge increases in competition. Despite Pan Am's being a leader in low operating costs, deficits grew.
The magic era ended with the passing on of Juan Trippe in 1981, and a succession of managements were unable to regain profitability. The rapid rise of world terrorism, culminating in the tragedy of Lockerbie, was the final deathblow. All the treasures had been sold, many at bargain-basement prices-yet the deficits remained. The end came on 4 December 1991. The airline of many "firsts," a world leader in technology and innovations, was gone, mourned by many across a world that will not see its like again.
Related Links:
SLIDESHOW