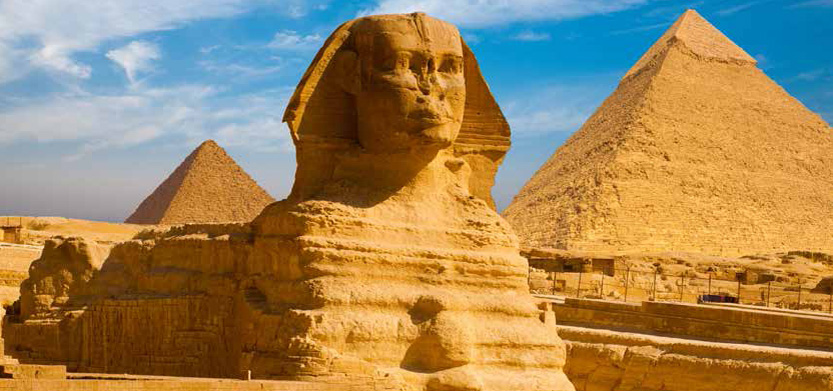 March 3-15, 2020
Pan Am Historical Foundation's New Tour:
Treasures of Egypt
View/Download the Itinerary & Registration Form Here.
Dear Friends,

Sign up for the March 3-15 Tour. And please note Distant Horizons can help with your travel visa needs for the tour. To join the group contact:
Julie Scott at 800-333-1240 or email This email address is being protected from spambots. You need JavaScript enabled to view it..
After several successful recent departures to Morocco and Southeast Asia, we are delighted to offer a trip to Egypt next Spring when the weather is pleasant and the fertile Nile weaves its way through a magnificent landscape and remarkable historical sites.
Led by an Egyptologist, our trip begins with two nights at the historic Cecil Hotel in Alexandria where the city's ancient library was home to many of the world's great intellects. Visit the magnificently rebuilt library and admire the city's architecture which recalls a great age of Alexandria's past. Drive to Cairo and stay at the Semiramis Inter-Continental Hotel, a property I was closely associated with in my IHC days. Explore the Giza plateau where the Great Pyramids and Sphinx have stood for thousands of years. Fly to Luxor – the world's largest open-air museum - to discover some less-visited sites including the Tombs of the Nobles. Nestled in the foothills, the Nobles decorated their tombs with wonderfully detailed scenes of their daily lives.
Board the Farah Nile Cruise Ship, for four nights cruising "up" the Nile to Aswan, stopping at isolated temples en route. Spend one night at the Movenpick Resort in Aswan, the gateway to sub-Saharan Africa, and learn about Nubian culture in the southern extremity of Egypt. Discover Abu Simbel, where four magnificent and colossal statues of Ramses II wearing the double crown of Upper and Lower Egypt sit, guardians of an architectural masterpiece of ancient design. Return to Cairo for one night before flying home.
We hope you will join us!
Edward Trippe, Chairman, Pan Am Historical Foundation