Spring 2019 Travels in Morocco with The Pan Am Historical Foundation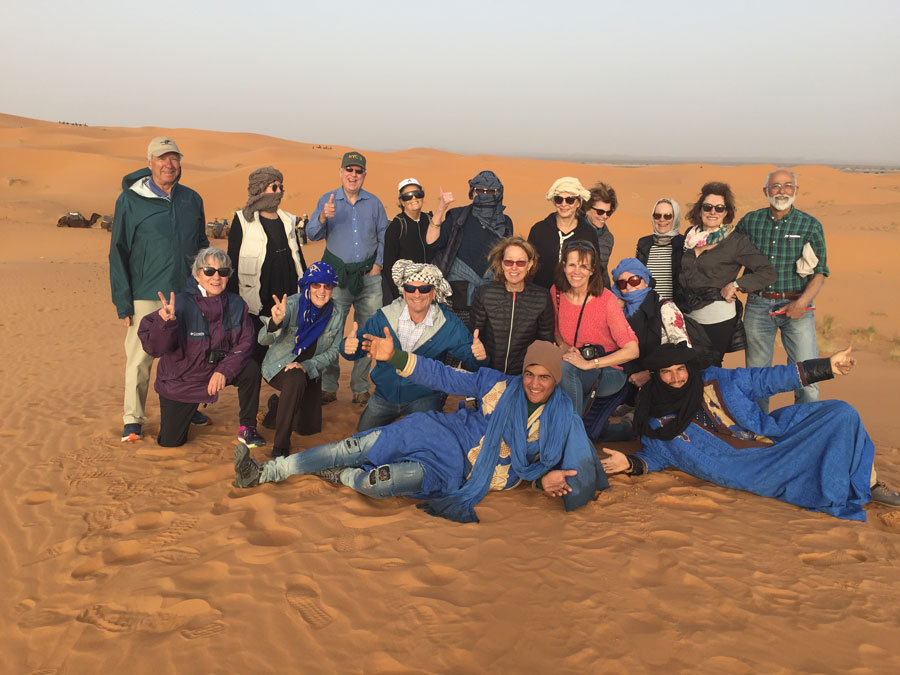 The PAHF trip to Morocco was an outstanding success. We were 25 strong, including a number of PAHF members who had been on prior trips to Cuba, Iran and Southeast Asia. Our Moroccan guides and our tour leader, Erin Siess, a veteran of other PAHF trips, were great and made for an interesting and well organized trip.
The group met in Fez on March 20th and spent four fantastic days in this amazing medieval city, which is undergoing restoration as a UNESCO World Heritage Site. We stayed in the Palais Amani, a small boutique hotel, which was formerly a 17th century palace located in the Medina. The Medina is a walled city with a labyrinth of narrow allies, mosques, ancient houses, palaces, and souks, and today hosts a wide variety of restaurants. After three days exploring the Medina we made a side trip to the ruins of Volubilis, the Roman empire's third century commercial center for the region.
From Fez we headed west to Erfoud, on the northern edge of the Sahara, and to our night in a desert camp. This was to be one of the highlights of the trip. We arrived at the camp by camel crossing the desert in a caravan that brought us to our tent city, a collection of private tents which hosted all the conveniences of a five-star hotel. The desert camp was a unique and amazing experience taking in the sunset over the sand dunes, enjoying drinks around an open fire, and experiencing an Arabian night of stars.
The next day we continued west over the High Atlas Mountains toward Marrakesh. The drive was long, but we were rewarded in Marrakesh to stay in a truly five-star hotel and enjoy outstanding restaurants. And after the many hours on the bus, the excellent accommodations and the quality restaurants were a welcome respite. Marrakesh was a curious mixture of European sophistication and underlying Arab and North African cultures. The Marrakesh Medina with wider alleys and larger souks was seemingly more chaotic than Fez or other medinas we visited. Motor bike traffic was an issue, whereas in Fez we needed only to move out of the way for donkeys.
After ten days our trip was over and we were on our way home, and all of appreciative of the antiquities, the culture and the raw beauty of nature that was Morocco.
Join us in the Fall
The next trip to Morocco is scheduled for September 22 to October 2. The trip has been organized to coincide with the end of the Stockholm World Wings Convention. If you have interest in joining this trip please contact Melissa Costa at Distant Horizons. Melissa can be reached at 1-800-333-1240. Link to the Itinerary and Reservation Form
Edward Trippe, Chairman
Pan Am Historical Foundation
PAHF Tour in Morocco March 2019 (Photography/Sudhir Puri)