TRAVEL WITH US
March 20th through 30th 2019
Pan Am Historical Foundation's New Tour: "Imperial Cities of Morocco"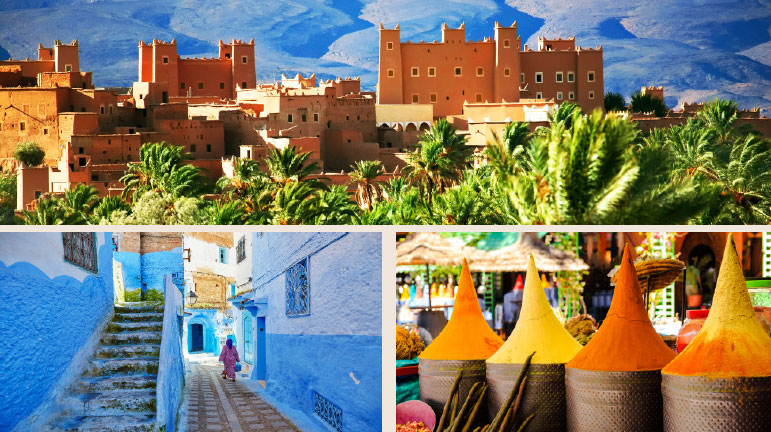 Dear Friends,
Morocco has captured the imaginations of visitors for centuries with its layers of rich history, vibrant desert landscapes, and bustling souks that are just as beautiful as they are chaotic. Our journey begins in Fez, hidden in a valley surrounded by kaleidoscopic hills that change with the time of day.
Explore the city's legendary labyrinthine medina where something breathtaking is hidden around every corner.
Visit two notable eras of Moroccan history at the imperial city of Meknes, once home to the grand Moroccan sultanate, and the ancient Roman settlement of Volubilis, whose outstanding collection of mosaic floors rival any in the world.
Travel through a landscape dotted with small fortified villages to the Moroccan desert that by day boasts views of breath-taking natural sand dunes and by night offers unparalleled glimpses of the unpolluted night sky.
Stop in Ouarzazate to see UNESCO-protected red-earth kasbahs dating back thousands of years.
After driving through the Middle Atlas Mountains, arrive in Marrakesh where you will find yourself immersed in the country's proud artistic history. This ancient trading center is defined by its exquisite architecture, elaborate tile mosaics, and traditional artisanship.
I hope you will join us on this wonderful journey!
Edward Trippe
Chairman, Pan Am Historical Foundation

Download PAHF's Imperial Cities of Morocco Itinerary & reservations (pdf) to register for the tour program.
For additional information, please contact Melissa Costa at 800-333-1240 of via email at This email address is being protected from spambots. You need JavaScript enabled to view it..