Pan Am's Big Day: October 19th, 1927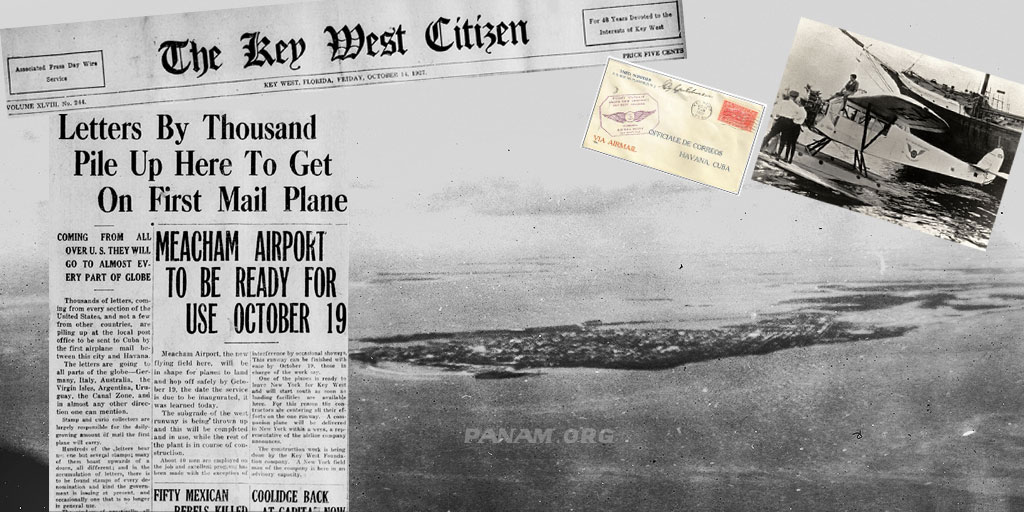 Anticipation and excitement had been building for days in Key West, as evidenced by the "Key West Citizen" headline on October 14th, 1927.
Courtesy of Key West Library (Monroe County Public Library, Florida Keys)
A new fledgling airline named Pan American Airways was going to start up America's new foreign airmail contract route to Cuba, and letters by the thousands had been pouring in to be postmarked and carried to Havana. Airmail was new and exciting, and airmail to another country was a really big deal. After all, it was only five months since Charles Lindbergh had flown the Atlantic!
But the US Post Office had made it clear that October 19th was the deadline for fulfillment of the contract's commencement. If Pan Am failed to honor the deal, the contract could well be voided, and the tentative enterprise that Juan Trippe, John Hambleton and their small group of associates had been planning and working to create might come apart at the seams.
Down in Key West, the patch of open ground near the old fort, given the aspirational name of Meacham Field, was a mess. Days of manual labor to move rocks and fill holes had come undone thanks to a heavy rain. The new Fokker F-VII that Ed Musick had only just ferried down to Florida from Tony Fokker's factory in New Jersey sat in Miami, with no place to land in Key West.
All the excitement, hopes, and big plans hung by a thread. But fate was on Pan Am's side that October.
Jack "Pink Whiskers" Whitbeck was Pan Am's manager on the scene in Florida, in charge of preparations for the new airline's start. Jack had come from the US Post Office's Air Mail service, and had brought along another former Post Office employee Fred Gelhaus to work for Pan Am. With a local crew that included Charles "Gunner" Morgan they had been battling the elements in Key West to prepare the air field.
When he got wind of a Fairchild FC-2 on floats being ferried through Miami on the way to it's new owner, West Indian Aerial Express in the Dominican Republic, Whitbeck wasted no time. The pilot, Canadian Cy Caldwell had been delayed in Miami by an oil leak. The delay was enough to give Whitbeck time to proposition Caldwell with the offer of a quick cash payment of perhaps $150 (the actual amount has always been a matter of conjecture) to carry Pan Am's mail load on his way south. The deal was struck, and Caldwell was there at Key West on the morning of October 19th, ready to receive the 30,000 letters that had accumulated for the flight to Havana.
The quick trip of ninety miles took about an hour, and began a 64-year run of commercial aviation pioneering and progress for Pan American Airways.
Related story:
The Very Beginning 10/19/1927 - The Backstory