The international route that became the foundation for Pan Am's spectacular growth started with the "Lindbergh Trail"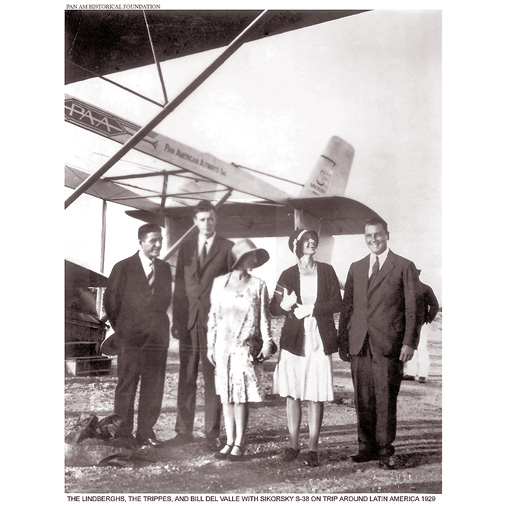 The Race Down the East Coast of South America
Charles Lindbergh opened Sikorsky S-38 service from Miami and the Caribbean Islands to Dutch Guiana, landing in Paramaribo late September 1929. Pictured here are Lindbergh his wife Anne (center) with Juan Trippe, founder and CEO of Pan Am and his wife Betty (r). To the left is Bill Del Valle, Station Manager at Paramaribo.
TIME, Sept. 30, 1929 reports:
"To South America. Racing to stretch their air lines down the South America east coast last week were Pan-American Airways and New York, Rio & Buenos Aires Line.

For Pan-American President Juan Terry Trippe & wife: Technical Adviser Charles Augustus Lindbergh & wife, and others, flew from Miami for Paramaribo, Dutch Guiana, by way of Florida and the Antilles. They were to return to the U. S. by way of northern South America and Central America. Mrs. Lindbergh asked fellow passengers to call her Anne. She calls her husband Augustus. Col. Lindbergh reported progress frequently by radio, beginning his messages "Lindbergh, pilot."

For N. Y., Rio & B. A.: Señorita Alicia Sampaio, daughter of the Brazilian consul general at Manhattan, christened a Sikorsky amphibian Pernambuco. It left New York for Pernambuco, its station, to be ready for the opening of its 8,500 mile New York Buenos Aires line on or about Oct. 1. Formal opening depends on the start from New York of the 32-passenger Consolidated Commodore, biggest U. S. flying boat, which the company has just bought."
A year later, NYRBA became a part of Pan Am when the airlines were merged.