A New Route to Auckland

"Pacific Air Service, San Francisco-New Zealand Delays Ended at Last"
August 30, 1939 was arrival date of the Pan American B-314 survey flight (California Clipper NC 18602) taking the new route to Auckland New Zealand via Honolulu, Canton Island, and Noumea New Caledonia. With Capt. John Tilton in command, she left San Francisco on August 22nd. This was the first Pan American flight to follow the 1938 Samoan Clipper (Sikorsky S-42) disaster that flew the old Kingman Reef-Pago Pago route.


Here's the backstory based on Sydney Morning Herald reports:
"The arrival of the first Pan-American clipper at Auckland from Noumea today will mark the fruition of a long series of international negotiations, including diplomatic discussions between the British Foreign Office and Washington, and secret resolutions signed in Wellington… The United States Navy and the Department of State Research were… set to work to delve into the history of American shipping to ascertain if any of the desired islands and atolls, which had been neglected for many years by Great Britain, had been the calling place for United States whalers and sailing vessels… It was discovered that Canton Island, which was originally known as Mary Bolcout's Island, was named after his ship by the captain of the Whaler Canton, from New Bedford, Massachusetts… These and other records were considered to be of sufficient importance for America to claim and settle islands which were once considered to be exclusively British, and so secure better bases to replace those which had been tried and proved wanting.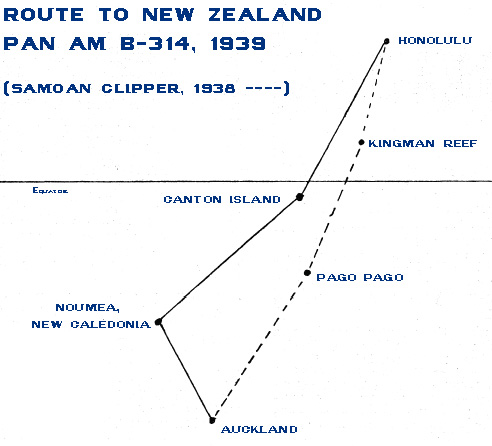 The first route selected was by way of Kingman Reef and Pago Pago, but the building of the Boeing clippers, able to fly greater distances with a bigger load than the Martin clippers for which the route was first surveyed allowed the legs of the route to be lengthened with Canton Island and New Calendonia as bases in place of Kingman Reef and Pago Pago.

The United states has made arrangements with Britain which jointly lay claim in the sovereignty of Canton Island to construct a base there, and Pan-American Airways has agreed that any British transport company can use these facilities in the operation of any future air line from Australia and New Zealand to Canada. Similar concessions were made in France in return for landing rights at New Caledonia."