The Second North Haven Expedition Completes the Work on Midway and Wake Islands

Gooney Birds on the lawn at Pan Am's Midway Hotel
Pan American Airways mounted two expeditions to set up the transpacific air route. Even after the massive effort undertaken in 1935, the bases on Midway and Wake were not complete. In 1936, the chartered steamer S.S. North Haven sailed out again from San Francisco, this time with the men and materials to construct the passenger facilities without which the air route would be incomplete.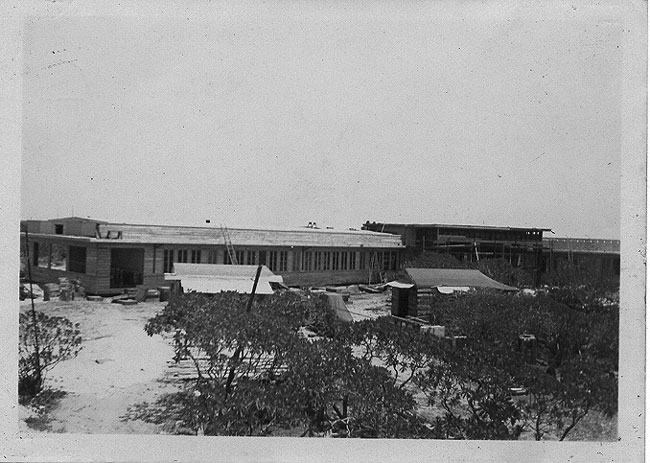 Unfinished hotel on Midway. Credit: W.B. Voortmeyer, Courtesy C. Nickisher
Here's how the New York Times covered the story:
January 15th, 1936
PACIFIC AIRLINE SHIPS TWO HOTELS
Prefabricated Buildings Sent to Midway and Wake Islands to Care for Plane Travelers
"Two complete, prefabricated hotels of forty-five rooms each were among the 6,000-ton cargo of the Pan American chartered supply ship North Haven, it was disclosed yesterday, when she sailed from San Francisco on Monday night for the island bases of the airline across the Pacific Ocean. The two hotels will be erected at Midway Island and Wake Island.

It had not been intended to set up passenger facilities so soon, officials of the airline said yesterday, nor had so much interest as has been developed in the island bases themselves been anticipated. Demand for passenger service, following the mail flights, has been so great, however, they explained, that the whole program has been advanced by many months, and stop-over facilities on Midway and Wake are now expected to be available by May 15, when the North Haven is due to return to California....

The prefabricated hotels of frame construction, are complete in all details, including furnishings. Designed for the special conditions on tropical islands, they consist of two wings built with a central, circular lobby. They have wide verandas. Each room has a shower bath with hot water.

Full furniture for the social rooms and bedrooms, down to coat hangers and ash trays, is in the vessel's cargo, as well as cashier's cages, desks, draperies, inter-room telephones and scores of other items.

The North Haven also carries 250,000 gallons of gasoline for the bases, six months' supplies of groceries and canned foods, lighting equipment and a sand sledge for transferring passengers from the mooring dock to the base at Midway, a distance of about a quarter of a mile. The sand, it was explained, is so soft that road building is difficult."

Building the Wake Island hotel: Bert Voortmeyer (far right) and colleagues. Credit: W.B. Voortmeyer, Courtesy C. Nickisher
The Real Adventure
The newspaper copy provides little of the sense of adventure – and the challenges – that those who were going to be doing the work would be facing.
One of the young men who shipped out on that adventure of a lifetime was Bert Voortmeyer, from Oakland, CA.
Bert found himself unloading the ship in dangerous swells, digging trenches, and "riding the reef," guiding the heavily loaded barges with lumber, fuel barrels, and thousands of other things across the reefs that surrounded both Midway and Wake. The living was rough, the work was hard, but he relished the experience. He and his buddies took lots of pictures, just a small sample of which we're using here, courtesy of Author Carol Nickisher, Bert's daughter. Her book, Riding the Reef, is a great read and filled with amazing photos, letters home, and absorbing history.
All pictures here, unless otherwise noted, are Credit: W.B. Voortmeyer, Courtesy C. Nickisher.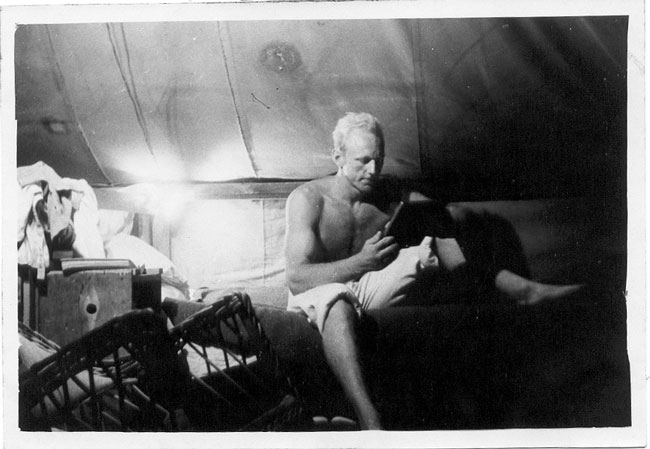 Bert Voortmeyer in his tent, Wake Island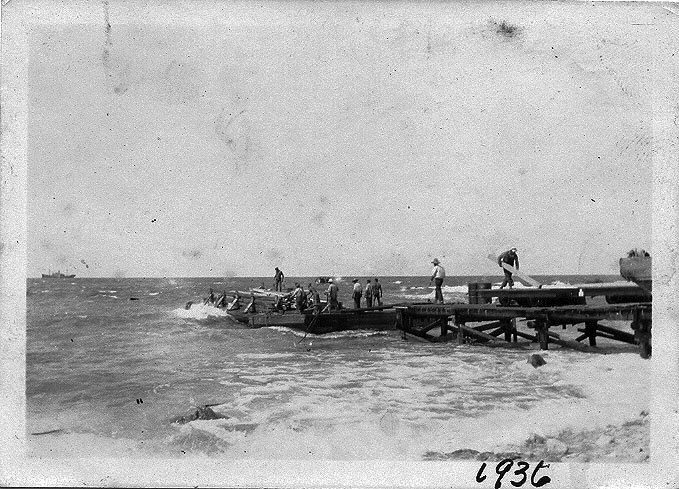 Barge coming ashore at Wake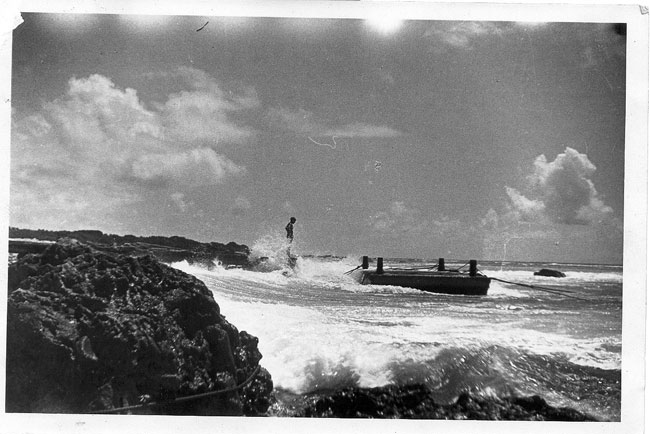 Barge washes away at Wake
Carol Nickisher's book, Riding the Reef, is a great read and filled with amazing photos, letters home, and absorbing history.