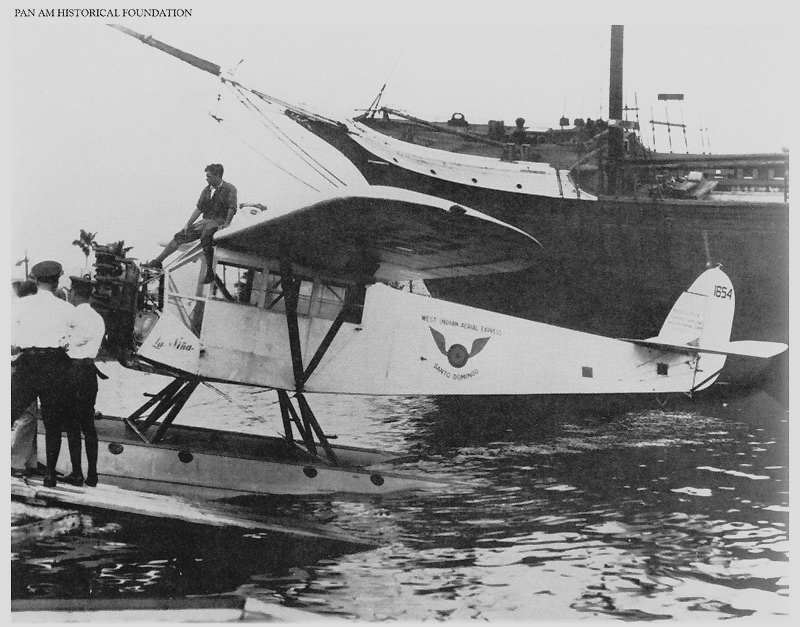 On her way to Key West for the Inaugural Flight: La Ni
ñ

a in Miami, October 15, 1927
It all came down to the wire on this day in 1927.
The coveted U.S. Post Office contract for the Foreign Airmail Contract to carry the U.S. Mail from Key West Florida to Havana Cuba – and the great potential for expansion of air routes beyond to Latin America – lay in the balance.
The immediate concern was a $25,000 cash bond deposited as a guarantee of performance – as well as the possible withdrawal of the contract – that depended on the successful completion of the first airmail flight, which had to be completed by October 19th, 1927.
The trail leading up to this historic moment had been fraught with political and business intrigue, as well as high-stakes financial maneuverings by rival groups of powerful and ambitious players. The ultimate prize was the airmail contract.
Three groups had played an intricate game, trying to outmaneuver one another to gain the ultimate advantage. Juan Trippe, a twenty-seven year-old former bond salesman and recently dismissed airline executive had spearheaded one group incorporated as The Aviation Corporation of America. Another group, Pan American Airways, had been the brainchild of four American military officers, of whom only U.S. Navy Captain J.K. Montgomery remained, but he had enlisted some very influential and wealthy backers. The third player in this drama was another (also well-funded) group organized around World War One ace Eddie Rickenbacker and his by-now-bankrupt airline, Florida Airways.
On July 16th, the Post Office awarded the contract to carry U.S. mail to Havana to Pan American Airways. What they did not have was the right to land in Cuba! As it happened – perhaps guided by some almost clairvoyant hunch – Juan Trippe had negotiated that very permission from the Cuban government months earlier, when he flew to Havana with aircraft builder Tony Fokker on a demonstration flight. That proved to be the ultimate trump card.
The wrangling between the three groups continued on through the summer, and the early fall of 1927. In an almost operatic succession of events, with just over one week left till the Post Office's deadline to fly the first mail to Havana, a solution was found. The three groups would re-align under the aegis of a new entity – Atlantic, Gulf, and Caribbean Airways.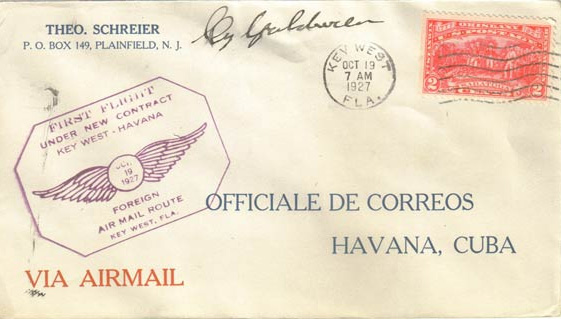 Envelope carried on Key West to Havana flight Oct. 19th, 1927
First flight cover: Jeff Staines Courtesy http://www.dmairfield.com
The next problem to solve was of a much more practical nature. Trippe had ordered two aircraft – both Fokker F-VII tri-motors, and they were enroute to Key West. The problem was that they had no place to land there. A crew had been working furiously to prepare a suitable airport at Key West, but they were stymied in attempts to fill holes in the soft coral soil at the chosen site.
In an almost miraculous coincidence of events, it happened that two aircraft including a Fairchild FC-2 floatplane, christened La Niña, were being ferried through Miami on their way to their new home, a small airline in Santo Domingo known as West Indian Aerial Express (W.I.A.X.), at just that moment. Very fortunately for the new Pan Am, Basil Rowe, the owner of W.I.A.X. was flying one of the aircraft and agreed to the suggestion that he permit the charter of the Fairchild to carry Pan Am's mail to Havana.
And so it was that on the very last day permitted under the U.S. Post Office contract, a (chartered) Pan American Airways aircraft, flown by Cy Caldwell (a Canadian citizen) operated Pan Am's very first flight.