By Thor Johnson, March 2015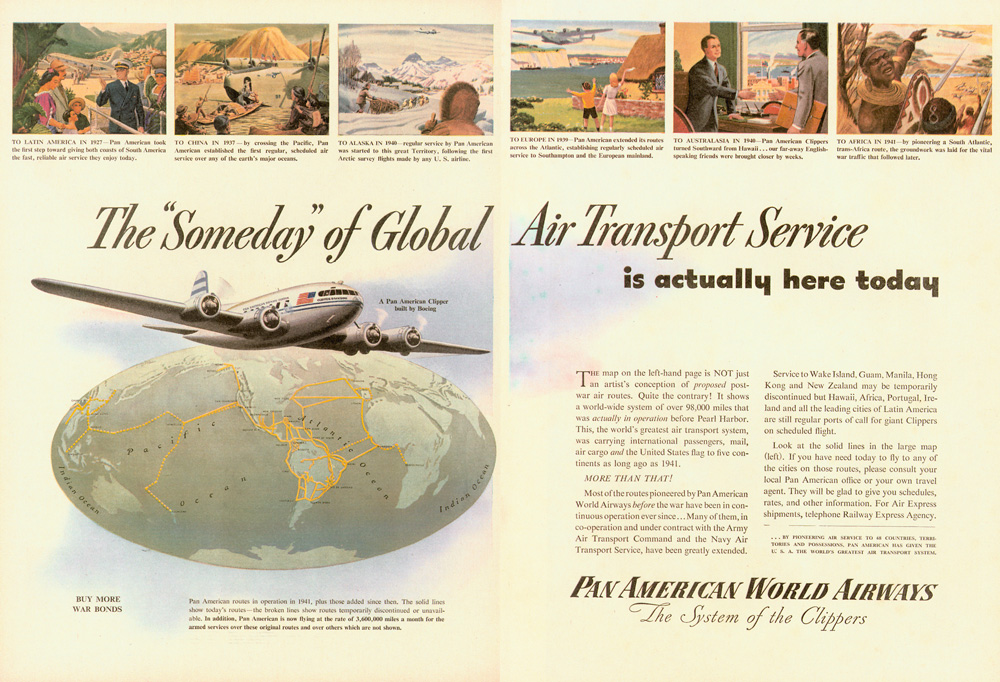 From its beginning in 1927 as an international airline, Pan American was committed to its role as the premier cargo carrier. Mail and Express, which is what air cargo was called, were a vital part in the development of the airlines of that era.
In the early airline years passenger traffic was somewhat inhibited by the limitation of the aircraft in service. However, despite adversities, two years after its founding in 1929, Pan American became a major carrier with a 12,000 mile route system linking 23 countries.
By 1934 Pan Am's mail and cargo services were performed by 85 aircraft over a network of 32,000 miles.
During the war years 1941 to 1945, Pan American became the principal air carrier to the U.S. Government. Pan Am's subsidiary airline, China National Airways Corporation (CNBC) alone flew 28,000 sound-trip flights over the Himalayan Mountains carrying cargo, mail and troops to embattled China.
In 1947 Pan Am initiated round-the-world service providing passenger, mail and cargo service to vast areas of the world.
Inaugurating the jet era in aviation in 1959, Pan Am offered jet service to its cargo customers. In 1963 Pan Am became the first airline to offer cargo service on Boeing 707-321C all-cargo freighters, with round-the-world jet freighter service in 1965. Continuing its leadership role in air cargo, Pan Am initiated Boeing 747 service in 1970.
Throughout the years of aviation progress and in concert with America's world leadership,
Pan Am's "Clipper Cargo' played a dominant role in all of the major conflicts in the second half of the Twentieth Century. From World War II to the battlefield of Korea, Viet Nam, the Cold War and Desert Storm, Pan Am Clipper Cargo delivered the air cargo services which its pioneering in the field had brought to such high levels of skill and reliability.
For more information go to Background Notes on Pan Am Cargo.