Richard Edes Harrison: A New Worldview
Richard Edes Harrison photo detail. Courtesy of the Library of Congress Geography and Map Division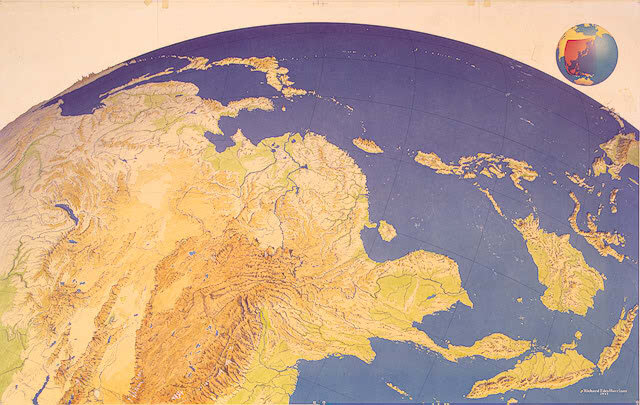 "Manuscript map of Japan as viewed from Burma during World War II. This unique perspective is one of four different views drawn by Richard Edes Harrison for the December 1943 issue of Fortune." (Richard Edes Harrison Collection - Library of Congress )
Richard Edes "Ricky" Harrison was an unusual guy. Besides being an avid birder, and a one-time candidate for mayor of New York City, he helped remake the way we see our planet, a fitting and evolved vision of our world that continues to influence and inform new generations, even today.
Richard Edes Harrison was not just a gifted illustrator, he proved to be an innovative and inspired cartographer who was adept at crafting completely new representations of our globe. Pan American Airways used his maps to illustrate many of their routes across the world. That vision informed what was known as "Air Age Cartography." This way of seeing Planet Earth emphasized geography as it's experienced from above — way above -- the surface. That perspective aligned perfectly with Pan American's air travel to international destinations.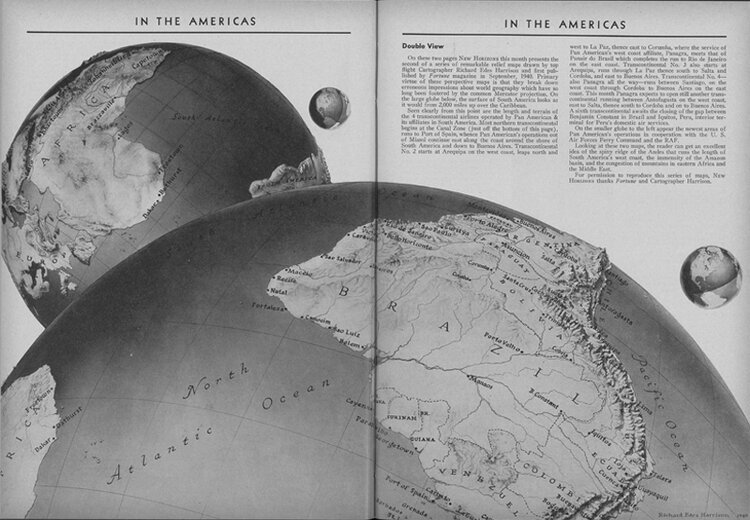 Published in Pan Am's New Horizons, May 1942, the map on the right shows the area served by Pan Am and its affiliates in South America from a perspective 2000 miles above the Caribbean. A second map (top left) shows the new Pan Am area of operations in Africa in cooperation with the US Air Force Ferry Command and the RAF (Maps by Richard Edes Harrison originally published by Fortune Magazine, 1940, now housed at University of Miami Special Collection, Pan American World Airways, Inc records).
Maps created by Harrison reveal geographic relationships that are otherwise unseen. They often dispense with political boundaries, and favor naturalistic colors. His maps are not just highly relevant now in our current era of globalized considerations, they are works of art.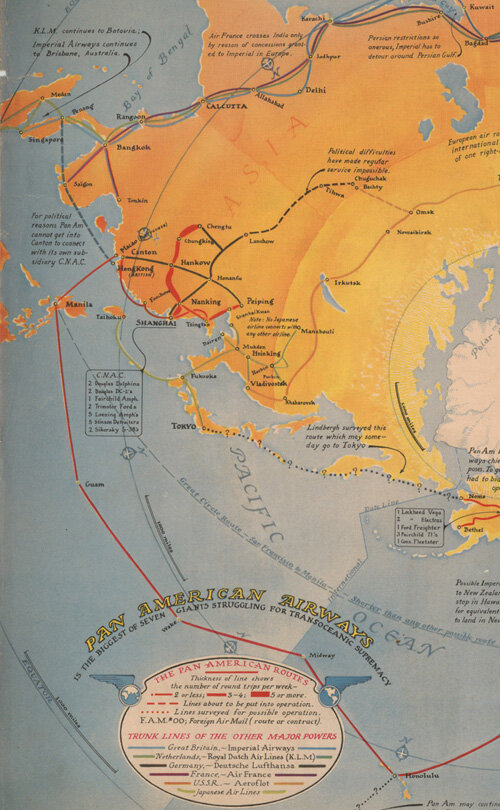 One of "Ricky" Harrison's earliest published maps was a beautifully-illustrated map for Fortune in 1936 showing Pan American Airways' still-expanding global network of routes and bases.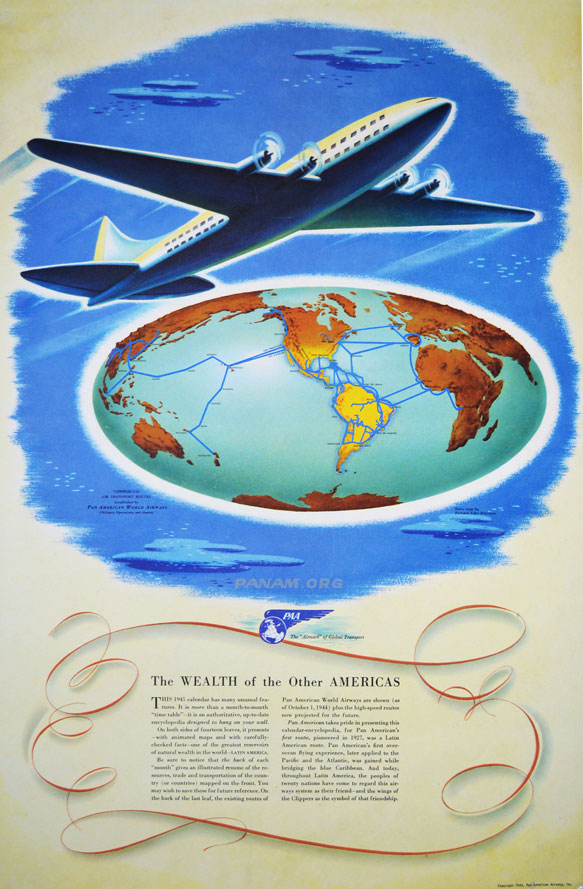 Pan Am created their 1945 company calendar with impressive Richard Edes Harrison images (PAHF Collection).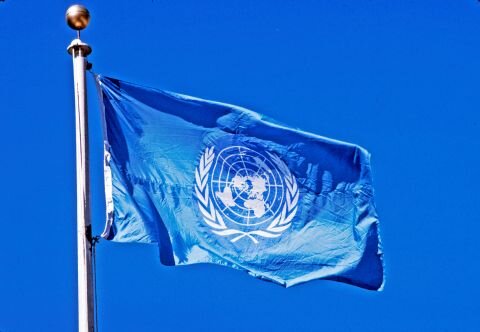 "The U.S. military used Harrison's maps in training pilots and helping others to visualize parts of the world they had never seen and otherwise could only imagine… As an emblem of the air age, the North Pole-centered world map was a powerful symbol. The new United Nations organization used a Harrison polar map… as the base-pattern for its flag, on which no political boundaries are shown." (From "Air-Age Globalism" in The History of Cartography, Vol. 6, edited by Mark Monmonier, 2015).
Today, one of Richard Edes Harrison's creations continues to inspire us in this iconic symbol of the United Nations, showing our world in a way that emphasizes humanity's home in a holistic manner, with no nation taking a central place, but rather the North Pole, with the world's continents spread out around it.