Pan Am Pins from the Jon Krupnick Pan Am Collection & his book, "Pan American's Pacific Pioneers, The Rest of the Story," published in 2000.
We owe a debt of gratitude to Mr. Krupnick for his longstanding and energetic efforts to compile and preserve Pan Am's unparalleled history. Thanks to Jon we're able to present this beautiful array of Pan Am pins along with the descriptions from his book, "Pan American's Pacific Pioneers, The Rest of the Story", about Pan Am's Transpacific flights. These small but significant pieces of Pan Am's history marked the milestones of personal achievement by Pan Am employees, that the wearers proudly displayed. If you have an insignia you'd like to know more about, you can contact Jon Krupnick at This email address is being protected from spambots. You need JavaScript enabled to view it.

"Juan Trippe believed that Pan American should be run much like a military organization. Therefore, service pins and insignias were always quite important to the company. Pan Am's first flight pins appeared shortly after the company was founded in 1927."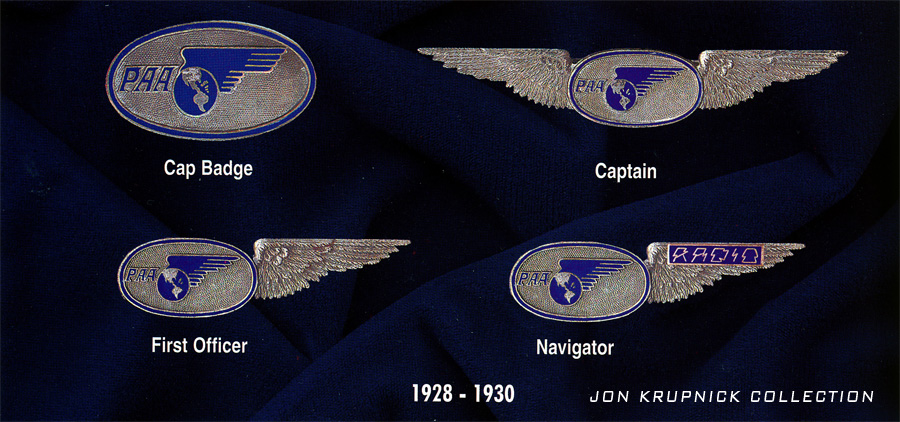 "Pictured in full size are the four varieties of flight pins worn from 1927 through 1929. The oval pin was worn as breast pocket insignias."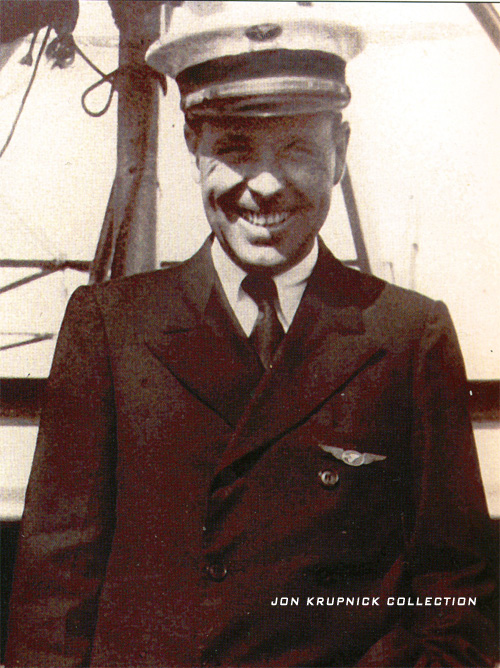 "Pictured is Ed Musick in 1929 wearing the oval cap badge and a double winged breast pocket captain's badge of the earliest Pan Am design."
"The origin of the employee's service pin in also an interesting story. In the early days of Pan Am, the traffic department used to give passengers either a small double winged pin with a shield in the center, or a round blue pin, so as to identify the person as a Pan Am traveler.
Employees at Pan Am started to wear these passenger pins. So, Juan Trippe designed a new pin specifically for the employees to wear, showing the round map of North and South America with the single wing extending to the right."

(Left) In September of 1935, Pan Am started the practice of adding stars to this employee service pin:
• a silver pin signifying up to three years of service;
• a gold pin for three to five years of service;
• a gold pin with a star signifying five years of service;
• two gold stars for ten years;
• three stars for fifteen years;
• and four stars for twenty years of service.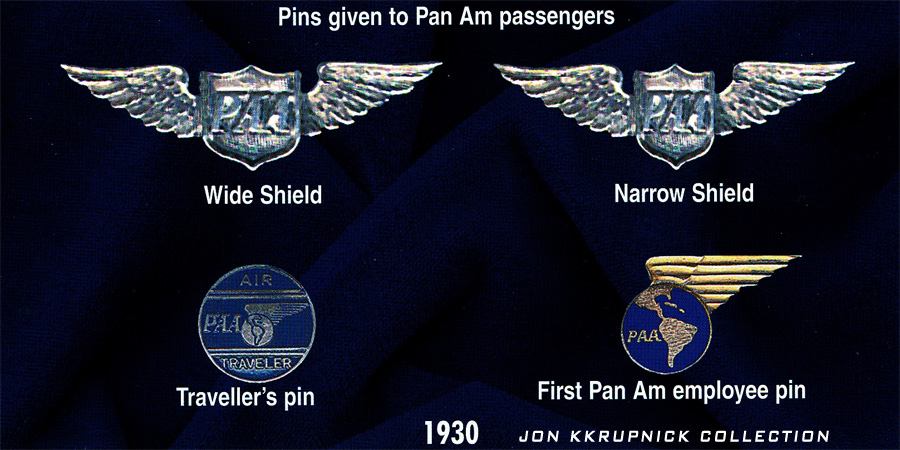 Below: "In 1930, when employee service pins were instituted, pin designs were also approved for the various departments of the airline. The original globe showing only the western hemisphere remained part of Pan Am's logo until October of 1944 when the globe was modified to show the world from Europe to Asia. All of the pins are shown slightly larger than their actual size."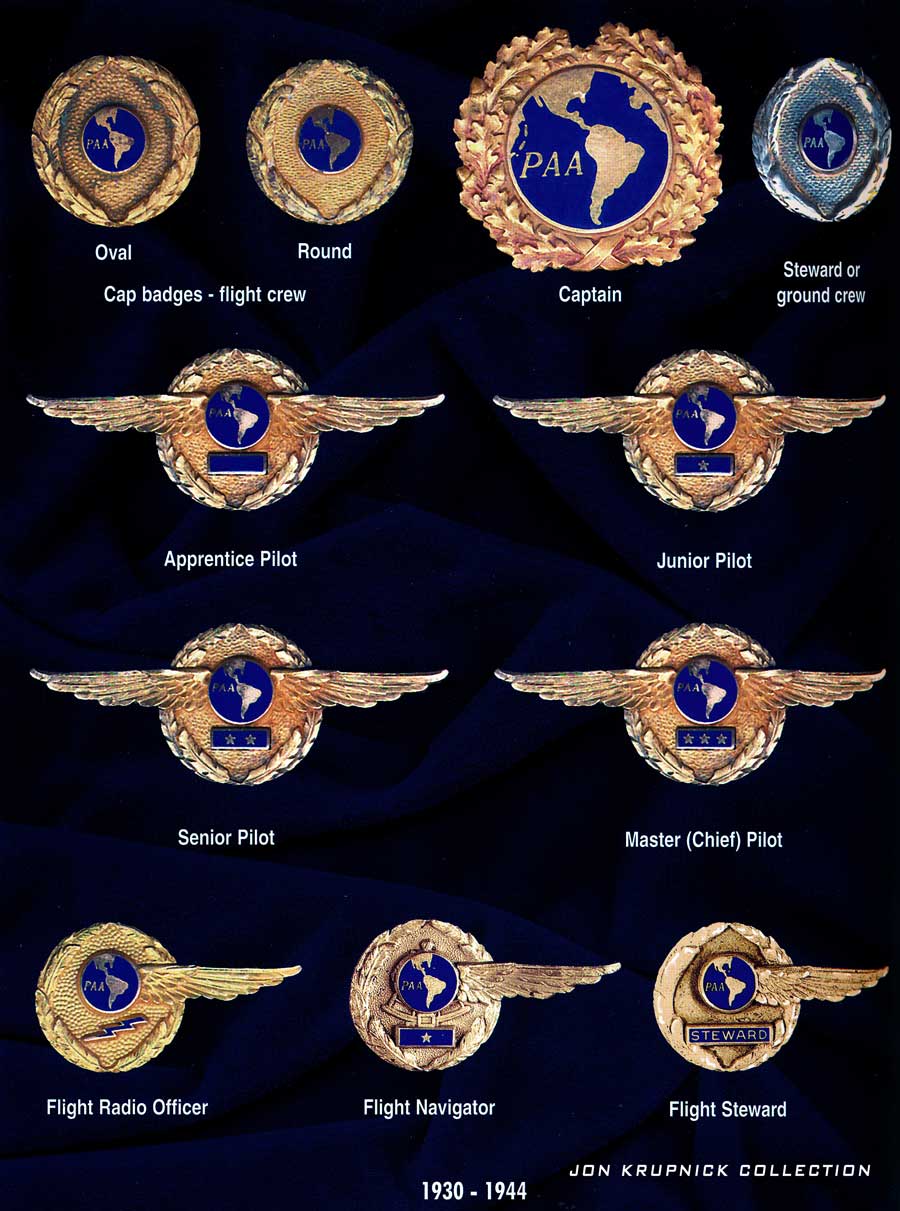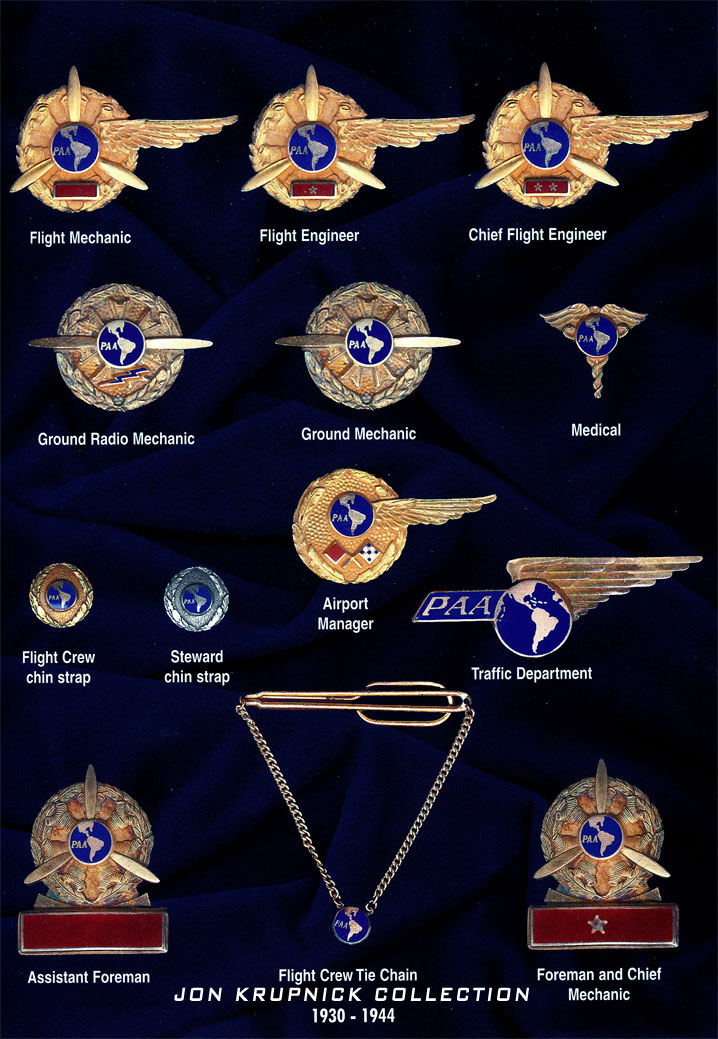 "The original wing globed design of 1930, with the globe showing only North and South America, remained until 1944. In October of 1944, in recognition of the Pacific and European flights, the map on the globe was changed to include the world map from Europe on the east to the Orient on the west. During this period the company's name was also changed from Pan American Airways to Pan American World Airways. This new logo remained until January of 1958 when it was replaced by the light blue more modern round globe that existed for the rest of Pan Am's history."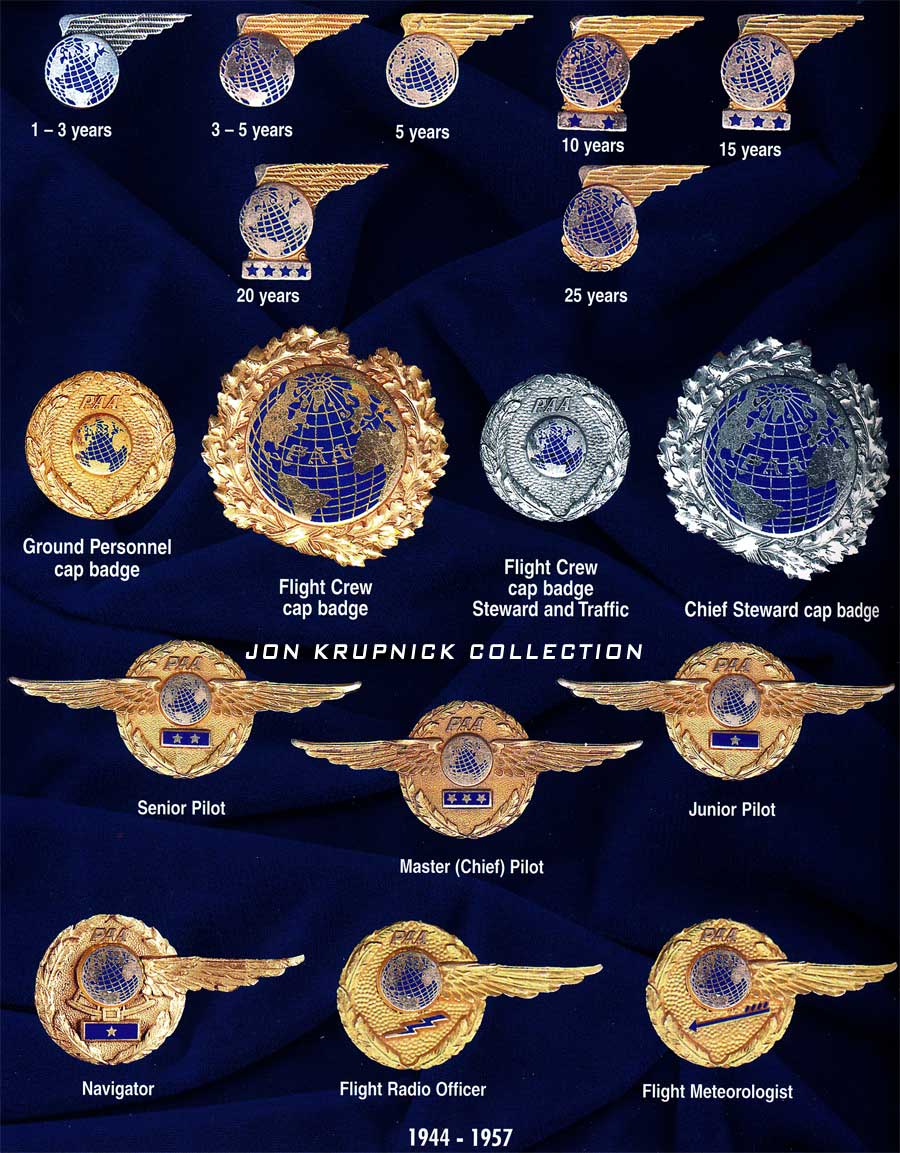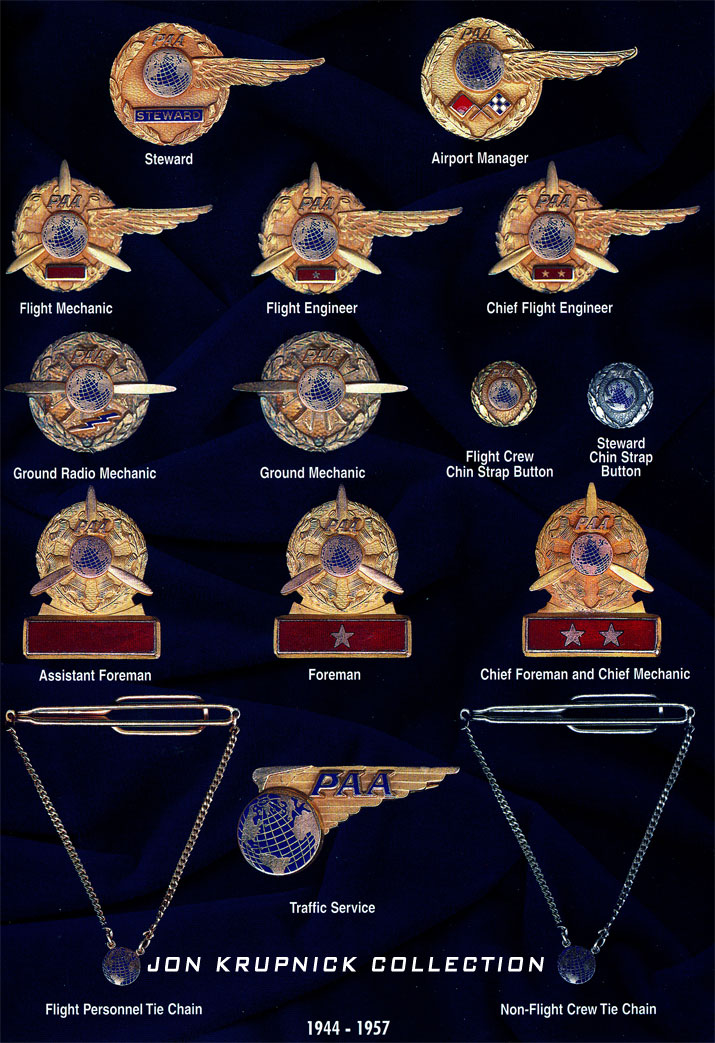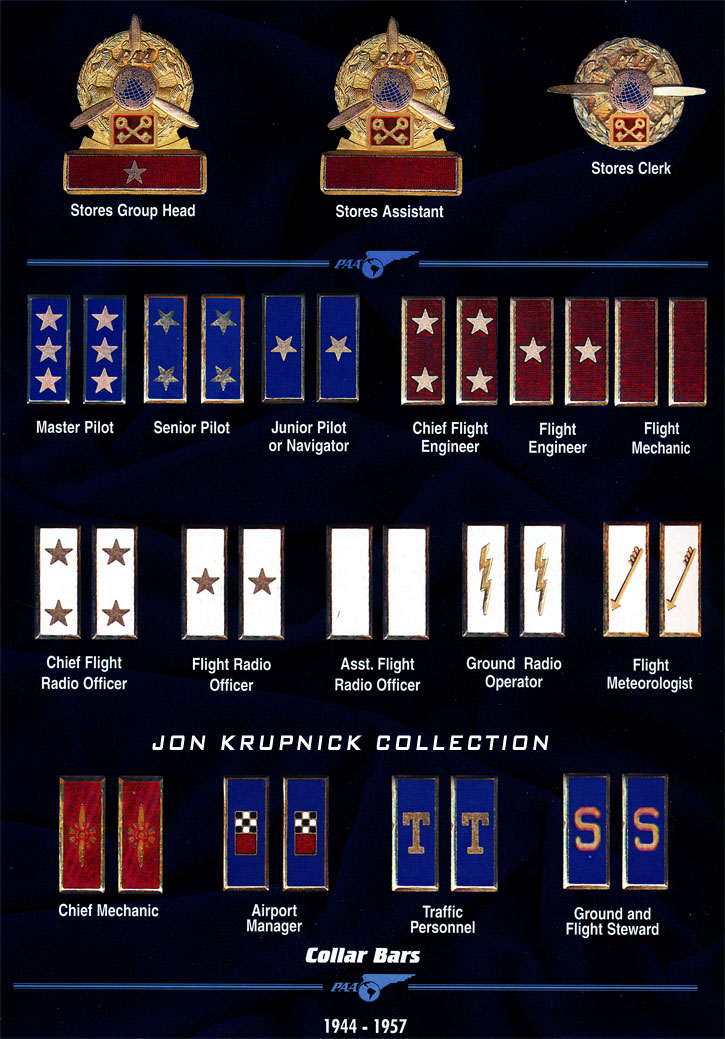 "In April of 1944 Pan Am's first group of stewardesses graduated and the company prepared a new pin to identify the new Pan Am stewardesses. Although some of them served on the Clippers in the Caribbean, stewardesses did not serve on Transpacific Clippers flights."

About Pan American Airways' First Stewardesses - "Girls Join the Crew of Miami Clippers":
"First of their sex to 'win their wings' and become members of Pan American's highly-trained flying crews, seven stewardesses are now serving aboard the big Clippers operating out of Miami… [Each] is a graduate of the same general 'background' course in Traffic as are the stewards… and must know the intricacies of passports, manifests, clearance papers, immigration laws, etc. Stewardesses are required to meet the same high physical standards as do stewards, then must prove their efficiency in swimming, life saving, and first aid. Ability to meet and serve the traveling public is a 'must.'"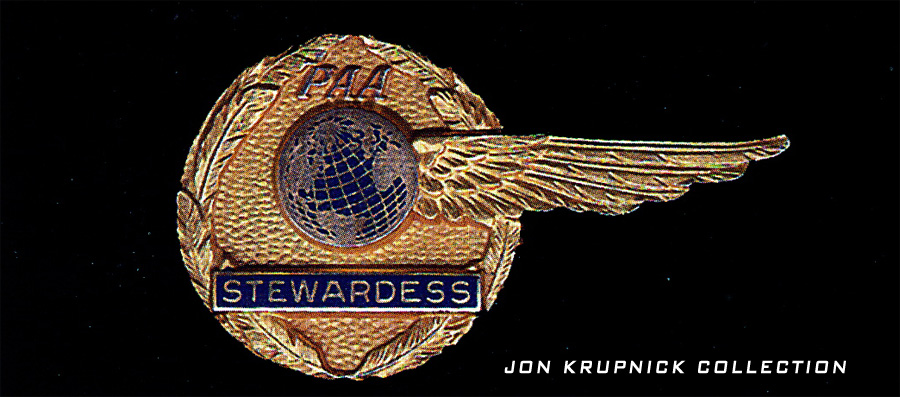 If you have an insignia you'd like to know more about, you can contact Jon Krupnick at
This email address is being protected from spambots. You need JavaScript enabled to view it.