"Clipper Hula" New Dance in Hawaii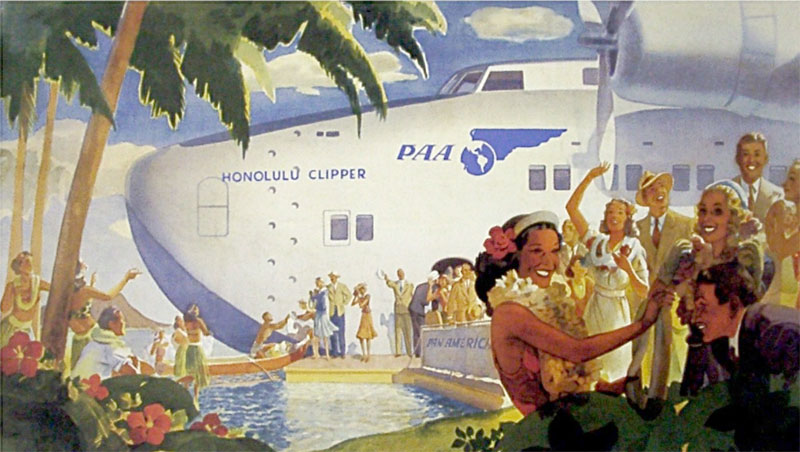 Hawaii by Clipper - Poster image by George Lawler
"HONOLULU - Hawaiian hips are shaking and shoulders quivering to a brand new island dance — the "Clipper Hula" — dedicated to Pan American Airways.
The novel hula telling the story of Pan American's conquest of the Pacific was danced for the first time recently at the 10th anniversary ball of the Royal Hawaiian Hotel on the beach at Waikiki. Among those applauding the new story-in-dance were Governor Joseph B. Poindexter; Maj. Gen. Hugh A. Drum, commanding the Hawaiian department, U.S.A.; Admiral Orin G. Murfin, commanding the Pearl Harbor naval base; Mr.and Mrs. Biddle Duke of New York, in Hawaii on their honeymoon, and 1,000 other guests at the birthday ball.
The setting for the Clipper Hula was in keeping with the theme. As the guests were dined along the beach, a large model of the Hawaii Clipper swung onto the dance floor. From the illuminated cabin stepped 10 hula dancers. These danced to the music of Louise Akea and her Royal Hawaiian Girls Glee Club. Miss Akea is employed by the Inter-Island Steam Navigation Co., Ltd., general traffic agents in Hawaii for Pan American Airways.
A description of the Clipper Hula and accompanying festivities centering around the plane model was broadcasted throughout the territory."
-Virgin Islands Daily News, June 11, 1937. "Clipper Hula" New Dance In Hawaii
Although original music to the "Clipper Hula" is unavailable, here's an image of Louse Akea and her Royal Hawaiian Girls Glee Club from the Hawaii State Archives Digital Collection circa 1935 (Wikimedia):
Royal Hawaiian Girls Glee Club c.1935. Hilo Hattie is standing with guitar at the right-hand end. Others in the image are (L-R) Singers: Thelma Anahu, Hannah Attwood, Louise Akeo Silva (leader),Kuualoha Treadway, Helen Alama, Imogene Eaton, Mary Lum Saffery, and Harriet Smith. Dancers: Tootsie Notley, Delphine Ornellas, Caroline Hubbell, and Ululani Barrett. Chanter: Ruby Notley Namaho