Ingenuity, Imagination, and Skill. Inspired by Pan Am's magnificent flying boats, Builder Steven Gray has taken home remodeling into an entirely different dimension...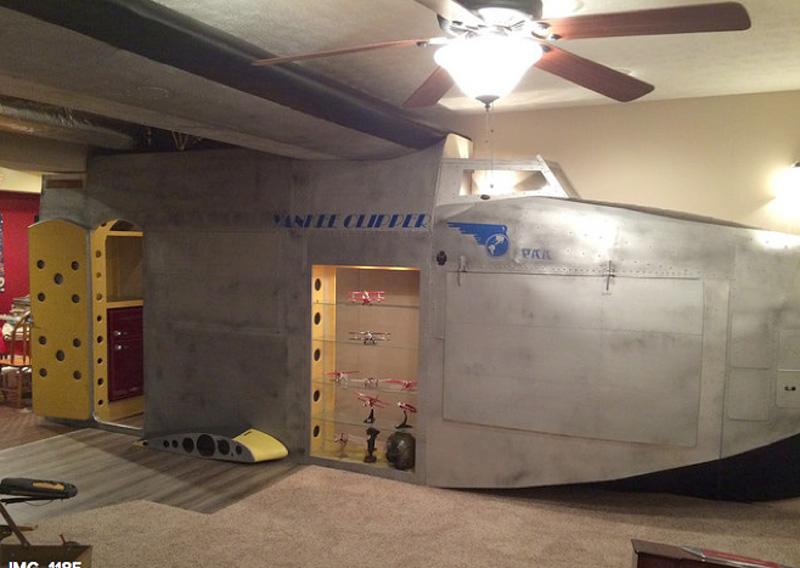 My Boeing B-314 Entertainment Center - Words and photos by Steven Gray, Stillwater Crafts Projects
Background
In the year 2002 my wife Gina and I retired from the Army after a 22-year career and moved back to Kentucky. I joined the Army after graduation from High School. My life plan at that time was to become a fixed wing pilot and return to Kentucky and have an aviation career.
As luck would have it, the Army kept offering me great assignments and further education that was difficult to pass up. During my Army career, I became a Helicopter Maintenance Officer and Test Pilot. As part of my education, I learned a diversified skill set which enables me to focus on pretty much any task that I put my mind too.
When Gina and I retired in 2002, I promised that I would build her dream house in Kentucky. And I always knew that someplace in the house I would create a unique space to display my love for aviation.
I have always had a fascination with the early days of aviation and often believed that I was born in the wrong decade.
Over a 3-year period that I built the house, the basement of the home remained unfinished, while I designed and decided on what I wanted for the space. Last year we decided that the entertainment center would have to dominate the space. At that point, I knew that it was going to have to be an airplane and the rest of the room would look like an old hanger.
After several crude drawings, I finally decided on the Boeing B-314. This single airplane with its colorful history in the dawn of aviation and transportation had to be in my Man Cave.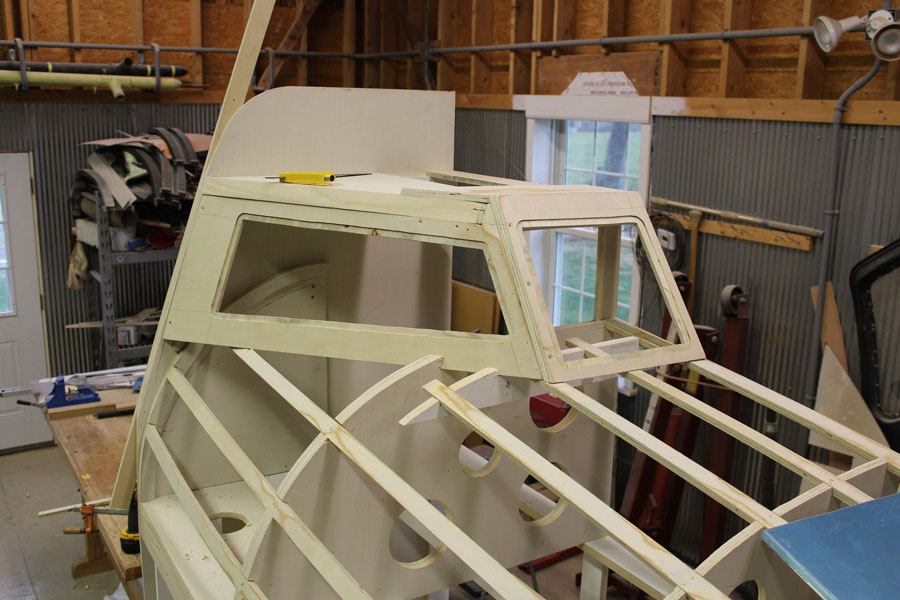 The Design Challenge
Pat King, who is a good friend of mine is a Model Designer. I consult him on just about every project that I build for his advice and design abilities. He took the model plans for a Boeing B-314 and enlarged them to the dimensions of my room. My B-314 would have to fit on a 23-foot wall with a ceiling height of 9 ft. The biggest design challenge was going to be building in sections that would fit thru my basement door, which is 32 inches wide and 80 inches tall. So Pat and I had to design the entertainment center in sections that would fit the opening.
The Boeing 314 is built in sections:
1. Nose, which has two hide away drawers for DVD's and the Xbox Player
2. Cockpit which houses the HD TV and audio components
3. Display case which is actually two pieces
4. 8 inch filler section
5. The Bar area which incorporates the bar window, entry door and foot prop Sponson
6. The last section houses the mini refrigerator and a popcorn machine.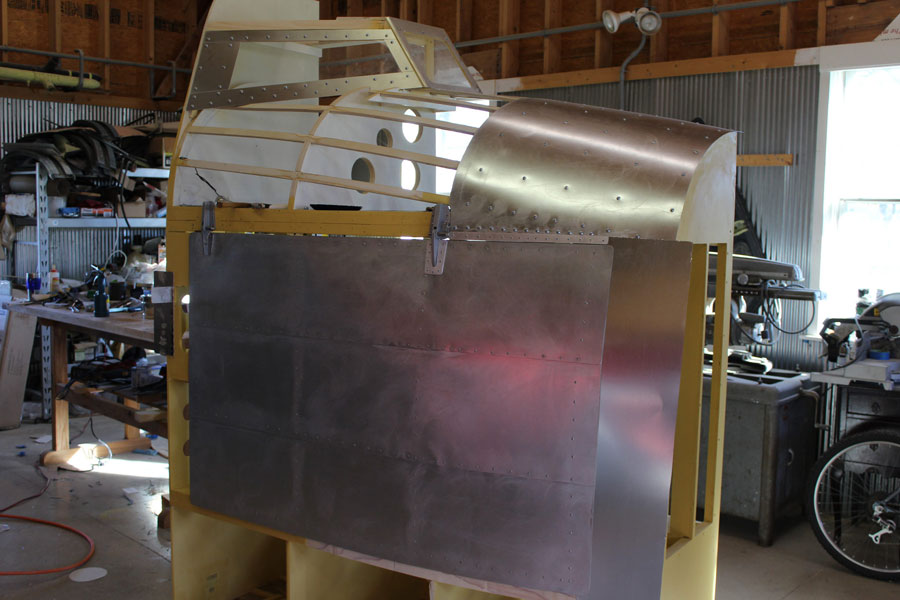 The Big Build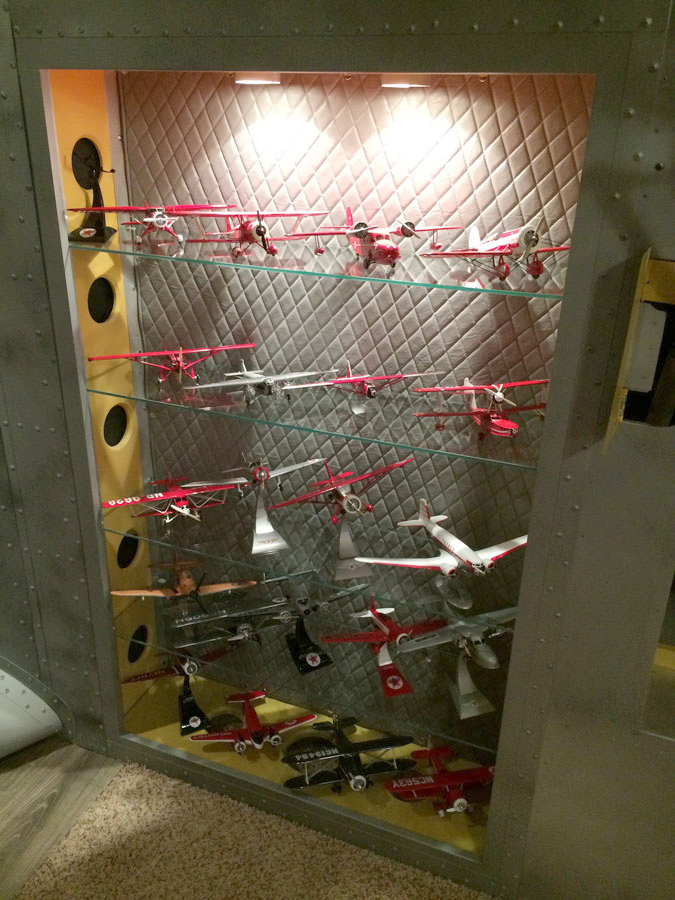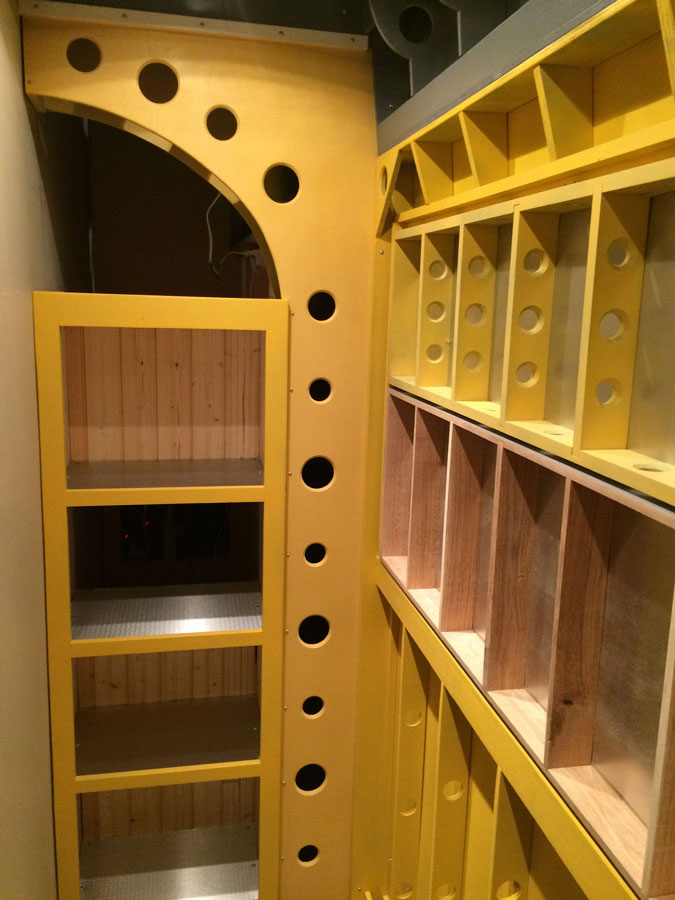 I started with what I called the Cockpit section, as it would be the biggest piece and house the HDTV. I knew that I also wanted an automated door that would open to reveal the biggest screen my "retired" dollars could buy, so I designed the section around a 65-inch TV.
The nose section was most likely the most challenging section with all the compound curves of the upper section and convex of the bow section. It was also the most rewarding section as once it was built and joined to the cockpit section, I knew I had a viable design that was going to work for my purpose.
The rest of the airplane would be standard cabinet construction that looks like an airplane.
The third section would be a case to display 23 Collector Series Texaco Airplane Banks that my parents Alexander and Patsy starting giving me as Christmas presents in 1992. For my father, this was his special gift that he takes pride in giving me yearly. Now, I finally have a place to honor him and display his gifts.
The last two sections make up the bar area. The side of the fuselage opens up to become a bar top, the sponson as the foot prop. Inside the fuselage is the mini fridge a popcorn popper and of course the essential bar storage for glasses, soft drinks and bar snacks.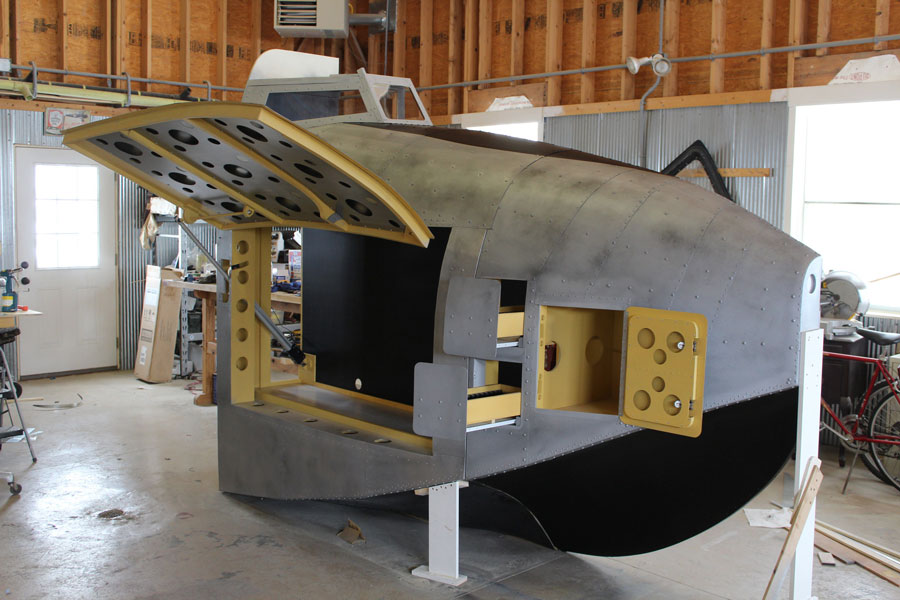 The Wing
The leading edge of the wing is hung off one of the beams that holds my house up, then the underside of the wing functions as a drop ceiling to cover my HVAC feed lines.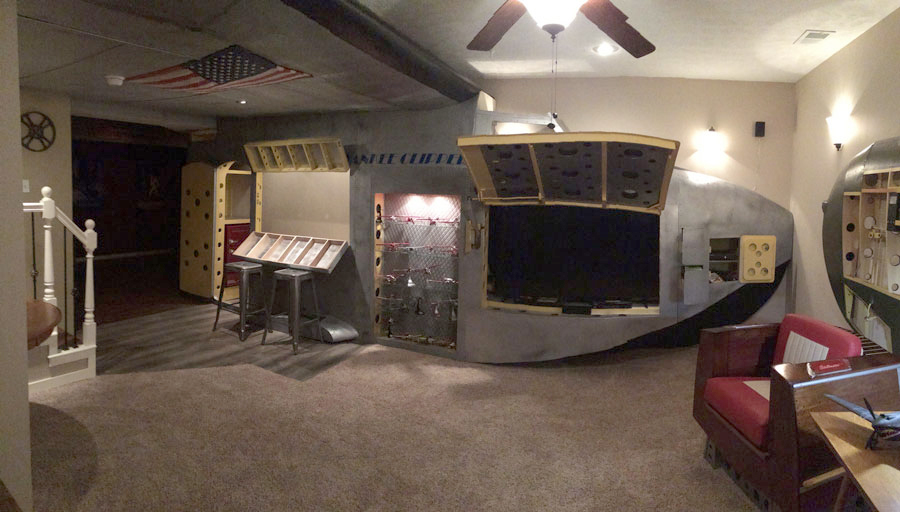 The Finish
The entire entertainment center is painted with silver color paint and then accented to make it look old, worn and tattered like its been around the world a couple times.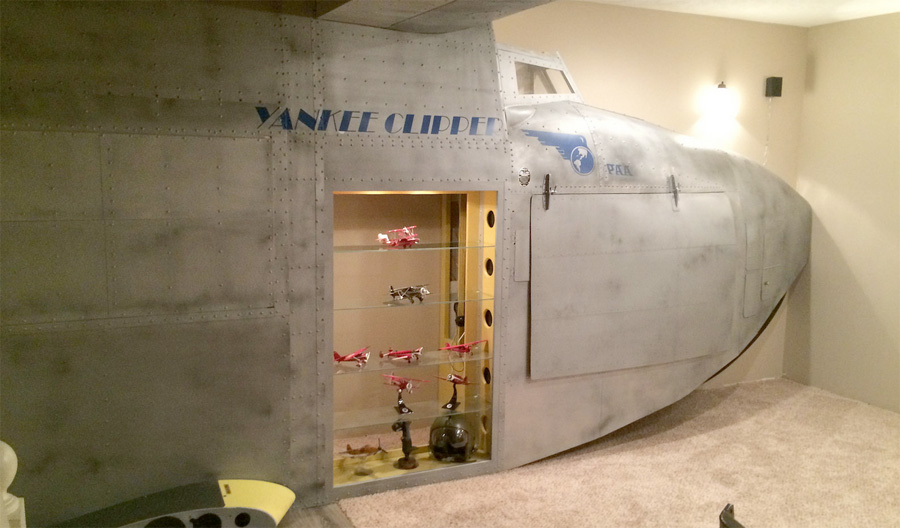 Conclusion
I can honestly say that this is the biggest piece of furniture that I have built in my life. It took about 3 years to plan and 4 months to build. Gina, my daughter Kellye, and granddaughter Kailynn now have a unique space to enjoy movie night and a true conversation piece to entertain friends and family.
You can appreciate more of Steven's remarkable creation at his Flickr Page - Yankee Clipper Arriving Nicholasville
Steven Gray, Stillwater Crafts Projects can be contacted via email at:

This email address is being protected from spambots. You need JavaScript enabled to view it.