2016 Irish Spring Reunion
By Mary Lou Bigelow
Photos: Copyright Robert A. Genna 2016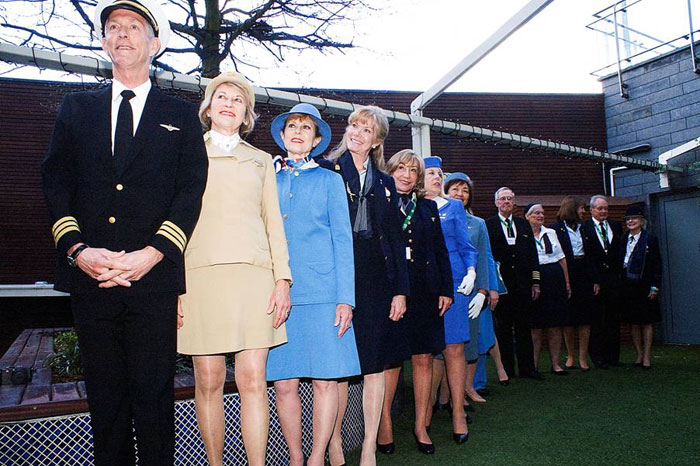 A parade of Pan Am uniforms: Photo Copyright Robert A. Genna 2016
It amazes me how the Pan American World Airways family of former employees – marketing and sales, operations, maintenance, reservations and ticketing, staff and flight personnel - continue to gather together to swap stories of the good old flying days that date back to 1927 when the airline was born to the very last flight on December 4, 1991. I do not know of any other company – be it airline or other that can brag about its people being so loyal to their beloved company and fellow employees.


Margaret O'Shaughnessy, founder and director of the Foynes Flying Boat Museum: Photo Copyright Robert A. Genna 2016
Captain Don Cooper tried, but with little luck, to end his involvement with reunions, but to no avail. Margaret O'Shaughnessy, founder and director of the Foynes Flying Boat Museum, is not a person who takes no for an answer. She had often thought about a reunion, but once her friend Merry Barton suggested the reunion, Margaret ran with it. She convinced Don that she would do all of the organization for the reunion, but convinced him to be the promotional communicator to the Pan Am family for the time-consuming job of tracking the attendees and hotels they would stay in. She also called upon her friend Myron Rosie Rosenstein to spread the word through his network that reaches throughout the Pan Am system. No one can say no to Margaret, and so the 2016 Irish Spring reunion came to be. Because of her many months of hard work organizing this gathering, 320 lucky people descended on Limerick, staying at the official Limerick Strand Hotel, as well as the Savoy and The George Boutique. The reunion was her baby and she can be proud of an event that can only be described as exhilarating! And the Ireland-America, Pan Am-Foynes connections are even more solidly intertwined.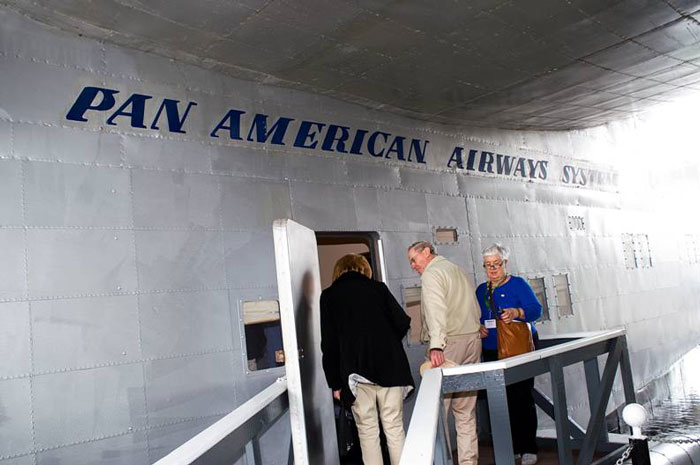 Margaret O'Shaunessy greets Pan Amers boarding the Yankee Clipper replica: Photo Copyright Robert A. Genna 2016

On April 11, in the evening before the official events, a group of 50 attended a medieval banquet at Bunratty Castle and then stopped in for some fun at Durty Nelly's pub. Others attended a special meeting for IGS (Internal German Service) crews, families and ground personnel. Lots of wild and hairy stories were shared about the operation which is said to be a great example of flying by the seat-of-your-pants. The IGS was established to link West Berlin with West Germany by a strict flight corridor provided for the U.S. carrier – Pan Am. Britain and France had their own IGS flights in their respective corridors. With German re-unification in 1989, the role of the IGS became superfluous, and in 1990 the operation was taken over by the Lufthansa. If you have questions about flying those days before the Berlin wall was taken down, find an IGS pilot and ask him/her.
The next morning, April 12, the reunion officially opened. Over in a corner of the hotel, Live 95fm Radio set up their colorful booth. At 9am, Margaret O'Shaughnessy and Mary Lou Bigelow (Pan Am stewardess/purser 1962-1964) joined the popular Limerick Today Joe Nash talk show host for a lively interview (which is still available online). On the lower level of the hotel, Pan Amers began to crowd in to register. The hall was a buzz of activity with newspaper and TV journalists - all jostling for a better shot of the growing line up of flight attendants and pilots in their uniforms. As the crowd swelled, they moved out into an outdoor courtyard where the interviewing and photography continued.

Margaret O'Shaughnessy, Don Cooper and Tom Carroll of the Pan Am Heritage Association: Photo Copyright Robert A. Genna 2016

At 4pm, the revelers entered the Shannon Suite ballroom for a welcome gathering by Mayor of Limerick City and County Councillor Liam Galvin; Chairman of the Foynes Flying Boat Museum Brian Cullen; chairman of the Pan Am Historical Foundation Edward Trippe; and Margaret O'Shaughnessy. As a surprise to all, The Pan Am Heritage Association, made up of Max Gurney, Capt. Tommy Carroll, Don Cooper, and Teresa Webber presented a donation of 10,000 euros to Margaret for the Foynes Museum. For entertainment, the Bunratty singers serenaded us all.

Pan Am audience watching Shannon Vale Ceili Band and award-winning step dancing: Photo Copyright Robert A. Genna 2016

Wednesday morning, Kendall Sanford, Pan Am manager of passenger procedures, gave a talk about the history of Pan Am in Ireland. Merry Barton, daughter of Folger Athearn (Pan Am's station manager in Noumea, New Caledonia in 1941), talked about her experiences as a young girl. Soon after Pearl Harbor was attacked, five-year-old Merry and her family evacuated by Pacific Clipper flying boat on its westbound journey to New York.
At 11 am, six busloads of Pan Amers were transported to the Foynes Flying Boat Museum. As each bus arrived, passengers were taken on a short bus tour of the town and then welcomed by a bag piper as they stepped off the bus to enter the museum. Each busload would enter the museum and see a short film, tour the museum and then exit the back door to see the famous replica of the Yankee Clipper B-314 and climb aboard for pictures. (All 12 original B-314's were destroyed. The replica is so realistic –giving you the feeling of what it must have been like to operate as a crew member and to enjoy as a passenger.) We then filed in for a buffet lunch, tasted a real Irish Coffee made especially for each one and then continued on to view the Brendan O'Regan coffee shop, an Irish Coffee Hologram, and gift shop. Once all the six bus loads completed the tours and lunch, the tables were disassembled and chairs set up audience-style to hear the stomping music of the famous Shannon Vale Ceili Band and award-winning step dancer. The audience thrilled and clapped to the music. Some danced in the aisles. It was a very special day that we will always remember. Later we took the busses back to Limerick for music in the Limerick Strand Hotel.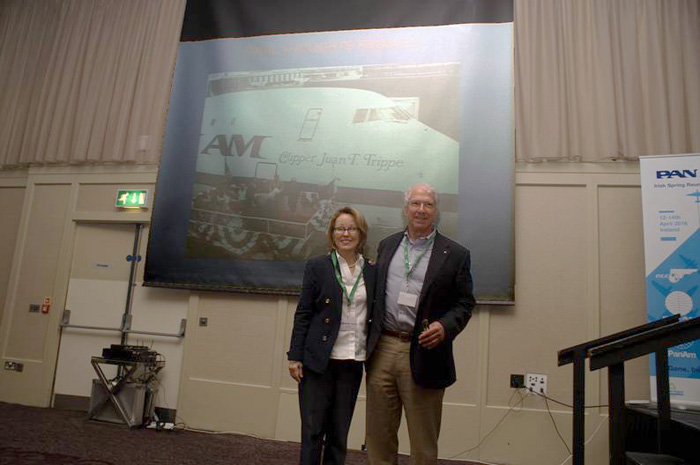 Pan Am talks by Becky Sprecher & Ed Trippe: Photo Copyright Robert A. Genna 2016

Thursday morning, the Speakers Forum continued with the history of Pan Am by Rebecca Sprecher, Pan Am flight attendant in the 1970s and co-author of Flying: A Novel, a story of Pan Am crews flying the Pacific in the 1970s. Interspersed with Becky's PowerPoint presentation, Edward Trippe, youngest son of Pan Am founder Juan Terry Trippe (1899-1981), delighted the audience with personal anecdotes of his father's midnight meeting with Winston Churchill in the spring of 1941 during the blitz and his parents' trip to South America with Charles and Anne Lindbergh to secure landing rights. Jamie Baldwin, author and consultant in the airline industry and Pan Am, completed the forum with fascinating facts about airline regulations then and now.
A Gala dinner at the Strand brought the reunion to a close with a wonderful meal, good-by speeches and entertainment by Piano Express and Limerick City Big Band for dancing. Many attendees stayed on in Ireland for touring around the country.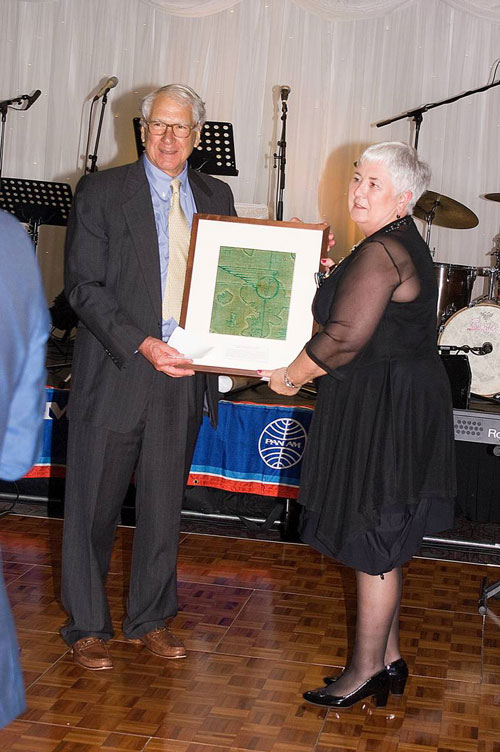 Pan Am Historical Foundation Chairman Ed Trippe presents Margaret O'Shaughnessy with the original interior fabric from a Pan Am B-314 flying boat. Photo Copyright Robert A. Genna 2016
Related Links:
https://vimeo.com/165162602: A shorter version of the RTÉ Nationwide program edited by Matt Kelly.
Limerick Today radio show of April 12, 2016 with Joe Nash on Live95fm program with O'Shaughnessy and Bigelow: https://twitter.com/LimLive95fm/status/719806161403449344
RTÉ News report: "Flying Boats Celebrated in Expansion of Foynes Museum. September 14, 2023: https://www.rte.ie/news/munster/2023/0914/1405252-foynes-museum/
Website for the Foynes Flying Boat Museum: http://www.flyingboatmuseum.com


Read the coverage and see additional photos of China Clipper pilot Robert Hicks, Teresa Webber, Max Gurney, and many others on pp. 10-11 in the May edition of Airport Press.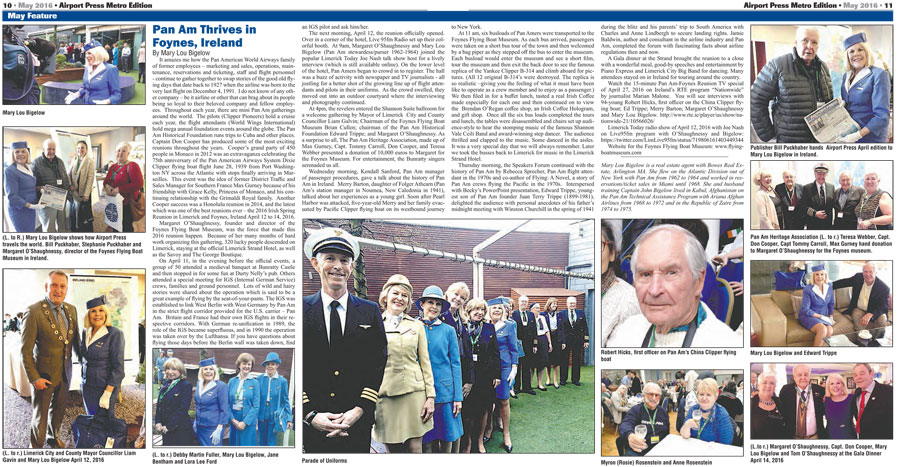 Mary Lou Bigelow is a real estate agent with Bowes Real Estate, Arlington MA. She flew on the Atlantic Division out of New York with Pan Am from 1962 to 1964 and worked in reservations/ticket sales in Miami until 1968. She and husband training Captain John Bigelow lived in Kabul, Afghanistan on the Pan Am Technical Assistance Program with Ariana Afghan Airlines from 1968 to 1972 and in the Republic of Zaire from 1974 to 1975.

Save
Save
Save