Aviation Humor Served Neat: A Shot History of Aviation
By Eric H. Hobson, Ph.D.
"A Shot History of Aviation" (Aero Publishers, 1965) was not the first book published by Pan Am insiders, but it may be the funniest.

Cover of "A Shot History of Aviation", Gene Banning Collection, Pan Am Historical Foundation.
The Collaboration
A collaboration between Flight Engineer Keith "Woody" Woodmansee and Captain W.S. "Bill" Seeman, the book is an irreverent romp through aviation history, with Woodmansee providing the rib-tickling narrative and Seeman accelerating the book's rollicking pace through 40 insider's-view cartoons.

Flight Engineer "Woody" Woodmansee, Courtesy of Clipper Pioneers (https://clipperpioneers.com/).
As reported by The Clipper (Aug. 15, 1965, p.4, University of Miami Special Collections), Woodmansee wrote the book because, "I needed an outlet...maintenance log sheets did not allow enough scope for my imagination." He added that Bill Seeman's participation was the result of blackmail: "one morning while taxiing out of Templehof (in Berlin) I refused to tell him how much gas, oil and coffee we had on board until he agreed to do so."
The Woodmansee-Seeman duo was not an obvious pairing: Woody was known for his keen wit, and large personality, while Bill Seeman's wife, Heide, describes her husband as a quiet intellectual who "delighted in the absurd moments of life."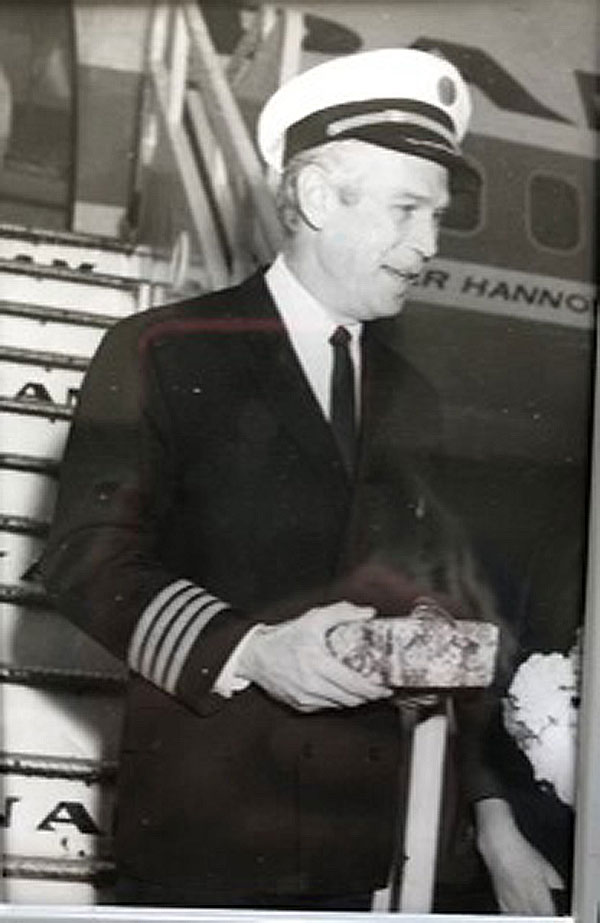 Captain Bill Seeman, Photo courtesy of Heidi Seeman.
According to IGS veteran Captain John Marshall, although "Bill rarely voiced an opinion during the what-is-the-company-thinking conversations that pervaded PAA crew lounges throughout Europe, he always listened. And, a day or two later, an unsigned one-panel cartoon would appear on the corkboard in the lounge." Sharing PAA cockpits over Europe, the two creative aviation professionals opened a mid-twentieth-century window into aviation history and aircrew experiences.
Few topics escaped their attention and skewering:
Dwelling on the perpetual problem of flight-crew seniority, for example, the duo offered readers the following advice:
"Your biggest drawback will always be seniority.

This will determine whether you are a captain or crew, drive a Cadillac or a Crosley, live in Brentwood or Billygoat Acres.

What can you do to increase your seniority?

Get born as soon as possible." (pp. 98-99)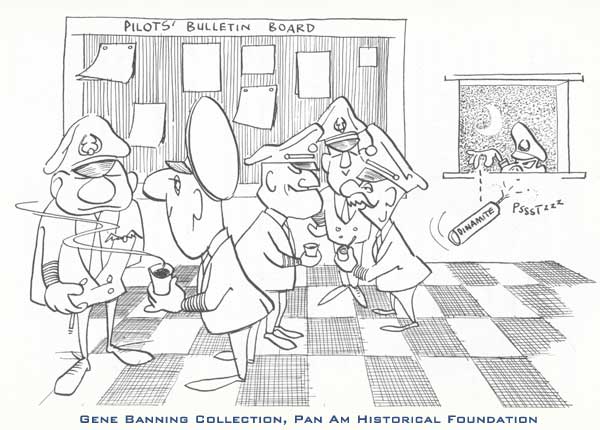 Recounting early aircraft design:
"over in England, man fatally bitten by the air bug abandoned grouse-shooting and cricket and fell to, gluing linen on spruce with the mighty spirit of cohesion that build the Empire." (p. 20)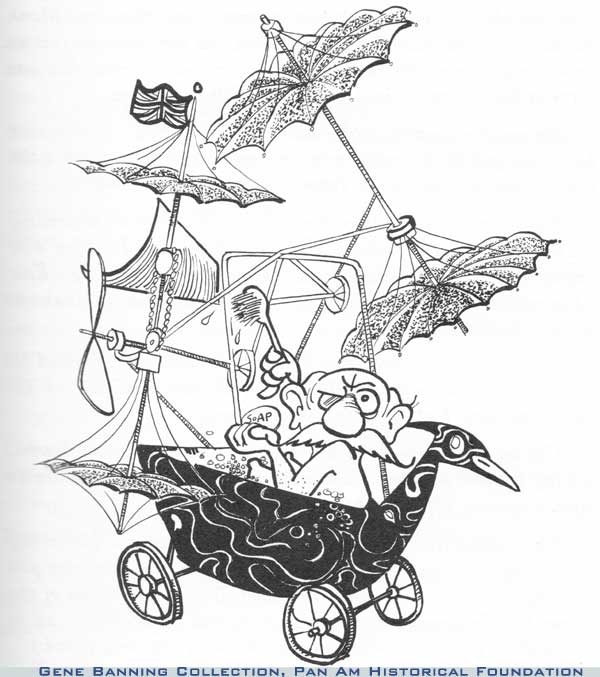 Describing new uses for aircraft.
"The tidy Swiss invented crop-dusting, and on a cool summer morning when the air was smooth and stable, from Basel to Zermatt the sun was obscured by a cloud of flimsy biplanes soaring low over the fields as their yodeling pilots, joystick in one hand and feather duster in the other, kept Switzerland spotless…" (pp. 23-25)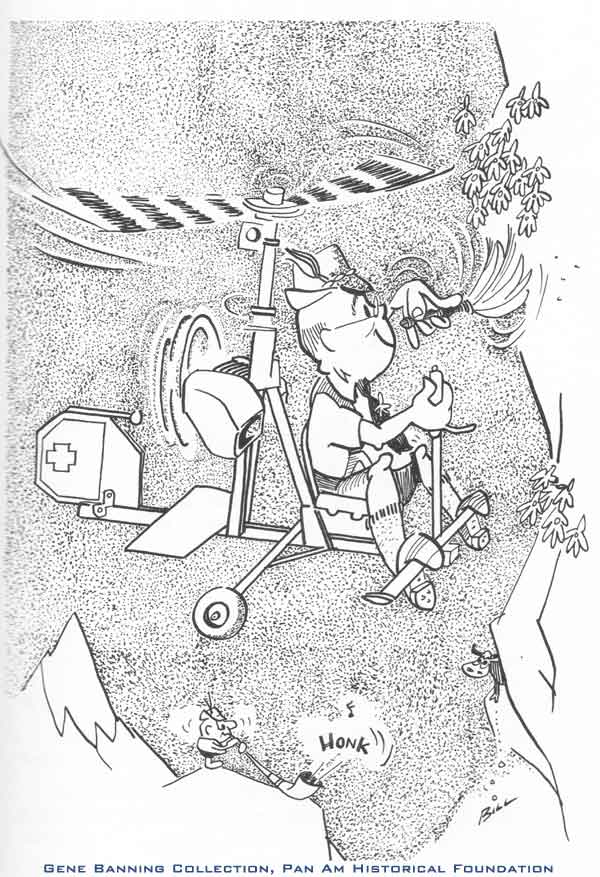 Summarizing aviation research and design processes. (p. 64)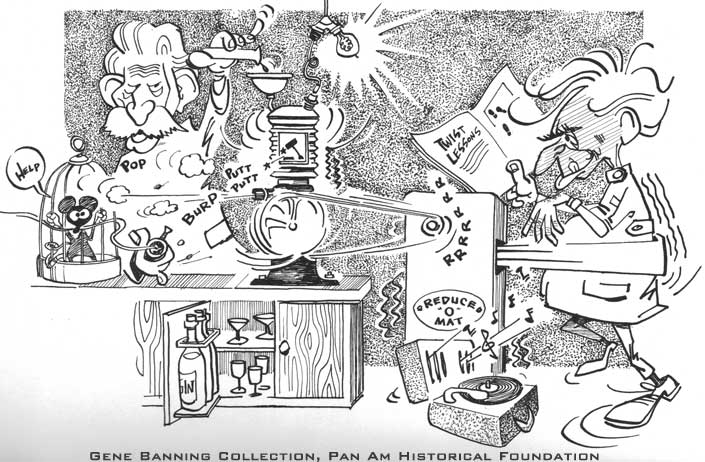 And…nodding to the tradition of Fly-Boy Casanovas. (p. 41)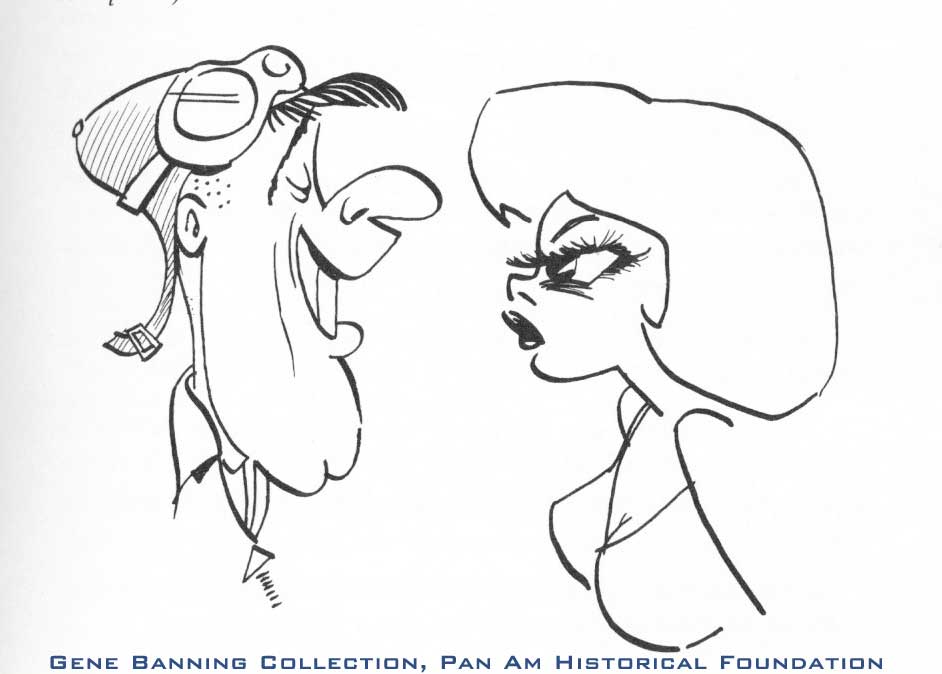 A Shot History of Aviation isn't the easiest book to find; however, those who own it attest to it's worth.