From Routine to Daunting: A Glance into Pan Am's Charter Business
By Eric H. Hobson, Ph.D.
From its 1927 start Pan American Airways' chartered idle aircraft to generate revenue. Pan Am firsts charter jobs were non-scheduled runs to Cuba and Nassau, before expanding throughout the Caribbean, Central and South America for a varied client base. (Pan Am's 1932 $100/hour domestic charter rate -- ~$2,200 in 2022 $US -- covered aircraft, crew, fuel, and maintenance. Clients were required to take on insurance covering the aircraft's value.)
On Saturday, December 28, 1932, Reverend A.F. Parkinson Turnbull officiated a double wedding above Port au Prince, Haiti aboard a chartered Sikorsky S-38. Paramount Pictures used Pan Am aircraft as areal filming platforms and backdrops, while wealthy Americans flew to the Bahamas and Nicaragua's Pacific coast sport to fish and drink, and to Havana to gamble and drink.
First Double Wedding in the Air on a Sikorsky S-38, Pan American Air Ways, Feb. 1932



Governments along Pan Am's routes bought flights to assess damage following hurricanes, earthquakes and volcanic eruptions and to inventory natural resources. Scientific teams linked to the University of Pennsylvania Museum of Archaeology and Anthropology and to the Carnegie Institute chartered Pan Am aircraft to work in the hard-to-access Yucatan region and along Brazil's western frontier.
For more on these scientific charters see:
https://www.panam.org/take-off/733-eyes-in-the-sky and https://www.panam.org/explorations/782-hans-due-radioman )
Technically demanding charters supported petroleum and mining companies. Starting in July 1934, Panagra pilots flew 421 trips in the San Fernando, a specially modified Ford 5-AT-B (NC9639), hauling 735 tons of mining equipment (a complete ore-processing plant) from Lima, Peru across the Andes to the Cotabambas Mining Company's remote precious-metals mine situated 12,675 feet above sea level.
With the late 1950s transatlantic tourism boom, passenger charters became a key niche for Pan Am as three charter jobs demonstrate.
DC-6B N5028K's Post-Pan Am Descent: From CIA Workhorse to Cattle Car
June 1959 Idlewild/Shannon Charter: Anderson Campus Tours (32 in group). Leaders were Gordon Johnson & Dr. Armin Rappaport.
Photo: Pan American World Airways, Inc. Records, University of Miami.
Thirty University of California, Berkeley students, led by and Dr. Armin Rappaport, Assistant Dean of Students/History Professor, and Mr. Gordon Johnson of Andersen Campus Tours headed to Shannon, Ireland aboard Pan Am's "Clipper Fair Wind" on June 20, 1959.
Clipper Fair Wind (DC-6B, N5028K) was the 45th (and last) DC-6B delivered to Pan Am, arriving June 15, 1954. N5028K flew for Pan Am (also named Clipper Hannover and Clipper Andrew Jackson) for ten years ending with a 1964 six-month lease to Austral Lineas Aereas, an Argentine domestic carrier that Pan Am was negotiating a 22% stake using surplus DC3s.
Sold to Iran Air Jan, 15, 1965 and registered as EP-AEV, the DC-6B became a globe-trotter. After spending nine years in the Middle East, the twenty-year-old DC-6B was one of three Iran Air DC-6Bs sold to Bird Air (based in Bangkok, Thailand) in November 1974 and reregistered as N54CA. Owned by Bird and Sons, Inc., an Oakland, CA construction company, Bird Air flew the three DC-6s and civilian-crewed and de-identified US Air Force C-130s into Cambodia and Laos during the war years for the US Central Intelligence Agency.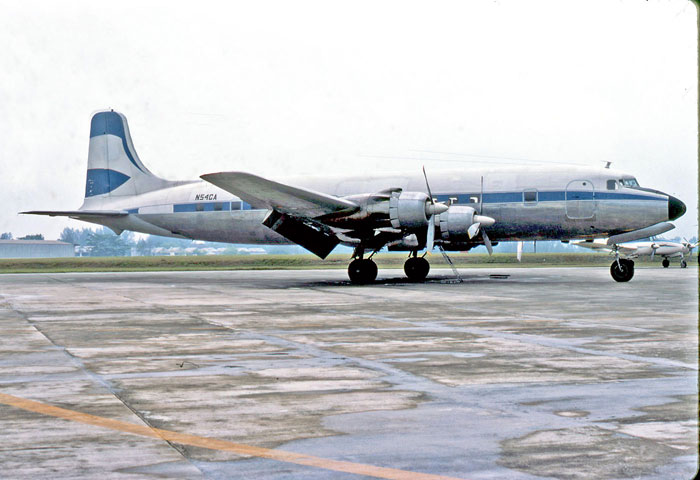 After DC-6B N54CA was retired, by William Bird taken at Bird Air, Singapore-Seletar, 1975. Photo courtesy of Geoff Goodall's Aviation History Site: https://www.goodall.com.au
After five years of heavy use in Southeast Asia, including hauling livestock from Singapore to the Middle East, Bird Air parked the worn-out and aromatic twenty-five-year-old airframe at Singapore's Seletar Airport in 1979 with a for-sale sign. A for-parts purchase fell through, however, when the ferry crew refused to fly the dilapidated DC-6B.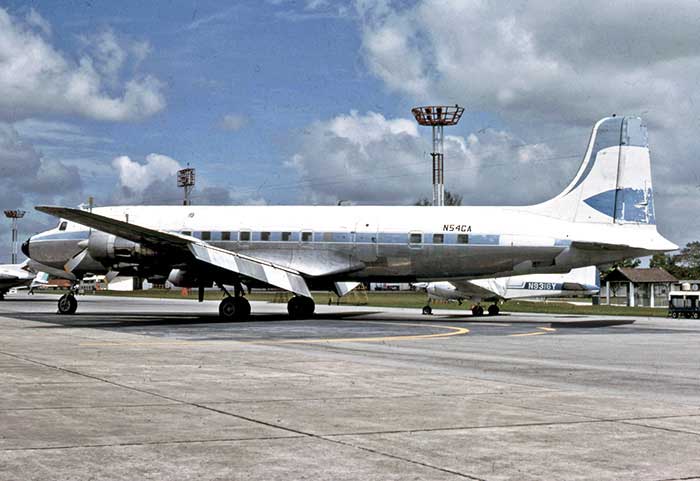 DC-6B N54CA by William Bird taken at Bird Air, Singapore-Seletar, 1980, just before she was scrapped. Photo courtesy of Geoff Goodall's Aviation History Site: https://www.goodall.com.au
No longer recognizable as the former Clipper Fair Wind that left New York's Idlewild airport on June 20, 1959 carrying excited college students, the airplane was dismantled for scrap.
Nach Munchen Fliegen

August 1959 Charter to Idlewild/Munich. German Lutheran Congregation of Toronto. Leaders:
Rev. H. Rueger and Dr. W. Goegginger (UM_Spec_Coll)

Seventy members of the German Lutheran Congregation of Toronto, Canada, clutching Pan Am carry-on bags gathered August 9, 1959 on New York's Idelwild tarmac for a group picture before following trip organizers Reverend H. Rueger and Dr. W. Goegginger up the stairway and into their chartered Pan Am Douglas DC-6B (N5121V). Charter/09 was taking the Canadians to the bi-annual "Evangelischer Kirchentag" ("Protestant Church Day"), August 12 –16, meeting/celebration in Munich, Germany.
Delivered to Pan Am April 26, 1954, the Douglas DC-6B (N5121V) "Clipper Splendid" flew the August 1959 charter job as Clipper Kirchen Tag. Renamed Clipper Hamburg the airplane flew another eighteen months with Pan AM until it was sold March 2, 1961to Loftleidir Icelandic. (Note to collectors: The Clipper Splendid N5121V is a Pan Am liveried DC-6B diecast model in the Hobby Master Airline Series (HL5001), although it is difficult to find.)
Jet Clipper Conquer Cancer

's Only Flight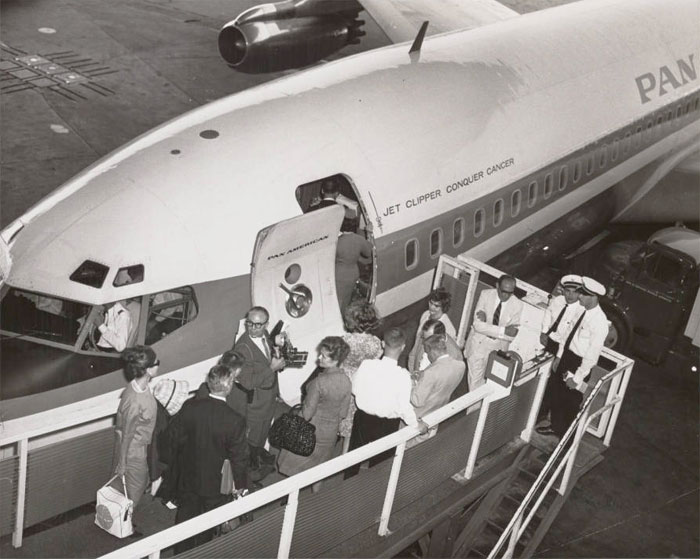 "Jet Clipper Conquer Cancer" from Pan American World Airways Inc. Records, University of Miami
Renamed Jet Clipper Conquer Cancer and emblazoned with the American Cancer Society's snake and sword logo, the Boeing 707-120 left New York's Idlewild Airport Friday, July 20, 1962 carrying 147 American Cancer Society members and two thousand pounds of scientific pamphlets, article offprints, and medical literature to the 8th Annual Cancer Congress (July 22-28, 1962) hosted by the Soviet Union. Jet Clipper Conquer Cancer landed at Moscow, a 1962 destination off-limits to American airlines. Pan Am was the United States carrier able to handle the high-profile charter.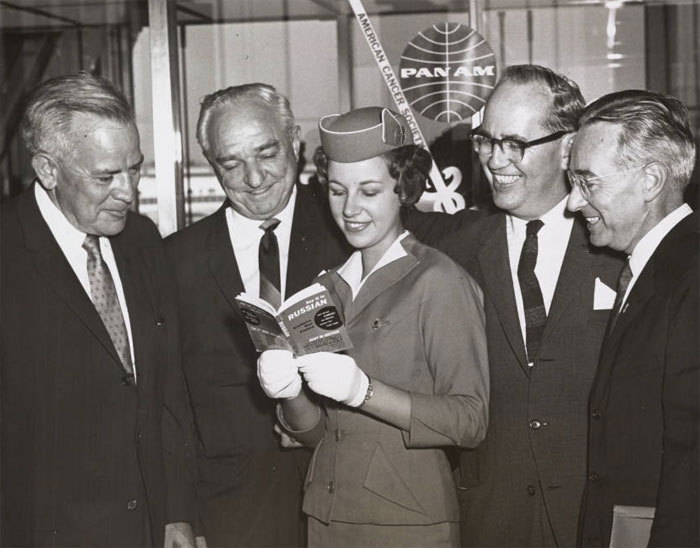 CANCER FIGHTERS FLY TO MOSCOW: SHOWN AT NEW YORK INTERNATIONAL AIRPORT JULY 20 [1962] PRIOR TO BOARDING THE SPECIALLY-CHARTERED PAN AMERICAN WORLD AIRWAYS JET "CLIPPER CONQUER CANCER" CARRYING 147 AMERICAN CANCER SOCIETY VOLUNTEER LEADERS TO MOSCOW TO PARTICIPATE IN THE 8TH INTERNATIONAL CANCER CONGRESS IN THE RUSSIAN CAPITAL JULY 22-28 ARE, LEFT TO RIGHT, FRED B. PETERS, ASSISTANT MANAGER, NEW YORK OFFICE, AMERICAN EXPRESS CO., WHO ARRANGED THE GROUP'S TRIP WITH INTOURIST; LANE ADAMS, EXECUTIVE VICE PRESIDENT, AMERICAN CANCER SOCIETY; RUTHERFORD L, ELLIS, BOARD CHAIRMAN OP THE SOCIETY; PAN AM STEWARDESS CAROL KAZAKOPP; DR, THOMAS CARLILE, PRESIDENT OF THE AMERICAN CANCER SOCIETY; MATTHEW B, ROSENHAUS, EXECUTIVE COMMITTEE CHAIRMAN OF THE ELEANOR ROOSEVELT CANCER POUNDATION, AN AFFILIATE OF THE SOCIETY; AND WILLIAM B. LEWIS CHAIRMAN OF THE SOCIETY'S PUBLIC INFORMATION COMMITTEE.A TOTAL OP 225 PERSONS PROM THE AMERICAN CANCER SOCIETY WILL PARTICIPATE IN THE CONGRESS, WHICH WILL BE ATTENDED BY 4,500 SCIENTISTS AND CANCER CONTROL LEADERS FROM 67 COUNTRIES"
CREDIT PAN AMERICAN WORD AIRWAYS
Few western airlines flew to the Soviet Union, still, in early 1956, Pan Am President, Juan Trippe, contacted General Evgenii Fedorovich Loginov (USSR's Aviation head) about transatlantic service. While details about weekly New York to Moscow reciprocal service were mind-numbing, an agreement was ready for signature by mid-1961. The Berlin Wall crisis, starting June 15, however, negated bilateralism and the project was dropped.
Trippe kept the Moscow agreements nearby should superpower relationships improve, and five years later with President Lyndon Johnson's nod, in June 1966 Trippe and Pan Am Board of Directors boarded a new Boeing 727 (headed east to Pan Am's Inter German Service) for a multi-stop Europe and behind-the-Iron-Curtain tour.
Betty Trippe recounts that as the entourage toured a Leningrad sports arena she feigned a twisted ankle to get Juan and General Loginov away from KGB handlers. Supporting a "limping" Betty, Juan and "Eugene" carried out a whispered, and fruitful conversation.
Eighteen months later, Captain Rupert "Bob" Weeks flew a Boeing 707 to Moscow securing FAA/Soviet route approval. Then, on July 15, 1968, six years after Jet Clipper Conquer Cancer's July 20, 1962 crossing the Iron Curtin, another Pan Am Boeing 707 inaugurated weekly Moscow service.
Sources:
Betty Trippe. Pan Am's First Lady: The Diary of Betty Stettinius Trippe. Paladwr Press,1996.
Gene Banning. Airlines of Pan Am since 1927, Paladwr Press, 2001.
R.E.G. Davies. Aeroflot: an Airline and its Aircraft. Paladwr Press, 1992.
REG Davies. Pan Am: An Airline and its Aircraft. Orion Books, 1987.
Pan Am Collection, University of Miami Library Archives.