It took four decades of rapid technological evolution to make possible the very real and very successful Boeing 747, which would revolutionize the airline industry. Now, another four decades later, and in its eighth iteration, the 747 continues to transport millions of people around the world. Take a look at Boeing's latest 747.
When the iconic Boeing 747 was brought into the world in the late 1960's it offered the world an entirely new dimension in commercial air transport -- echoing in actual aluminum some fantastic visions for giant aircraft from earlier decades...
Such as Norman Bel Geddes' 1929 fantasy design for Airliner # 4:

Or the somewhat more reality-based but unsuccessful Dornier Do-X from that same year:
The 747 has been around long enough to have left a trail of obsolete airframes and discarded carcasses, as well as inspiring people in entirely new ways. Former flying Boeing 747's live on, confirming the never-failing certainty that human imagination will take flight, even if it remains on the ground...
From the shelter of giant wings on an "aerospace age" house:
Architect David Hertz' Malibu Home Design, Photo by Carson Leh
To a fun hotel:
Oscar Dios' Jumbo Stay Hotel

To a restaurant in Seoul, now closed: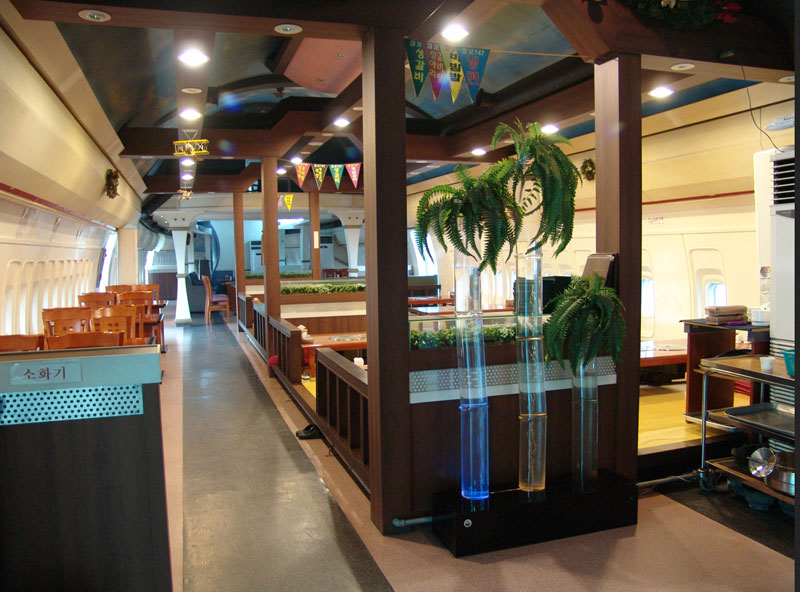 To Anthony Toth's extraordinary labor of love that began in a Southern California warehouse and ended up at Air Hollywood!



"The company (Pan Am) lives on in many creative endeavors.
One that stands out is the work of Anthony Toth who single-handedly recreated in exquisite detail a Pan Am 747 interior in his Los Angeles garage. The First Class compartment has been subsequently moved and expanded into a much larger warehouse space, and has mushroomed into a fullgrown business enterprise. He has attracted press coverage from around the globe by offering Pan Am-inspired meals served by surrogate Pan Am cabin crew. The glamorous fantasy experience is luring customers to dine aboard the 'world's most experienced airline'."
--Ed Trippe, Chairman, Pan Am Historical Foundation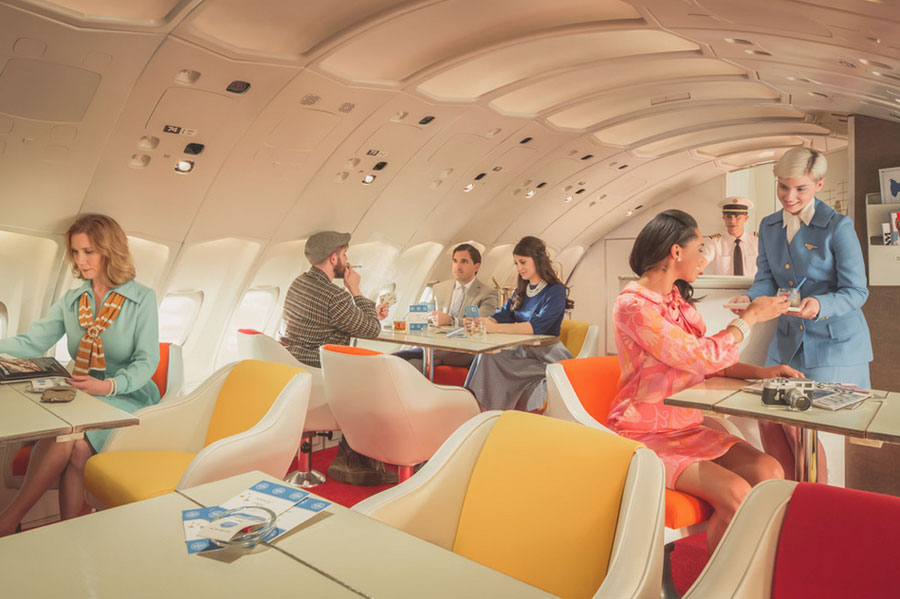 Photo by Mike Kelley
Many thanks to Ron Poggio for the inspiration for this post.