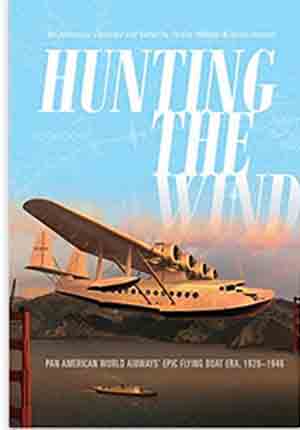 Hunting the Wind-Pan American World Airways' Epic Flying Boat Era, 1929-1946 by Teresa Webber & Jamie Dodson (2018)
"Hunting the Wind" is a compelling read covering one of the mostimportant periods in Pan Am's history.
--Edward Trippe Chairman,Pan Am Historical Foundation
I joined Pan Am in1967 as a pilot/flight engineer flying Boeing 707s from JFK in New York. I can remember many flights to Europe in my earlier days listening to the seniorcaptains talking about their experiences in the Pan Am flying boats. Reading "Hunting the Wind" brought back those stories with vivid clarity and gave me a much greater appreciation of the Pan Am crew's tribulations and their early flying boat triumphs.
-- David North, Editor Emeritus of Aviation Week Magazine, former Pan Am pilot and Naval Aviator